Jib Cranes
+ Add to Quote Request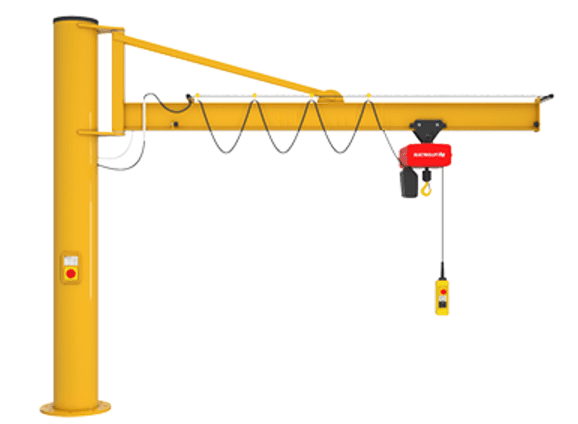 Our engineered jib cranes are made to order. The design is modern, making them efficient and easy to use. This jib crane design features a diagonal brace from above and is suitable for most applications where ceiling height is not an issue.
Our jib cranes can be supplied ready to mount to an existing structure (known as wall-mounted) or complete with a free-standing column and base plate. The mounting position is variable and can be customised to suit your requirements. Mounting to an existing building column or wall is possible.
An economically designed jib crane, it is ideal for heavy-duty and general purpose lifting.
Additional Information
Perfect lifting partner!
The jib crane design allows for simple handling and ease of movement. It can easily move large items quickly and is a common lifting aid in a number of industries. Sometimes manual handling operations cannot be performed by employees as goods are too heavy to lift. This is why a jib crane is required. It removes potential injuries from your workplace and it is perfect for a range of applications. The height of the jib crane and the reach can be selected according to the task.
Customise to your requirements. 

This particular product can be customised to your workplace. Just speak to one of our sales representatives today and we will identify the best solution.

It can also be partnered with a huge range of optional accessories, making it extremely versatile. Some available items include hoists and trolleys (motorised or manual), slew lock, slew limits and motorised slew.
Free-standing Jib Cranes
Wall-mounted Jib Cranes
Technical Specifications
Capacity range: 80 to 2500 kg
Reach range: 2000 to 7500 mm
Slew range: 180 degrees (wall-mounted) and 270 degrees for the free-standing
Surface treatment: heavy-duty powder coat as standard with other options available
Built to meet and exceed Australian Standard AS1418 and Quality Standard ISO9001
Need more choice?
We have a range of lifting solutions for you. Check out some of our other Jib Crane products like MechRail Aluminium Solutions, Gorbel Workstation Cranes or Porta-Davit Cranes for some alternative solutions.