Jib Cranes – Low Headroom
+ Add to Quote Request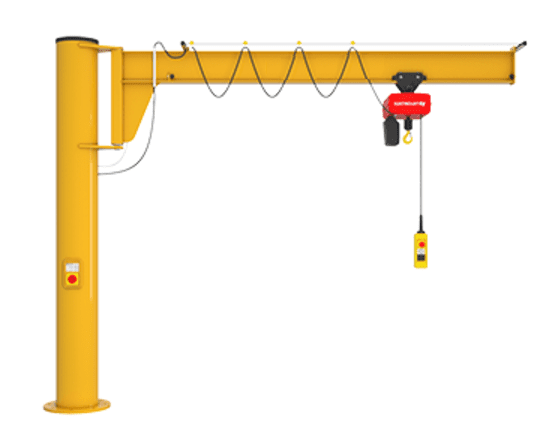 Our Low Headroom Jib Cranes have been specially designed to work well in spaces with low ceilings or height restrictions. They allow simple handling of heavy items and can move them to desired locations with ease.
Available in either a wall-mounted or free-standing version, they can be customised to your work environment and other specific requirements. They are built to Australian Standard AS1418 and Quality Standard ISO9001 to ensure durability and strength in design.
A range of additional options are available to make your Low Headroom Jib Crane fit your workplace and desired application.
Additional Information
So many advantages
Our Low Headroom Jib Cranes are strong and reliable. They are quick and easy to use and are able to move loads within a variety of areas – having a special focus on work spaces with low headroom or height restrictions. Manual handling activities involving heavy loads are dangerous and this is when injuries and hazards become apparent. Jib Cranes are then required to bear the burden, increasing productivity and performing duties that are beyond the strength of an employee.
Free-standing Low Headroom Jib Cranes
Typically fixed to a concrete slab or floor structure. We can produce the crane to the exact dimensions to fit the application. Every project begins with a dimensional drawing of the crane before fabrication to ensure we get the solution right every time.
Wall-Mounted Low Headroom Jib Cranes
In many applications an existing wall or building structure can be used to support the jib crane. This usually results in a more economical solution and saves precious floor space in the work area.
Many available options!
The Low Headroom Jib Cranes are available in either wall-mounted (cranes attached to an existing structure) or free-standing (including upright and base plate) option. There is a huge range of options that can assist your application. Some optional extras include hoists and trolleys (either motorised or manual), jib lock (single and multiple positions), slew limits, motorised slew, crane electrics, explosion protection and custom paint systems. Zinc-plated and galvanised finish are also available. Ask us more about these options and we can develop the best solution for you.
Technical Specifications
Capacity Range: 80 to 4000kg
Reach Range: 2m to 12m
Slew range: 180 degrees (wall-mounted), 270 degrees (free-standing)
Surface Treatment: Heavy duty powder coat as standard
Built to Australian Standard AS1418 and Quality Standard ISO9001
Still searching for your solution?
We have an amazing range of lifting products that can help you move heavy loads. For specific jib crane solutions, try our MechRail Aluminium Solutions, Gorbel Workstation Cranes, Porta-Davit Cranes or some alternative solutions.