Davit Jib
+ Add to Quote Request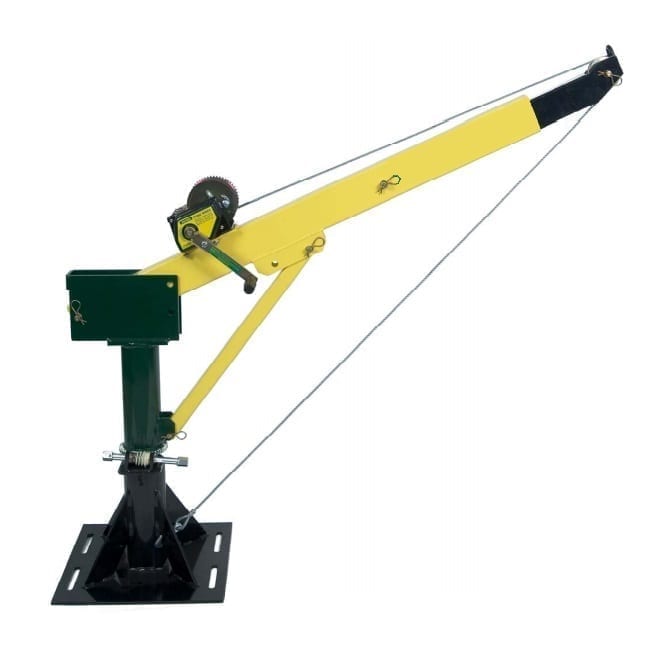 Save your back and work ergonomically with our great range of Davit Jib Cranes! These cranes are an economical solution for applications that do not require lifting equipment to be portable. Providing an alternative solution to expensive vehicle-mounted hydraulic cranes, they are efficient, innovative and easy to use.
Fitted with a geared slew mechanism and 360° rotation, the Davit Jib Cranes eliminate any danger of the crane boom swinging out of control. The operator can safely and easily slew the boom with the geared crank handle. This is helpful to keep the operator in control of the load and away from the edge of the vehicle or building structure.
Our models are available with load capacities of either 300 kg or 500 kg, with extendable booms to suit a variety of lifting requirements.
Additional Information
Davit Jib Cranes are a great alternative lifting solution!
Our Backsaver Cranes are the perfect lifting solution, especially for tradesmen, farmers, delivery drivers and anyone who has to lift heavy loads. They have the capacity to safely, simply and effectively handle a variety of heavy items, including motorbikes, machinery and more. With our Davit Jib Cranes, the possibilities are endless.
Supplied with a manual brake winch, goods can be lowered or raised with ease. The hand winch incorporates a safety ratchet mechanism that is automatically engaged when the handle is released – keeping the load safety in position at all times. They assist with boats, utilities, trucks and trailers, edges of buildings, mezzanines and similar applications. The cranes are also suited for industrial, marine and rural industries.
Configure a Davit Jib Cranes to meet your needs.
All cranes have a boom reach of over 1000 mm. Boom angle settings can be adjusted on all our models for greater versatility. The cranes are optionally available with 12 volts or 24 volt DC electric winch. Fibre ropes are available as an alternative to the standard steel lift wire. Cranes are also provided with either a galvanised or powder coated white finish. 
Continue browsing our lifting range. 
We have a great selection of Truck and Workshop Cranes or our Porta-Davit Cranes, to help with your task.
Click the PDF button to learn more.
Product Variations
Image
Description
Product Code
Price (excl. GST)

Davit Crane 500kg Capacity – Galvanised
Fitted with fibre rope

F19001GR

Davit Crane 500kg Capacity – Galvanised
Fitted with wire rope

MF19001G

Davit Crane 300kg Capacity
Supplied with 7.5m lift wire

MF12643

Davit Crane 300kg Capacity
Supplied with 7.5m fibre rope

MF12643R

Davit Crane 300kg Capacity Powder Coat – White
Supplied with 7.5m lift wire

MF13643W

Davit Crane 300kg Capacity Powder Coat – White
Supplied with 7.5m fibre rope

MF13643WR

Davit Crane 300kg Capacity – Galvanised
Supplied with 7.5m lift wire

MF12643G

Davit Crane 300kg Capacity – Galvanised
Supplied with 7.5m fibre rope

MF12643GR

Davit Crane 300kg Capacity – 12V Electric Winch
Supplied with 7.5m lift wire

MF12696E12

Davit Crane 300kg Capacity – 24V Electric Winch
Supplied with 7.5m lift wire

MF12696E24

Davit Crane 500kg Capacity
Supplied with 7.5m lift wire

MF19001

Davit Crane 500kg Capacity
Supplied with 7.5m fibre rope

MF19001R

Davit Crane 500kg Capacity
Powder Coat – White
Supplied with 7.5m lift wire

MF19001W

Davit Crane 500kg Capacity
Powder Coat – White
Supplied with 7.5m fibre rope

MF19001WR

Davit Crane 500kg Capacity – 12V Electric Winch
Supplied with 15m lift wire

MF19001E12

Davit Crane 500kg Capacity – 24V Electric Winch
Supplied with 15m lift wire

MF19001E24