MechRail Aluminium Jib Cranes
+ Add to Quote Request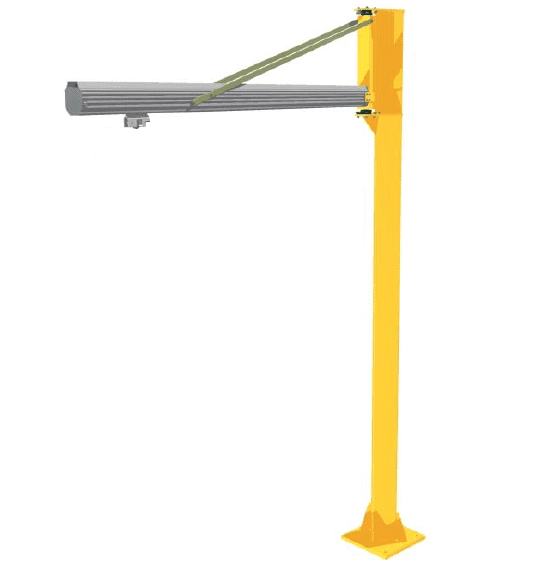 Introducing our MechRail Aluminium Jib Crane – a compact and modular lifting and handling solution!
Made using MechRail aluminium crane profile to provide a lightweight and easy to operate lifting solution. The MechRail profile has a considerably lower mass when compared to steel profiles. The operator can quickly and safely slew the crane around the work space without resistance. You move, MechRail moves with you – without effort. You stop, MechRail stops without dragging away from the operator.
The enclosed crane profile keeps the track clean from dust and debris so load trolleys move seamlessly through the MechRail for an amazing result.
Available free-standing (typically fixed to concrete slab) or to be mounted to an existing building column or wall structure, this product is extremely versatile.
Our MechRail Aluminium Jib Crane can be supplied with a range of hoists depending on your application. The Jib Crane is only the start of the complete solution we can offer.
The MechRail Jib Crane is perfect for handling loads up to 250 kg with a maximum reach of 6000 mm. Modular, compact design and amazingly easy to operate with simple installation and low maintenance costs.
Additional Information
Our Aluminium Jib Cranes use the range of track profiles within the MechRail system to improve your handling. The MechRail lightweight crane system features a catalogue of standard accessories so you are able to customise the solution accordingly. The shape of the profiles keep the track surface free from debris for smooth running and long life. Made from anodised extruded aluminium, the profiles are virtually maintenance free.
The MechRail Jib Crane features super lightweight bearings in the pivot specifically designed for repetitive movements. This combined with an effortless trolley movement allows the operator to work quickly and freely without strenuous effort. Repetitive tasks are simplified so effort and strain injuries are completely eliminated.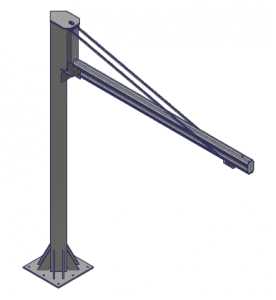 Options and accessories ensure the system is completed to your specifications. This includes professional cable and hose supply along the crane profile. Our sales representatives are here to help plan a solution tailored to your needs – contact us today!
Looking for something bigger?
Is this a little small for your requirements? Jump to some of our other larger and more robust solutions to help find the lifting solution you require. Click here for details of our heavy duty jib cranes with capacity up to 2000 kg!
Looking for a lightweight jib with 360° slewing?
Then our Gorbel cranes may be exactly what you're after. Click here for details on the Gorbel enclosed steel rail jib cranes.
Click the PDF button to learn more.