MechRail Aluminium Jib Cranes
+ Add to Quote Request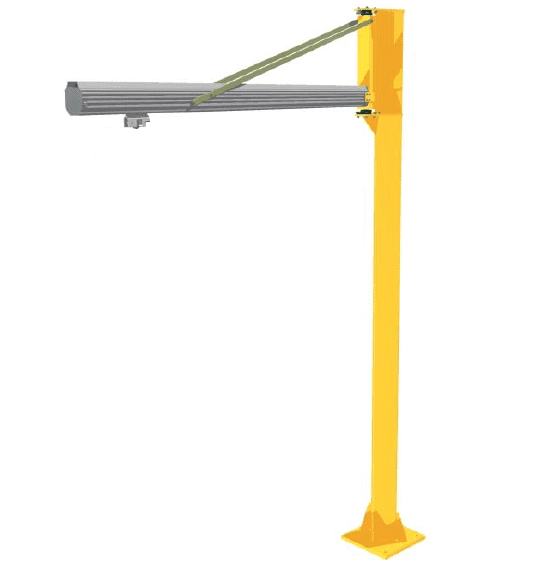 Introducing our MechRail Aluminium Jib Crane – a compact and modular lifting and handling solution!
Made using MechRail aluminium crane profile to provide a lightweight and easy to operate lifting solution. The MechRail profile has a considerably lower mass when compared to steel profiles. The operator can quickly and safely slew the crane around the work space without resistance. You move, MechRail moves with you – without effort. You stop, MechRail stops without dragging away from the operator.
The enclosed crane profile keeps the track clean from dust and debris so load trolleys move seamlessly through the MechRail for an amazing result.
Available free-standing (typically fixed to concrete slab) or to be mounted to an existing building column or wall structure, this product is extremely versatile.
Our MechRail Aluminium Jib Crane can be supplied with a range of hoists depending on your application. The Jib Crane is only the start of the complete solution we can offer.
The MechRail Jib Crane is perfect for handling loads up to 250 kg with a maximum reach of 6000 mm. Modular, compact design and amazingly easy to operate with simple installation and low maintenance costs.
Additional Information
Benefits of the MechRail Jib Crane
A jib crane is one possible arrangement of a crane that utilises the MechRail aluminium crane profile. It's designed to improve the handling of materials in your warehouse, factory or distribution centre. It's easy to use and eliminates the need for employees to lift and transfer heavy loads manually. This prevents workplace injuries, particularly when lifting and bending are major causes of back injuries at work.
The Jib crane is lightweight and easy to use
Since it's made from lightweight aluminium, the MechRail is particularly suited to repetitive lifting and handling tasks. In this type of situation, a heavier jib crane made from steel would be cumbersome and difficult to move, requiring a lot of effort and potentially leading to frequent back injuries or repetitive strain injuries. It's lightness also means that it's easy to install when compared to a much heavier steel frame. This lightness, however, doesn't mean that the crane can't lift heavy loads, because with a maximum lift of 500kg, the MechRail jib crane might be all the lift you need in your warehouse. Employees can move the boom and jib around the space without any undue effort, easily lifting and moving materials, crates and boxes, reducing the potential for workplace injuries.
There's also a complete system of booms that can be used for different situations. For example, depending on the space available, the booms might be operated from overhead girder beams, a goal post support structure or a cantilever support column. So if you want a pole mounted jib crane or a free standing jib crane, the MechRail system can be configured to suit your needs. Usually, however, these cranes are fixed to a concrete slab or mounted to a wall or column inside your warehouse.
To ensure that you have a fully operating crane that suits your particular situation, we have also developed a system of booms that can be integrated into different suspension configurations. Simply let us know your situation and the available space and we will design a solution that suits your needs.
Easy to clean and extendable jib crane configurations
If your company demands a high level of cleanliness, our jib booms are the ideal solution. Usually, the crane is designed with T-channels and flanges that keep the tracks free from dust and debris (so they are low maintenance), but we also have designs that offer a minimum profile and completely smooth sides to allow for situations that require a much higher level of cleanliness. So if you require a minimum profile jib crane configuration, we can design a solution that's fit for your exact requirements.
The MechRail crane can also be easily extended, so if your situation changes and you need the jib crane to be made wider or longer, that's no problem. That's because our easy-to-fit joining connectors make it very easy to make adjustments to a crane that's already in situ without needing to replace the entire system. You can also fit various attachments to the boom, due to the T-formed grooves on the side of the boom. These attachments include cable trolleys, limit switches, cable and tubing, air treatment units and brakes. Also, whilst the jib crane can be moved by hand, you can also attach a pneumatic or electric driving unit if needed.
If you're looking for an overhead crane that's virtually maintenance free, easy to use, lightweight and can be configured or extended to suit your changing needs, then the MechRail jib crane ticks all the boxes. 
Our Aluminium Jib Cranes use the range of track profiles within the MechRail system to improve your handling. The MechRail lightweight crane system features a catalogue of standard accessories so you are able to customise the solution accordingly. The shape of the profiles keep the track surface free from debris for smooth running and long life. Made from anodised extruded aluminium, the profiles are virtually maintenance free.
The MechRail Jib Crane features super lightweight bearings in the pivot specifically designed for repetitive movements. This combined with an effortless trolley movement allows the operator to work quickly and freely without strenuous effort. Repetitive tasks are simplified so effort and strain injuries are completely eliminated.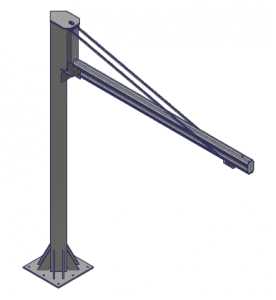 Options and accessories ensure the system is completed to your specifications. This includes professional cable and hose supply along the crane profile. Our sales representatives are here to help plan a solution tailored to your needs – contact us today!
Looking for something bigger?
Is this a little small for your requirements? Jump to some of our other larger and more robust solutions to help find the lifting solution you require. Click here for details of our heavy duty jib cranes with capacity up to 2000 kg!
Looking for a lightweight jib with 360° slewing?
Then our Gorbel cranes may be exactly what you're after. Click here for details on the Gorbel enclosed steel rail jib cranes.
Click the PDF button to learn more.