Crane Systems Aluminium MechRail
+ Add to Quote Request

When it comes to lightweight crane systems, Materials Handling is making working with ease a reality. Our MechRail aluminium crane offers a smarter way to improve your handling with a practical lifting solution. The modular crane system provides a safe way to move large and heavy items with effortless handling capabilities.
This system is ideal for freestanding and ceiling-mounted gantry cranes, bridge cranes and monorail cranes. For a complete lifting solution, you can combine MechRail with our vacuum tube lifter, vacuum handling device, electric chain hoist or pneumatic balancer. All lifting equipment is compatible with the MechRail aluminium crane rail to create a complete lifting and handling solution.
MechRail makes lifting smart, innovative and versatile. Find out more about the specs and details of our crane by downloading the PDF document.
Additional Information

How does the lightweight crane system work?
The MechRail lightweight crane system is based on an aluminium enclosed track profile. The extruded aluminium is used to leverage numerous different advantages. No other crane system allows the operator to move as quickly and as freely as this!
Slots and flanges
The specially designed slots and flanges of the profiles provide the profile maximum strength and allow you to carry a larger capacity than most other lightweight systems.
Component mass
Our crane boasts components with incredible low mass to ensure that using and operating the crane is as easy and simple as possible.
Lower rolling resistance
Designed for minimal effort from the operator, our crane promotes increased productivity and increased operator wellbeing.
Vaculex vacuum tube lifter and handling device
Our Vaculex lifter uses sophisticated vacuum tube engineering complete with an easy-to-use handling device to help make work better, safer and more efficient.
Electric hoist and air hoist
Freedom to select a hoist from our range or any other lifting equipment. MechRail is designed to promote more productive workers due to its ease of use.
Support structure
The MechRail system can be supplied complete with the support structure or suspended from an existing support structure such as the ceiling. The lightweight MechRail components create a crane system with a comparatively low overall mass. This minimises the size and cost of the support structure required and opens up great possibilities for any workplace!

Customisable crane system
Thanks to the clever track suspension design and a series of smooth-running load trolleys, it's easy to build a complete and customised system for your operation. The MechRail profiles can be retrospectively extended or reconfigured in infinite ways due to the standardised components. Whether you want a simple extension or need to reconfigure a specific part of the system to suit your needs, we can do it! We can assist you to configure the complete system and provide drawings, 3D models and bill of materials as required.
Lightweight handling
The lightweight MechRail profile is specially produced for repetitive handling applications. When time is money your number one priority is efficiency and productivity. Thanks to the low weight of profiles and precision load trolleys, our cranes can be moved rapidly yet smoothly even during intense, repetitive and sustained operations.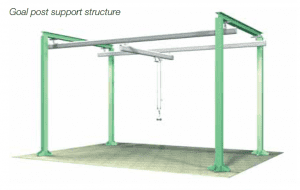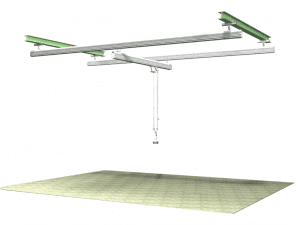 Crane components
The MechRail catalogue offers a complete and comprehensive range of standard components which can be added, suspended and attached to existing structures. All components can be adapted to suit the application. The lightweight crane system can be mounted in the form of a jib crane, suspended below the ceiling structure or onto a free-standing structure.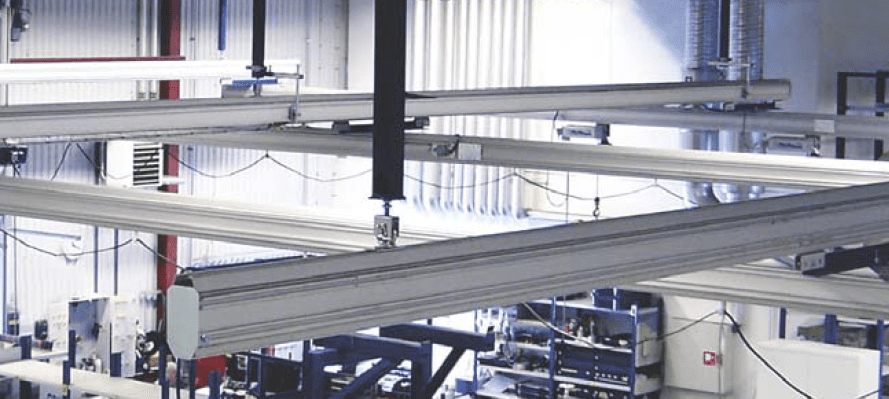 The MechRail promise
There is simply no other crane system on the market that allows its operator to move as fast, as freely, as productively and as simply as MechRail. Handling and lifting operations are completed without restriction. There's nothing quite like seeing our MechRail crane in action. Check out the videos that demonstrate how easy and effective using our lightweight crane system can be.
Click the PDF button to learn more.