MobiCrane Mobile Jib Crane
+ Add to Quote Request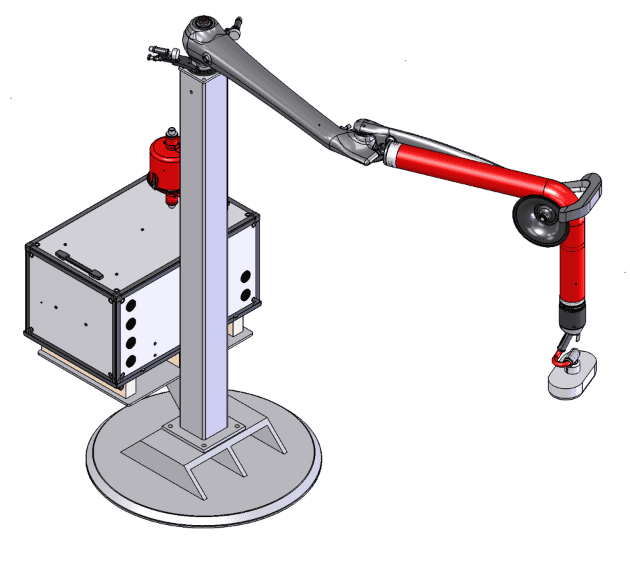 Our MobiCrane Mobile Jib Crane is a portable crane for handling a variety of products. The crane is built from modular components, so it is adaptable to your needs. You can configure the solution to suit your particular application!
MobiCrane Mobile Jib Crane can optionally be supplied with an adjustable height pillar to allow access into areas with height restrictions.
Several solutions are available: MechRail aluminium profile, articulating jib crane or our carbon fibre jib crane. All are available in various lengths and lifting capacities according to your work space.
MobiCrane Mobile Jib Crane mounted on our unique MobiDisc base plate is very easy to move around in the workshop with a standard hand pallet truck or fork lift.
The selection of hoists to partner with the crane are endless!
Product Variations
| | | | | |
| --- | --- | --- | --- | --- |
| | Articulated jib crane for Vaculex vacuum tube lifter | VAC-ARTIC | | |
| | MobiCrane with Vaculex articulated jib crane MobiDisc portable base plate and tray to support vacum pump | MC-VAC-ARTIC | | |
| | MobiCrane pillar for Vaculex shaft mounting | MC-P-AC402R | | |
| | MobiCrane pillar for MechRail jib crane | MC-P-CF | | |
| | MobiCrane pillar for MechRail jib crane | MC-P-F | | |
| | Tray to support vacuum pump from pillar | MC-TRAY | | |
| | MobiDisc portable base plate | MC-BASE | | |