Gantry Cranes Mobile Aluminium Porta-Gantry Rapide
+ Add to Quote Request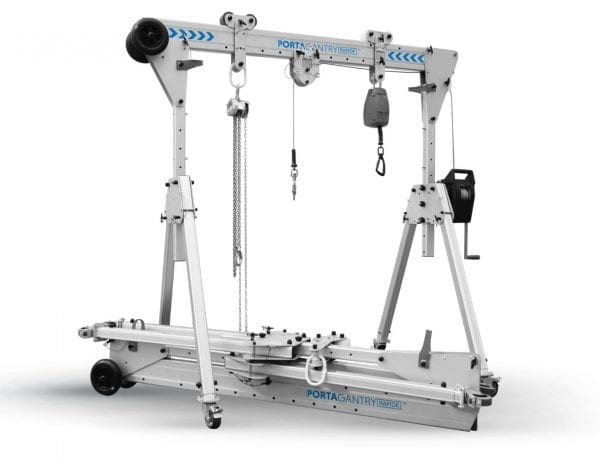 The Porta-Gantry Rapide is a height-adjustable, portable and foldable aluminium gantry. Designed for rapid deployment, it can be quickly assembled or disassembled by one person within a minute and without the need for any tools. Featuring an integrated wheel design, the system can be transported quite effortlessly. Its lightweight construction and low overall mass also ensure it can be safely carried by two people.
The Porta-Gantry has a patented design and suits both goods and personnel lifting applications. It provides an innovative solution for confined space access, heavy lifting, and rescue and entry scenarios, due to its unique abilities. The system is available in three versatile versions (with a lifting capacity up to 1000 kg). Furthermore, the system is anodised for corrosion resistance.
A high-quality, European made lifting gantry, this device can be customised to suit specific requirements.
Additional Information
A fast and rapid aluminium gantry!
European-made with a high-quality build, the Porta-Gantry Rapide is light, adaptable and easy to use. Capable of lifting loads and equipment up to 1000 kg, its patented design accommodates a variety of configurations. Several adjustable beam lengths are available and the gantry can be customised to specific requirements, making it the perfect solution for quick lifting applications. Additionally, the system is fitted with load-bearing lockable castors for easy positioning.
Features: 
Portable and lightweight aluminium gantry
Suitable for cargo up to 1000 kg and personnel safety applications
Suitable for fall protection applications
Can be assembled or dismantled by a single person
The integrated wheel design folds with the frame for easy transportation
Compact storage with an overall unit weight as low as 37kg
Three height-adjustable versions up to 2.9 m (to the lifting eye)
Can accommodate a range of beam lengths up to 4 metres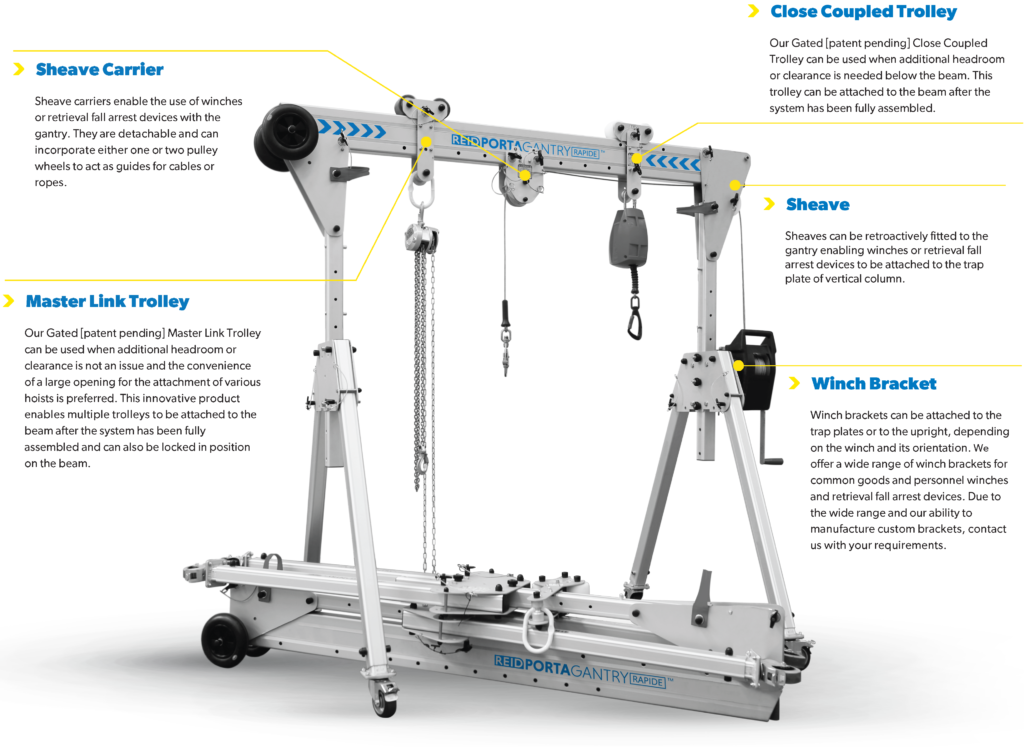 Porta-Gantry Rapide accessories:
Close Coupled Trolley
Sheave and sheave carrier
Winch and Winch mounting brackets
Fall arrest and retrieval devices for personnel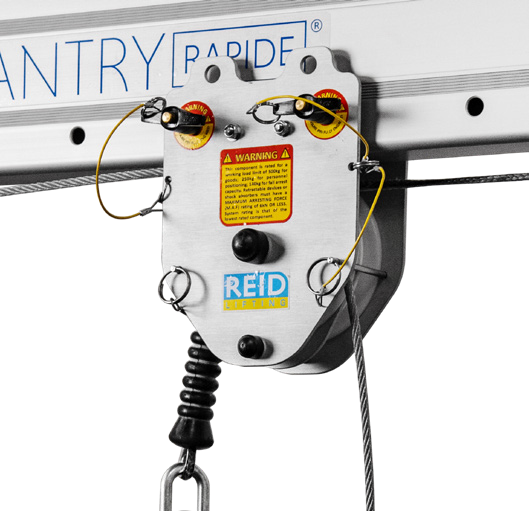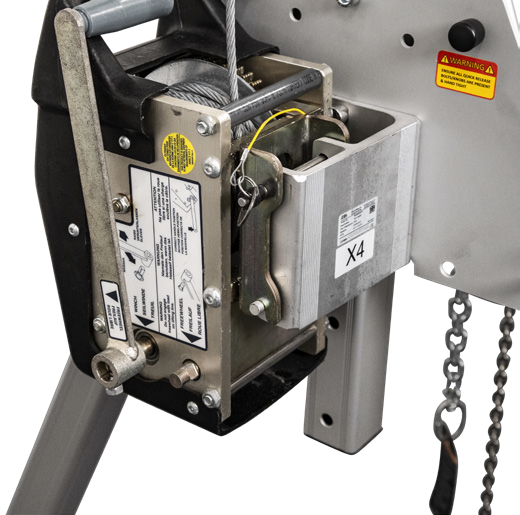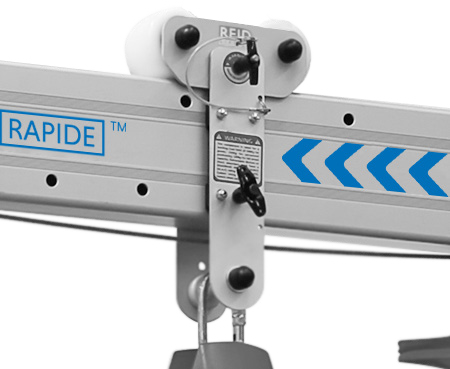 Need a larger lifting capacity? 
View our Porta-Gantry Aluminium Gantry which lifts up to 5000 kg capacity.
Click the PDF button to learn more.
Product Variations
Image
Description
Product Code
Price (excl. GST)

Porta-Gantry Rapide 500kg
Standard frame 2m span
Includes beam trolley

PGRS20

Porta-Gantry Rapide 250kg
Medium frame 4m span
Includes beam trolley

PGRM40

Porta-Gantry Rapide 1000kg
Small frame 2m span
Includes beam trolley

PGR1TS20

Porta-Gantry Rapide 1000kg
Small frame 3m span
Includes beam trolley

PGR1TS30

Porta-Gantry Rapide 1000kg
Small frame 4m span
Includes beam trolley

PGR1TS40

Porta-Gantry Rapide 1000kg
Medium frame 2m span
Includes beam trolley

PGR1TM20

Porta-Gantry Rapide 1000kg
Medium frame 3m span
Includes beam trolley

PGR1TM30

Porta-Gantry Rapide 1000kg
Medium frame 4m span
Includes beam trolley

PGR1TM40

Porta-Gantry Rapide 1000kg
Tall frame 2m span
Includes beam trolley

PGR1TT20

Porta-Gantry Rapide 1000kg
Tall frame 3m span
Includes beam trolley

PGR1TT30

Porta-Gantry Rapide 1000kg
Tall frame 4m span
Includes beam trolley

PGR1TT40

Rapide Beam Trolley with Master Link 500kg

PGTZR00500

Rapide Beam Trolley with Master Link 1000kg

PGTZR01000

Double Sheave Carrier – WLL500kg

PGTTR01001

Universal Sheave and Ball Lock Pin Set

RAPGR00032