Porta-Gantry Rapide
+ Add to Quote Request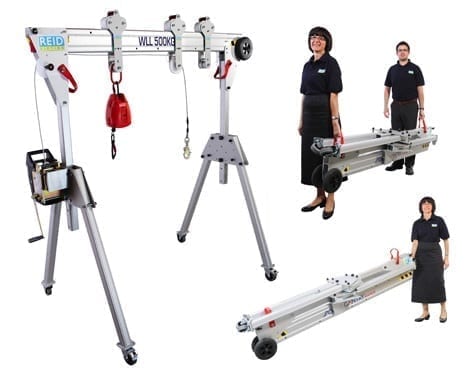 The Porta-Gantry Rapide is a lightweight, safe, portable lifting gantry that adds exciting new dimensions to the Porta-Gantry family. With integrated wheels it is able to be transported by a single person however the overall mass of 33kg means it can be safely carried by 2 persons.
Porta-Gantry Rapide has a max capacity of 500kg. Fitted with load bearing, lockable castors for easy positioning. There are 3 adjustable beam length configurations. A product from the master of innovative lifting, Reid Lifting UK, this is a high-quality European made product. This patented design means the portable gantry can be assembled in under 60 seconds. It is a unique, ultra-light and rapidly deploy-able gantry that provides a versatile lifting solution.
Need more than 500kg capacity?  See our:
Stasndard dimensions:
Open: 2051 x 2070 x 1024 mm
Folded: 350 x 2090 x 485 mm
Height to Lifting Eye: 1938 mm
Additional Information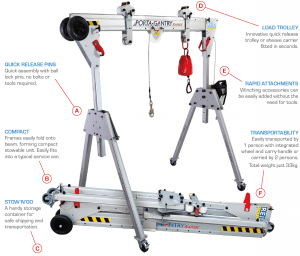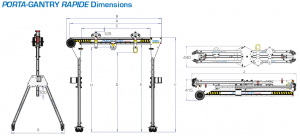 Click the PDF button to learn more.
Product Variations
Image
Description
Product Code
Price (excl. GST)

Porta-Gantry Rapide 500kg
Standard frame 2m span

LPGRS20

Porta-Gantry Rapide 250kg
Medium frame 4m span

LPGRM40

Porta-Gantry Rapide 250kg
Tall frame 2m span

LPGRT20

Porta-Gantry Rapide 1000kg
Medium frame 2m span

LPGR1TM20

Porta-Gantry Rapide 1000kg
Medium frame 3m span

LPGR1TM30

Porta-Gantry Rapide 1000kg
Medium frame 4m span

LPGR1TM40

Porta-Gantry Rapide 1000kg
Tall frame 2m span

LPGR1TT20

Porta-Gantry Rapide 1000kg
Tall frame 3m span

LPGR1TT30

Porta-Gantry Rapide 1000kg
Tall frame 4m span

LPGR1TT40