Porta-Gantry Aluminium Gantry
+ Add to Quote Request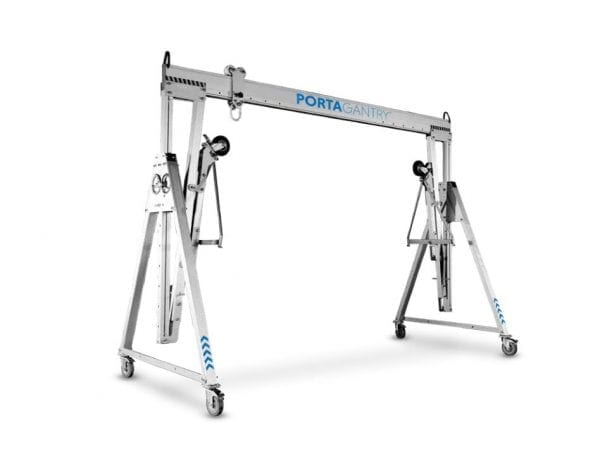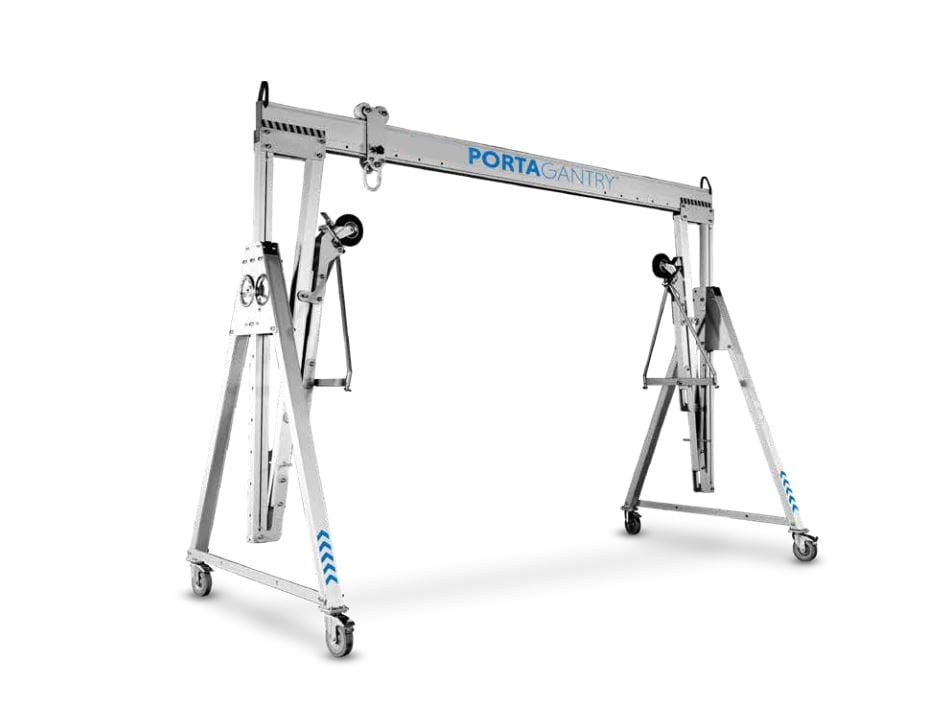 The Aluminium Porta-Gantry is a lightweight, strong, portable lifting system that adds a new dimension to the professional lifting market. Featuring portability, quick assembly and flexibility, the benefits of this product are endless. It also has a huge range of options, which open up endless opportunities across many lifting applications.
The Porta-Gantry is a modular system. A variety of frame heights and beam lengths are interchangeable and can configure a rock-solid solution for even the trickiest requirement. With a top-quality and highly durable design, the Porta-Gantry is incredibly strong. When manually assembled, by using just four bolts, it can safely lift up to 5000 kg.
This lifting system is best suited to lifting applications such as confined space, plant maintenance rooftop, HVAC, elevator-shaft, waste-water, utilities, clean environments and many more. Additionally, the unit even has the ability to be moved under load.
Additional Information
Aluminium portable gantry crane installation instructions
The Porta-Gantry is designed to be easy, quick and simple to install. To help you we've included all the instructions you need below. Have a read of the comprehensive How To steps, or watch the video. 
Remember: each Porta-Gantry comes with a set of printed instructions as well.
Pre-installation
Make sure the castors are all engaged before commencing installation.
Standard installation
Unfold the gantry from its stowed position.

Bolt the strut to the cheek plates.

Next you need to screw the bolts in with your fingers until they are tight.

Turn the A-frame over and then remove the bolt.

Screw the washer and nut onto the removed bolt to help prevent it from dropping and being lost.

Now you need to raise the leg and bolt it into its place.

Repeat this process with the other side of A-frame.

Once you have set the A-frames into position, you can lower the beam into place.

The beam should be fixed where you want it with the bolt.

Repeat this same process on both sides.

Check that the castors are still engaged.
Gated Trolley installation
For installing the Gated Trolley, simply attach it to the beam and install it securely.
Raising the A-frame
Using the first bolt as a hinge, raise the A-frame. Be careful not to get your fingers caught as you lift it.

The beam can then be secured into the right place with the bolt.

Repeat this process for the other side.

The Gated Trolley can be moved into the centre and duly fixed into place.

Attach the mount chain block to the gated trolly. Make sure to add the chain before raising it (depending on the model and size of your Porta-Gantry.)

Remove the bolts to adjust the height and raise the aluminium gantry itself to whatever height you need it.

Secure the bolts once the right height has been reached.

Using the appropriate tools tighten the bolts securely. 
Moving instructions
The aluminium gantry is designed to be mobile and easily moved wherever you need it. Before attempting to move the frame, ensure that all the castors are disengaged.
A unique portable gantry system that lifts up to 5000 kg!
The Porta-Gantry system ensures ergonomic lifting for a range of applications including materials handling, rope access, working at heights, confined spaces and many more. This product is a great choice for any organisation seeking a solution that can be used over multiple locations. With an aluminium structure, horizontal beam and bracing, it provides tremendous stability when lifting loads. Top-quality and European made, each device is supplied with a certificate of conformance and individual record of a thorough examination.
Why buy a lightweight portable

aluminium gantry

?
If your business needs to lift up to 5000 kg in a limited space and you need the maximum amount of flexibility and movability from your crane, then our Porta-Gantry mobile gantry crane ticks all the boxes. This is a crane that's been designed to provide a highly flexible, yet very secure lifting solution for a multitude of operations. 
Whether it's in factories, workshops or warehouses, even outdoors in construction sites, maintenance or utilities areas, if you need to lift or lower heavy loads, our aluminium portable gantry crane is worth a second look. It's also ideal for operating in confined areas, such as elevators or drainage shafts. Here are some of the other benefits of our porta gantry system.
Lightweight: Made from lightweight aluminium, our Porta Gantry is easy to move and transport from site to site. This makes this crane ideal if you need to disassemble and reassemble it in another location. For example between different job sites or if you need to move the crane frequently inside your factory or warehouse to different operational areas. 
Easy to move: With 360 degree lockable castors, our Porta gantry can easily be swivelled around its A-frame and moved from one work area to another inside your building. There's no need to disassemble it if you only need to move it to another workstation, not unless there's only a limited access point to the new location. It will simply roll along the floor with minimal guidance to its new location. The lockable castors also provide an additional safety measure when either moving the crane or operating it at a workstation.
Lifting options: With our Porta-Gantry aluminium gantry crane, you have plenty of lifting options. This means that if you need to lift varying weights up to a maximum of 5000 kg, this is likely to be the best crane for your needs. Under these circumstances, you don't need multiple cranes for different load capacities, you just need our A-frame and beam lengths that come in different sizes that can be customised to the exact lifting capacity you need for each job. 
Various applications: Whilst the purpose of this gantry is to lift or lower heavy items, it has lots of different applications. Essentially, our Porta-Gantry is a one-size-fits all for anything weighing up to 5000 kg. These applications can include lifting or lowering engines, sump drains, building materials, landscaping supplies, stone sculptures and so on.
Weather resistant: If you need to use your aluminium gantry outdoors, then the robust aluminium frame is corrosion resistant and long lasting. This increases the versatility of the Porta-Gantry crane allowing you to use it in all weathers, both indoors and outdoors.
User-friendly: Since it's easy to use, assemble, disassemble and move around, this gantry is very user-friendly. These features reduce worker injuries and sick leave, whilst increasing efficiency at your workplace, whether in a factory, warehouse or on an external job site. It also means that you don't need as many people on the floor or job site, because all the heavy lifting is performed by this one crane.
Our Porta-Gantry aluminium gantry is a practical and affordable lifting solution for many businesses. Offering a variety of applications, lifting tolerances and configurations, it's a system that not only increases productivity, but also reduces workplace injuries. 
Materials Handling also stocks a wide range of jib and gantry cranes, you can view our wider catalogue here.
Mobile gantry crane features
High working load capacity
The Porta-Gantry aluminium gantry crane boasts an impressive working load with limits ranging from 500 kilograms to 5,000 kg depending on the specific model.
High personnel capacity
This aluminium gantry offers a combined maximum capacity of 2,000 kg for personnel lifting depending on the specific model.
Certified and tested
This model is European made and certified with a 3 to 5 personal fall arrest. Specific certifications include EN795:2021 Certified and ATEX Certified.
Fall protection capability
Porta-Gantry's are suitable for supporting up to 5 individual people when completing fall protection applications.
Simple installation
The gantry is easy to construct and use onsite. It features four portable parts assembled with only four bolts. Average assembly time is between 2-3 minutes.
Ergonomic, modular and mobile design
All profiles and handles on the gantry are designed for ergonomic function and safe use. It is lightweight and portable, and the gantry can be easily moved when needed. The modular system provides increased customisability with different parts and solutions.
Beam adjustment
Beam length can be easily adjusted and the height customised to suit the operator and specific application.
Safe and stable operation
Thanks to the robust bolted structure complete with a lateral beam and leg bracing, this gantry offers unrivalled stability. The trolley boasts an ultra-safe captive design with manual adjustment for height and span. Swivel locking castors operate at 360 degrees as part of the standard model.
Flexible applications
The Porta-Gantry frame can be configured into a number of applications and is functional for general use, specific requirements and can be used in conjunction with interchangeable components. This device is perfect for use at heights, in confined spaces, and across different environments.
Anti-corrosion
With an anodised surface, the gantry provides increased corrosion resistance so it will last longer and function better.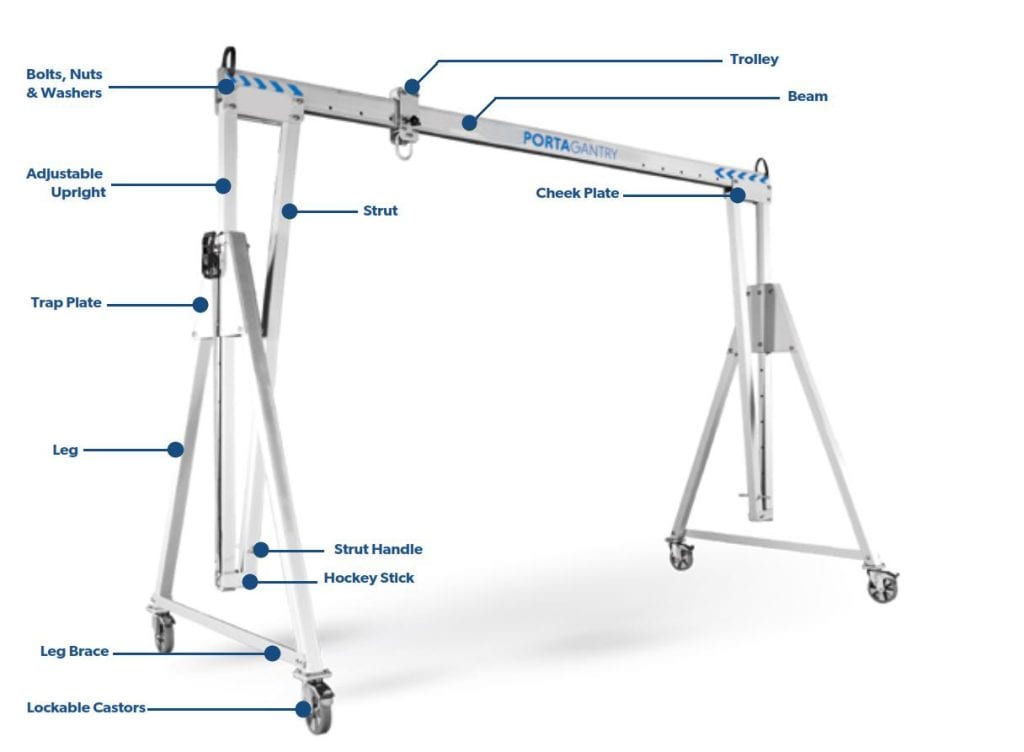 Porta-Gantry System comprises of: 
2 x A-Frames (or custom alternatives).

Trolley – fully encapsulated for safety.

Beam lengths up to 9000 mm (WLL dependent).
The height of each gantry beam can be easily adjusted by releasing two bolts on each upright. It can then be safely raised into position by increments of 150 mm or 200 mm, depending on the product. To assist with this activity, a Geared Wheel or Ratchet system is provided for the larger gantries; manual on smaller frames.
Load Ratings: 
Application
Capacity

Goods (kg)

2000

3000

5000

Fall Arrest

3 persons

5 persons

5 persons

Maximum Personnel Lifting (kg)

1000

1500

2500
Dimensions: 
Model
2000
3000
5000

Min. Height of Lift (mm)

1605

1660

2181

Max. Height of Lift (mm)

5829

5527

5000

Min. Available Span (mm)

2500

2500

2500

Max. Available Span (mm)

8400

8400

5500

Download our PDF for further specifications.
Customers who use this unit frequently combine different frame sizes and beam lengths to address a variety of applications. The construction has an anodised finish, making it easy to clean and suitable for use in clean environments. No paint chips, rust or scratches will damage your investment. To create a Porta-Gantry simply select a pair of frames based on the required capacity and height, then choose a suitable beam length and select a load trolley.
Please note, the hoist is not included, however, we have many suitable options available.
Customise your Porta-Gantry with a great range of accessories, featuring:
Lobed Cheek Plates for easy assembly when adjusting the operating span.

Wind-up Jack Legs, which provide a flat surface for mounting the gantry and offer additional height adjustment up to 250 mm.

Trolley Rope Control System for precise control over the movement of the load trolley from a safe location next to the A-frame,

Festoon System, which has been designed to keep electric hoist power cords away from lifting operations.
For customisable options, speak to one of our team members for further advice! Alternatively, check out our light-duty Rapide. 
Click the PDF button to learn more.
Product Variations
Image
Description
Product Code
Price (excl. GST)

Porta-Gantry frame short
2000kg capacity
Height to lift eye adjustable: 1611-2361mm

LPGF2000-S

Porta-Gantry frame intermediate
2000kg
Height to lift eye adjustable: 2198-3198mm

LPGF2000-I

Porta-Gantry frame tall
2000kg
Height to lift eye adjustable: 2889-4089mm

LPGF2000-T

Porta-Gantry frame intermediate
3000kg
Height to lift eye adjustable: 2198-3198mm

LPGF3000-I

Porta-Gantry frame tall
3000kg
Height to lift eye adjustable: 2889-4089mm

LPGF3000-T

Porta-Gantry frame intermediate
5000kg
Height to lift eye adjustable: 2181-3181mm

LPGF5000-I

Porta-Gantry frame tall
5000kg
Height to lift eye adjustable: 2840-4040mm

LPGF5000-T

Porta-Gantry beam A 2500mm
WLL 3000kg

LPGB2500

Porta-Gantry beam A 3000mm
WLL 3000kg

LPGB3000

Porta-Gantry beam B 3920mm
WLL 3000kg

LPGB3920

Porta-Gantry beam B 4570mm
WLL 3000kg

LPGB4570

Porta-Gantry beam D 6000mm
WLL 3000kg

LPGB6000-D

Porta-Gantry beam D 8400mm
WLL 3000kg

LPGB8400-D

Porta-Gantry beam D 3920mm
WLL 5000kg

LPGB3920-D

Porta-Gantry beam D 4570mm
WLL 5000kg

LPGB4570-D

Porta-Gantry beam D 5500mm
WLL 5000kg

LPGB5500-D

Porta-Gantry beam trolley
Suitable for 2000kg and 3000kg models

LPGT-3T

Porta-Gantry beam trolley
Suitable for only 5000kg

LPGT-5T

Porta-Gantry Wind Up Jack Leg Set
Suitable for devices up to 5000kg

LPGWS05000