Porta-Gantry Aluminium Gantry
+ Add to Quote Request
Our Aluminium Porta-Gantry offers a lightweight, portable lifting system that adds a new dimension to the professional lifting market. Featuring portability, quick assembly, flexibility and rigidity, the benefits of this product are endless. It also has a huge range of options, which open up endless opportunities across many applications.
The Porta-Gantry is a modular system. A variety of frame heights and beam lengths are interchangeable and can configure a rock-solid solution for even the trickiest requirement. With a top-quality and highly durable design, the Porta-Gantry is incredibly strong. When manually assembled, by using just four bolts, it can safely lift up to 5000 kg.
This lifting system is best suited to lifting applications such as confined space, plant maintenance rooftop, HVAC, elevator-shaft, waste-water, utilities, clean environments and many more. Additionally, the unit even has the ability to be moved under load.
Additional Information
How does it work?
The Porta-Gantry has an aluminium structure with a horizontal beam and bracing providing tremendous stability and rigidity when under load. The component sections are specifically designed to give the maximum load capacity with minimum mass, with the ergonomic handling of lightweight components a huge benefit. Top-quality European make, each device is supplied with a certificate of conformance and individual record of a thorough examination.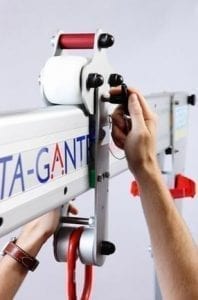 The unit consists of a pair of height-adjustable A-Frames, horizontal beam and load trolley. It is compactly stowed and easily assembled via a unique method – simply follow the operation manual and videos provided.
Customers who use this unit frequently combine different frame sizes and beam lengths to address a variety of applications. The construction has an anodised finish, making it easy to clean and suitable for use in clean environments. No paint chips, rust or scratches will damage your investment.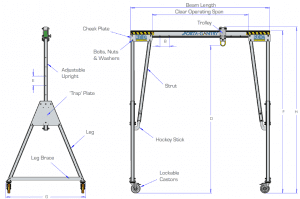 To create a Porta-Gantry simply select a pair of frames based on the required capacity and height, then choose a suitable beam length and select a load trolley.
Beam lengths available (dimensions in mm):
2000 kg model (2500, 3000, 3920, 4570 and 5500mm)
3000 kg model (3920, 4570 and 5500mm)
5000 kg model (3920 and 4570mm)
Please note, the hoist is not included, however, we have many suitable options available. For customisable options, speak to one of our team members for further advice!
Also, see our light-duty Rapide range for 500 kg capacity and our Aluminium Mobile Gantry 2000 kg capacity..


Click the PDF button to learn more.
Product Variations
Image
Description
Product Code
Price (excl. GST)

Porta-Gantry frame short
2000kg capacity
Height to lift eye adjustable: 1611-2361mm

LPGF2000-S

Porta-Gantry frame intermediate
2000kg
Height to lift eye adjustable: 2198-3198mm

LPGF2000-I

Porta-Gantry frame tall
2000kg
Height to lift eye adjustable: 2889-4089mm

LPGF2000-T

Porta-Gantry frame intermediate
3000kg
Height to lift eye adjustable: 2198-3198mm

LPGF3000-I

Porta-Gantry frame tall
3000kg
Height to lift eye adjustable: 2889-4089mm

LPGF3000-T

Porta-Gantry frame tall
5000kg
Height to lift eye adjustable: 2840-4040mm

LPGF5000-T

Porta-Gantry beam 2500mm
Suitable up to 3000kg

LPGB2500

Porta-Gantry beam 3000mm
Suitable up to 3000kg

LPGB3000

Porta-Gantry beam 3920mm
Suitable up to 3000kg

LPGB3920

Porta-Gantry beam 4570mm
Suitable up to 3000kg

LPGB4570

Porta-Gantry beam 5500mm
Suitable up to 3000kg

LPGB5500-D

Porta-Gantry beam 3920mm
Suitable for only 5000kg

LPGB3920-D

Porta-Gantry beam 4570mm
Suitable for only 5000kg

LPGB4570-D

Porta-Gantry beam trolley
Suitable for 2000kg and 3000kg models

LPGT-3T

Porta-Gantry beam trolley
Suitable for only 5000kg

LPGT-5T

Porta-Gantry Wind Up Jack Leg Set
Suitable for 500 – 3000kg devices

LPGWS03000