Electric Chain Hoists – Kone
+ Add to Quote Request

CLX Electric Chain Hoists are efficient lifting devices for handling loads from 125 to 2500 kg.
The compact headroom and a high level of operating safety results in outstanding performance.
With dual lifting speeds, upper limit switch as standard and versatile configurations (such as hook suspension, push trolley, and motorized trolley versions) the CLX Chain Hoist can be used for a wide range of applications like workstation cranes, overhead cranes, jib cranes and many others.
All hoists are supplied as 3m height of lift as standard and 415V 3 phase power supply.
Check out the PDF documents below for detailed specifications including dimensional drawings!
Additional Information
The CLX Electric Chain Hoist provides cost effective and reliable service for a variety of applications and is at the forefront of electric hoist technology.
The robust frame and high quality construction also enables a longer lifetime for the hoist.
TECHNICAL FEATURES
Most models with single fall chain
The 6:1 speed ratio in the 500 kg and 1000 kg models enables a high main speed and a slow second speed
Innovative 5 pocket chain sprocket with 5 intermediate teeth means less wear on chain
Limit switches are fitted standard
Overload clutch concept for increased safety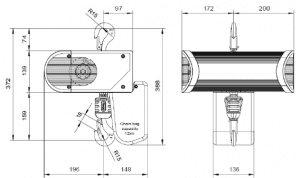 PERFORMANCE AND SERVICE
Better performance
Long lifetime
Suitable for temperature range -20 to +50°C
Long continuous duty
Lifetime support
Hoists may be used with our lightweight crane systems or existing crane
Can be supplied to any height of lift you require
Click the PDF button to learn more.
Product Variations
Image
Description
Product Code
Price (excl. GST)

125kg capacity
415V three phase power
Two speed 8/2 m/min

CLX020810126

250kg capacity
415V three phase power
Two speed 8/2 m/min

CLX020810255

500kg capacity
415V three phase power
Two speed 8/1.3 m/min

CLX050810505

2000kg capacity
415V three phase power
Two speed 4/0.7 m/min

CLX100422005

1000kg capacity
415V three phase power
Two speed 8/1.3 m/min

CLX100811005

3200kg capacity
415V three phase power
Two speed 4/0.7 m/min

CLX160423205

1600kg capacity
415V three phase power
Two speed 8/1.3 m/min

CLX160811605

4000kg capacity
415V three phase power
Two speed 4/0.7 m/min

CLX250424006

5000kg capacity
415V three phase power
Two speed 4/0.7 m/min

CLX250425005

2000kg capacity
415V three phase power
Two speed 8/1.3 m/min

CLX250812006

2500kg capacity
415V three phase power
Two speed 8/1.3 m/min

CLX250812505

Capacity 500kg
Power 415V 3Ph
Two speed 4/1 m/min

CLX020420505

Capacity 1000kg
Power 415V 3Ph
Two speed 4/0.7 m/min

CLX050421005

Capacity kg 1000
Flange Width "A" 65-200mm
Flange Width "B" –
Falls 2

LKET1000A

Capacity kg 2000
Flange Width "A" 65-20mm
Flange Width "B" 200-310mm
Falls 2

LKET2000A

Capacity kg 3000
Flange Width "A" 50-200mm
Flange Width "B" 200-310mm
Falls 2

LKET3000A

Capacity kg 5000
Flange Width "A" 50-200mm
Flange Width "B" 200-310mm
Falls 2

LKET5000A

Manual beam trolley 1000kg
Flange width 65-200mm

LKPT1000A

Manual beam trolley 1000kg
Flange width 200-310mm

LKPT1000B

Manual beam trolley 2000kg
Flange width 88-200mm

LKPT2000A

Manual beam trolley 2000kg
Flange width 188-310mm

LKPT2000B

Manual beam trolley 250kg
Flange width 50-202mm

LKPT250A

Manual beam trolley 3000kg
Flange width 100-202mm

LKPT3000A

Manual beam trolley 3000kg
Flange width 188-310mm

LKPT3000B

Manual beam trolley 5000kg
Flange width 114-202mm

LKPT5000A

Manual beam trolley 5000kg
Flange width 188-310mm

LKPT5000B

Manual beam trolley 500kg
Flange width 50-200mm

LKPT500A

Manual beam trolley 500kg
Flange width 188-310mm

LKPT500B