Electric Chain Hoists – Porta Hoist
+ Add to Quote Request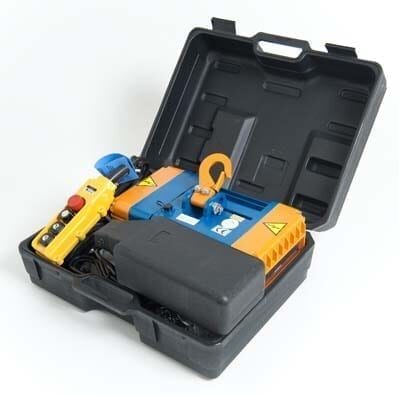 Porta Hoist Electric Chain Hoists are lightweight, compact, portable electric chain hoists. They conveniently fit in their own durable travel case making them the ideal portable solution for safe lifting, lowering and handling loads up to 500 kg. Using only 240V single-phase power, these are suitable to plug into a general power outlet. All models include an overload-limited clutch plus upper and lower limit switches for extra safety.
As standard they are fitted with ergonomic, low voltage IP65 pendant with 2 speed control plus emergency stop. The low speed is variable and the high speed is fixed. Supplied standard with 6m height of lift, a chain bucket, 5m pendant cable length and 3m power cord. A powered girder trolley is available for these units.
Additional Information
Click the PDF button to learn more.
Product Variations
Image
Description
Product Code
Price (excl. GST)

Porta Hoist
Single Phase 240V
Two Speed
80kg capacity

LPPH080

Porta Hoist
Single Phase 240V
Two Speed
125kg capacity

LPPH125

Porta Hoist
Single Phase 240V
Two Speed
250kg capacity

LPPH240

Porta Hoist
Single Phase 240V
Two Speed
500kg capacity

LPPH500

Porta Hoist Girder Trolley
Single Phase 240V
Single Speed 14m/min
500kg capacity

LPPHT050