Cubing and Weighing iDimension Plus Mobile
+ Add to Quote Request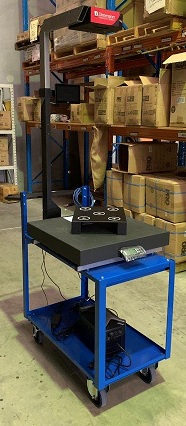 iDimension® Plus Mobile brings dimensioning everywhere you need it, from your loading dock to your warehouse aisle. This model has a "Legal for Trade in Australia" certificate of approval NMI 13/1/35.
Cut steps and boost throughput: Mobile solutions are proven to cut steps and boost work rate by up to 50%. Combine that with Plus Mobile's intelligent, lightning-fast dimensioning and data scanning and you'll realize dramatic increases in throughput.
Custom Mobile Cube Weigher: These custom-built trolleys consist of a 204599 iDimension scanner, with measurement capability of 1015 x 600 x 600 (L x W x H).
There are 3 versions of iDimension scales:
202191

(75 x 0.02kg with 450 x 450mm platform)

182396

(150 x 0.05kg with 510 x 510mm platform)
182400 (150 x 0.05kg with 600 x 600mm platform
The scale is mounted on a trolley with a rechargeable power station and a 176307 barcode reader. It also includes a portable power hub and all necessary cables. Purchase the 175812 database collection and integration software separately to complete your solution. The software will be emailed upon receipt of your order.
Reinventing the Wheel: Plus Mobile is designed from the ground up for optimal efficiency. With support for any iDimension model, swappable portable power for 24/7 operation, and a comprehensive set of accessories, you can create a truly custom productivity station.
Premium Power: Plus Mobile features Hot-Swappable Nucleus Lithium Power System. When power runs low, simply swap out the power package with a fully charged one. Each power package offers quiet, seamless AC power and a 5-7 year or 3000-cycle battery life. Economical lead-acid systems are also available. Click the following link for iDimension product details.
Additional Information
Easy to install
Installation of the PLUS dimensioning unit only takes approximately 30 minutes. After unpacking and set-up, you can start using the iDimension PLUS thanks to an easy-to-follow setup guide. Click here for assembly and initial set-up instructions. Simply log in to the web-based interface to access additional settings and communication options.
Standard Features
Enhance speed and data collection for the optimization of warehouse space, truck/trailer loads and identifying the best packaging solutions
Decrease shipping charges and costly chargebacks from shippers
Dimension directly at product location; increase productivity by up to 50% by eliminating costly motion, touches and transportation time
Reduce operator fatigue and potential injury as carrying/moving parcels to fixed stations is eliminated
Quickly process increased volume due to business growth, seasonal peaks & more
The rugged iDimension Plus Mobile powered carts consist of the Short 760mm or Long 1220mm long workstations that hold and power the iDimension Plus Mobile dimensioner and other hardware including scales, laptops/thin clients/CPUs and printers up to 12+ hours at a time or 24/7 operation.
Both the Long and short versions are available with your choice of either Lithium or Lead Acid battery.
Have a look at the interesting array of all our iDimension products.
The iDimension range is incredibly innovative!
There are more iDimension and Weighing products to see! Check out our great range.
Refer to the PDF below for scales, options, accessories and parts.
Click the PDF button to learn more.
Product Variations
Image
Description
Product Code
Price (excl. GST)

Custom Mobile Cube Weigher Trolley including
1 x 204599 dimensioner power hub & cables
1 x 202191 scale 75kg 450 x 450mm deck
1 x Power station 1 x 176307 barcode scaner

PMC07545

Custom Mobile Cube Weigher Trolley including
1 x 204599 dimensioner power hub & cables
1 x 182396 scale 150kg 510 x 510mm deck
1 x Power station 1 x 176307 barcode scaner

PMC15051

Custom Mobile Cube Weigher Trolley including
1 x 204599 dimensioner power hub & cables
1 x 182400 scale 150kg 600 x 600mm deck
1 x Power station 1 x 176307 barcode scaner

PMC15060

iDimension PLUS dimensioner with 1.2m pole assembly
For parcles less than 1015mm long

204599

Rechargeable portable power station

EF4PRO

762mm Long Cart
Add batteries/power station dimensioner & scale

203934

1200mm Long Cart
add batteries dimensioner & scale

203935

Dual lithium battery charging station

212177

Single lithium battery charging station

212179

Sealed lead acid battery pack

212180

75 x 0.02kg stainless scale 450 x 450mm platform

182378

75 x 0.02kg mild steel scale 450 x 450mm platform

202191

150 x 0.05kg mild steel scale 510 x 510mm platform

182396

150 x 0.05kg mild steel scale 600 x 600mm platform

182400

QuickScan QD2131 KBW USB Wand Emulation RS-232 with USB cable

176307

Software – Webserver database collection and integration program
Add the software only if you are not at ease with collecting the data straight from the API which is also possible. The software just makes it easier.

175812