iDimension Plus Mobile Cube Weigher
+ Add to Quote Request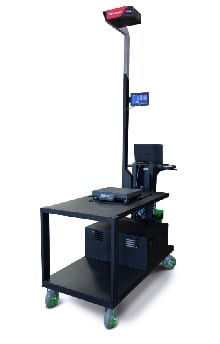 iDimension® Plus Mobile brings dimensioning everywhere you need it, from your loading dock to your warehouse aisle.                                               Has "Legal for Trade in Australia" certificate of approval NMI 13/1/35.
CUT STEPS AND BOOST THROUGHPUT. Mobile solutions are proven to cut steps and boost work rate by up to 50%. Combine that with Plus Mobile's intelligent, lightning-fast dimensioning and data scanning and you'll realize dramatic increases in throughput.
REINVENTING THE WHEEL. Plus Mobile is designed from the ground up for optimal efficiency. With support for any iDimension model, swappable portable power for 24/7 usefulness, and a comprehensive set of accessories – and two sizes – you can create a truly custom productivity station.
PREMIUM POWER. Plus Mobile features Hot-Swappable Nucleus Lithium Power System. When power runs low, simply swap out power package with a fully charged one. Each power package offers quiet, seamless AC power and a 5-7 year or 3,000-cycle battery life. Economical lead-acid systems are also available.
 Refer to the PDF below for scales, options, accessories and parts.
Additional Information
Standard Features
Enhance speed and data collection for the optimization of warehouse space, truck/trailer loads and identifying best packaging solutions
Decrease shipping charges & costly charge backs from shippers
Dimension directly at product location; increase productivity up to 50% by eliminating costly motion, touches and transportation time
Reduce operator fatigue and potential injury as carrying/moving parcels to fixed stations is eliminated
Quickly process increased volume due to business growth, seasonal peaks & more
The rugged iDimension Plus Mobile powered carts consist of the Short 760mm or Long 1220mm long workstations that hold and power the iDimension Plus Mobile dimensioner and other hardware including scales, laptops/thin clients/CPUs and printers up to 12+ hours at a time or 24/7 operation.
Both the Long & Short versions are available with your choice of either Lithium or Lead Acid battery.
Have a look at the interesting array of all our iDimension products.
The iDimension range is incredibly innovative!
There's more iDimension and Weighing products to see! Check out our great range.
Click the PDF button to learn more.
Product Variations
| | | | | |
| --- | --- | --- | --- | --- |
| | 762mm Long Cart with Power Swap Lithium Battery | 200085 | | |
| | 1220mm Long Cart with Power Swap Lithium Battery | 200086 | | |
| | 762mm Long Cart with Lead Acid Battery | 200087 | | |
| | 1220mm Long Cart with Lead Acid Battery | 200088 | | |
| | 75 x 0.02kg stainless scale 450 x 450mm platform | 182378 | | |
| | Software – Webserver database collection and integration program | 175812 | | |