Gas Cylinder Lifting Cage
+ Add to Quote Request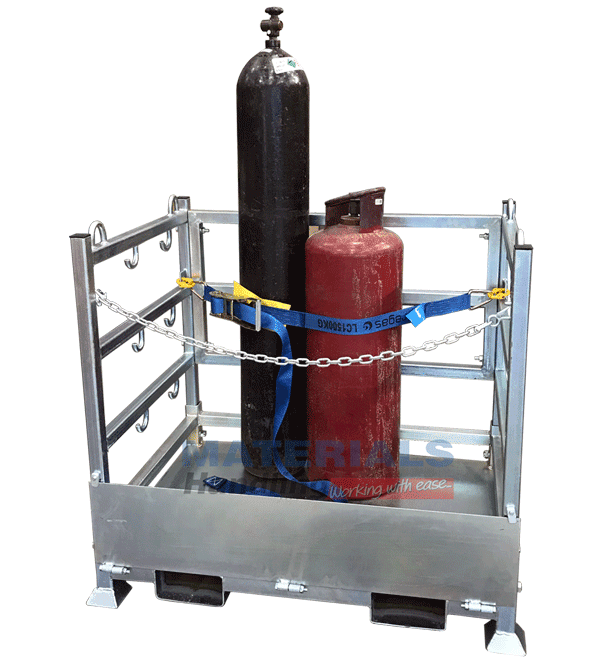 Our Gas Cylinder Stillage Cage safely stores many different types of gas cylinders and associated equipment. It is a secure unit that easily keeps, protects and transports cylinders around a worksite. The cage is entirely stackable and suitable for building, mining or warehouse applications.
The cage allows products to be stored in an upright position. A load-binder fastens cylinders to avoid spills or loose items. On each cage, crane lugs and fork pockets allow cages to be transported around a worksite.
Gas Cylinder Stillage Cages feature Working Load Limits (WLL) up to 1000 kg (for forklifts).
Additional Information
Transport cylinders easily with our Gas Cylinder Stillage Cage!
Our cages can easily be handled by either a forklift or overhead crane. When not in use, they can be stacked two cages high. Folding ramps provide easy access into the cage to reduce unsafe lifting of cylinders by employees and remove potential manual handling injuries. Cages are supplied as a flat-pack or assembled on site.
MSGC80 Specifications: 
Overall Dimensions (mm) – 1200 x 850 x 1065
Internal Dimensions (mm) – 1050 x 700
Unit Weight – 120 kg
Crane Working Load Limit – 500 kg
Forklift Working Load Limit – 1000 kg
Fork Pocket Size (mm) – 192 x 92
Fork Pocket Centres – 600 mm
Improve your workplace with alternative solutions.
We have a range of Gas Cylinder Handling and Storage products perfect for your working environment – check them out!
Product Variations
Image
Description
Product Code
Price (excl. GST)

Gas Cylinder Stillage Cage
Supplied as flat-pack

MSGC80
$1,340.00