Mezzanine Floor Goods Lift – Mezzalift
+ Add to Quote Request
Our Mezzalift provides safe and easy transfer of goods from ground level to mezzanine floors. A basic goods hoist, it improves the safety process and is easy to install in any working environment!
Perfect for mezzanine floors, other elevated work platforms and high-density storage spaces, an operator can efficiently move objects of up to 60 kg to the next level. The easy use mechanism allows an operator to comfortably transfer the platform and to lift/lower items up or down floor levels. The Mezzalift completely removes the risky task of carrying heavy items up and down ladders, allowing users to work from ease and have full control over heavy loads.
This practice provides an extremely cost effective solution to manual and materials handling tasks. 
Additional Information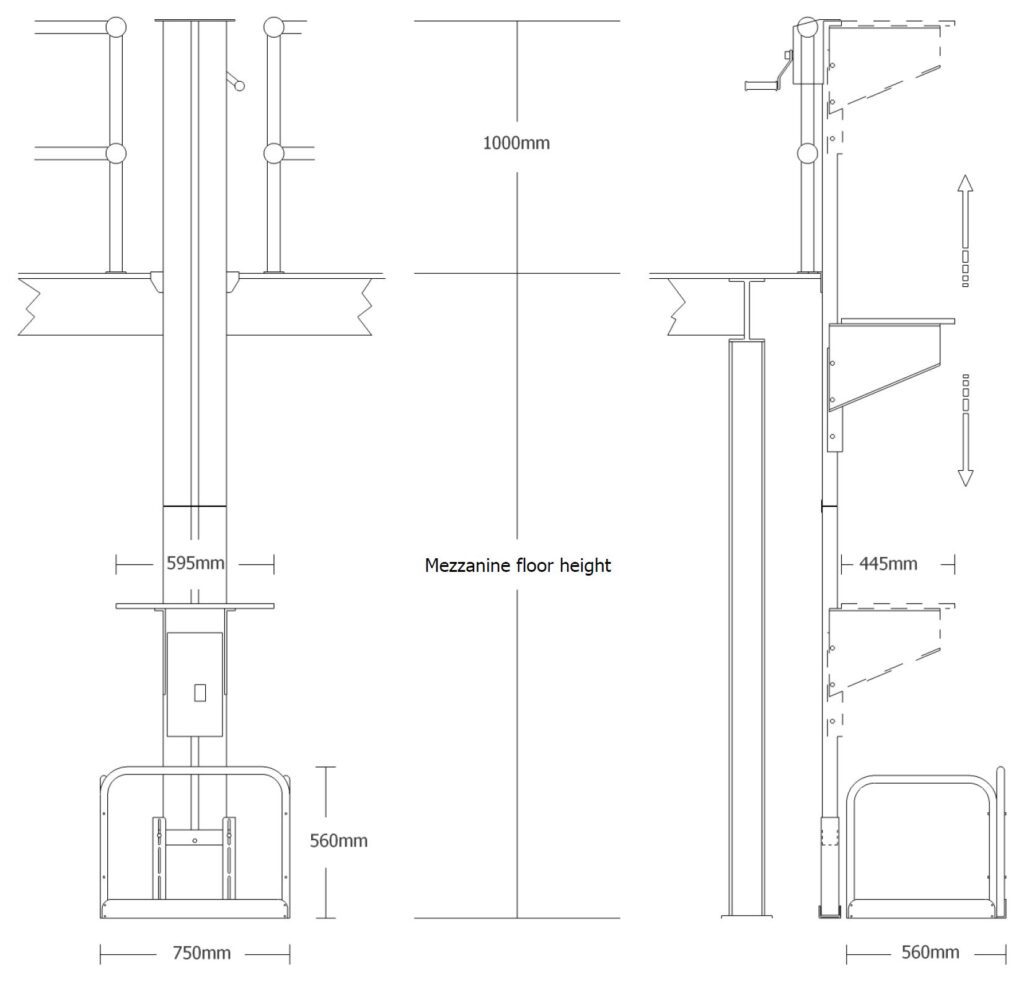 A manual goods lift to improve your manual process!
The Mezzalift is perfect for moving loads up and down varying floors. Utilising the manually operated winch ensures it is simple to place goods on a desired mezzanine level. The unit also features an automatic safety-braking system which activates when the winch handle is released.
As this is a manual machine there is no considerable maintenance costs. The Mezzalift ensures productivity is maintained as there is no battery charging component or possibility of 'down time'. It completely eliminates the risky activity of transporting items up and down ladders. Not to mention, the table of the unit can be positioned at a fixed height for ergonomic placement of stacked loads – a great added bonus! 
Install within minutes for practical use!
The Mezzalift is quick and easy to install as it only requires fixing in two locations. The device comes complete with a high visibility safety barrier that eliminates the possibility of standing under the platform while in operation. The Mezzalift has a versatile section at the floor level to guarantee correct operating height at the mezzanine floor. The length is adjusted to place the lift table at optimum height for loading and unloading.
It is the perfect companion to our Stockmaster Mezzalad.
Our Stockmaster Mezzalad makes the ideal companion for the unique Mezzalift device. The Mezzalad provides personnel access to a mezzanine floor, whereas the Mezzalift is then utilised to move goods to the same level. The perfect combination of these products provides a seamless approach to utilising space above factory offices and rooms and ensuring access to cargo is easy.
Click the PDF button to learn more.
Product Variations
| | | | | |
| --- | --- | --- | --- | --- |
| | Suit mezzanine height: 2250-2555mm | SMMH01 | | |
| | Suit mezzanine height: 2535-2840mm | SMMH02 | | |
| | Suit mezzanine height: 2820-3125mm | SMMH03 | | |
| | Suit mezzanine height: 3110-3415mm | SMMH04 | | |
| | Suit mezzanine height: 3395-3700mm | SMMH05 | | |
| | Suit mezzanine height: 3685-3990mm | SMMH06 | | |
| | Suit mezzanine height: 3970-4275mm | SMMH07 | | |