Multi Purpose Material Lifter MBD180
+ Add to Quote Request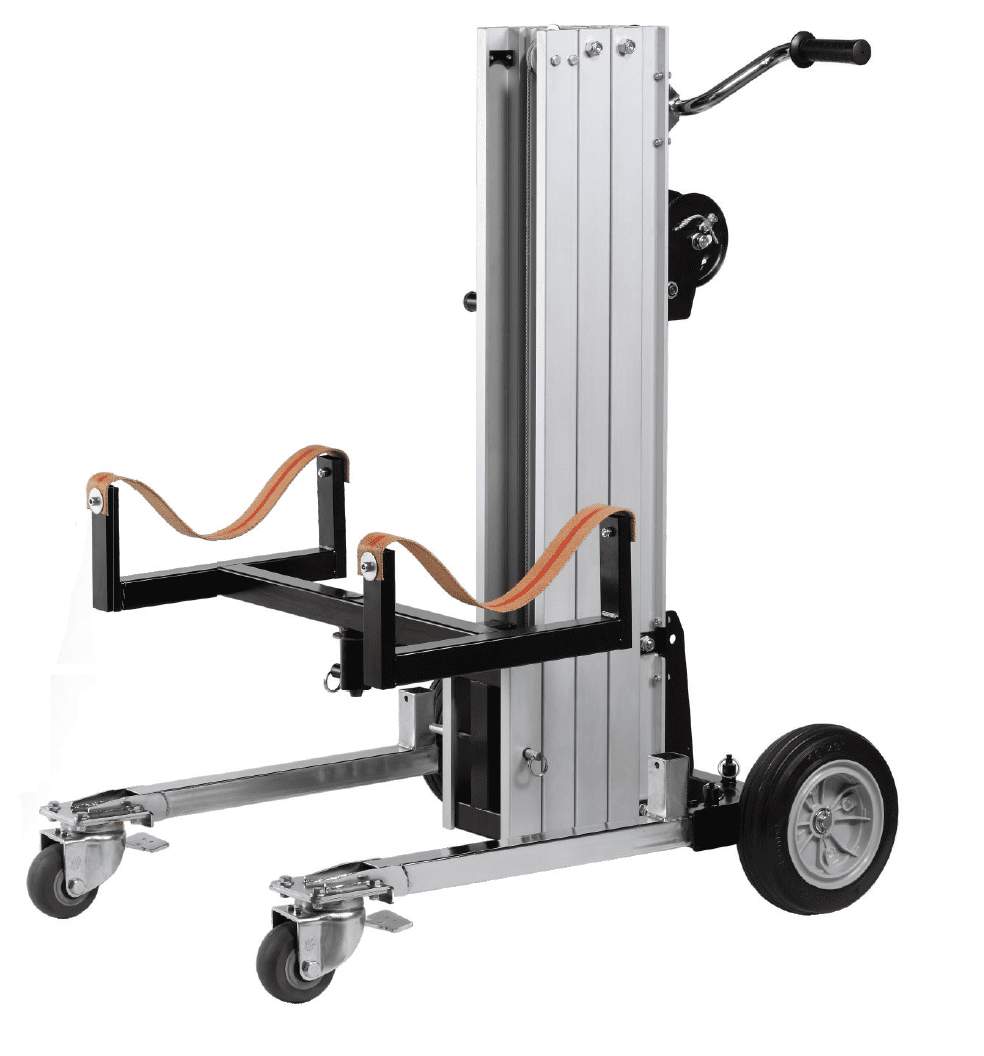 Our Multi Purpose Material Lifter can be used for a variety of materials handling applications making it a highly functional and versatile device. The unit easily moves and lifts heavy loads with a weight capacity of up to 180 kg.
Available with a variety of attachments to assist with different lifting tasks, this trolley is an ideal device to increase productivity and reduce potential lifting strains or injuries. It is simple to install and even easier to put into practice. Only one person is required to operate the Multi Purpose Material Lifter. Its lightweight design makes it effortless to transport.
Additional Information
What's unique about this device?
The MBD180 is a multi-functional material lifter that's adjustable and very usable. Its compact design ensures the device can transport a range of goods. When a task is completed, the trolley can be folded down for sufficient storage. This device has been used to help install a number of products including air-conditioners, garage doors, retractable awnings, electric heaters and more.
Not your average material lifter!
This material lifter has a range of attachments to assist in a number of lifting tasks – including cylinder and pipe cradle, fork and jib crane accessories.
With a robust aluminium construction, the unit can efficiently lift to an amazing height of 3 metres, at a load capacity of 180 kg. Its 250 mm, puncture-proof rear wheels ensure smooth operation and continuous movement over rough ground.
See how the device could work for you!
The 90-degree swing and adjustable (up to 1050 mm) wheelbase allows the trolley to navigate tight doorways and corridors. The unit also features safe-locking castors, to prevent movement and increase stability. The Material Lifter can be immediately used on site and easily glides across rugged surfaces. The chassis legs can be removed to make the device compact and suitable for transportation in a vehicle. It also features a manual winch, automatic breaking and special lifting steel wire.
Technical Data and Specifications
Maximum Load Capacity – 180 kg
Lifting height – 303 cm
Basic height – 116 cm
Dimension (stow) – 47 x 45 x 116 cm
Machine weight – 60 kg
Features at a glance:
Choice of attachments – pipe cradle, fork or jib crane
One person operation
Compact design and easily transportable (folds down for storage)
90-degree swing access through 77 cm doorways
250 mm rear wheels
Adjustable wheelbase from 77 cm to 105 cm
Locking castors for increased stability
Require other lifting devices?

Continue to browse our wide range of
Material Lifters
and
Trolleys
!
Click the PDF button to learn more.
Product Variations
Image
Description
Product Code
Price (excl. GST)

Jib attachment

3029294

Multi Purpose Material Lifter with Pipe Cradle
Lift height: 3950mm

MBD182-C

Multi Purpose Material Lifter with Forks
Lift height: 3740mm

MBD182

Multi Purpose Material Lifter with Pipe Cradle
Lift height: 3030mm

MBD180-C

Multi Purpose Material Lifter with Forks
Lift height: 2880mm

MBD180

Fork Set

3029399

Pipe Cradle

3029287