Bread Crate Stackers
+ Add to Quote Request
Introducing our Bread Crate Stackers – an incredibly designed solution that's ideal for handling and moving plastic crates. These units are suitable for food and service industries and have already been employed in bakeries and processing plants across Australia.
Available in two models (Electric Wizard MCRATEW and Manual Genie MCRATEG), each unit is able to move crates to desired locations with ease. In particular, the MCRATEW features features a unique battery-hydraulic system that powers the unit to lift automatically. Gone are strenuous manual handling activities, as Bread Crate Stackers replace physical labour with seamless and effortless handling of crates.
Additional Information
Exceptionally reliable!

The Bread Crate Stackers clear the ground with a single action. These units are perfect for reducing manual handling hazards, where an employer strains their back lifting heavy loads. These stackers do the job for you. They're exceptionally easy to use, anyone can operate as minimal training is required and they're maintenance free!
Both stackers are extremely robust in construction. They've been designed to withstand years of rough handling and operation. Despite being incredibly durable, they're also very lightweight, safe and easy to move as well. The MCRATEW features a powerful electric hydraulic system and simple handle-mounted controls to automatically clamp or release crates with its arms. Store, stack, de-stack, move or load trucks fast with either Bread Crate Stacker!
Bread Crate Stacker Genie – MCRATEG

Unique bread crate pallet jack
Lifts stacks weighing up to 200 kg
Environmentally friendly – no electricity required.
Comes as a standard design
Versatile and can me used in most cases without modifications
Small footprint, only 100 mm wider than standard crates
Steerable rear castor wheels
Galvanised and powder-coated for long-term resistance
Manual operation
Height – 1033 mm
Length – 965 mm
Travelling height – 100 mm

Bread Crate Stacker Wizard – MCRATEW

Unique hydraulic bread crate stacker
Lifts crates up to 200 kg
Digital height display
Computerised control system can program arms to move automatically
Digital weight display
Stainless steel construction
Non-standard widths and lift heights
Height – 2260 mm
Length – 1250 mm (excluding handle)
Travelling height – 1600 mm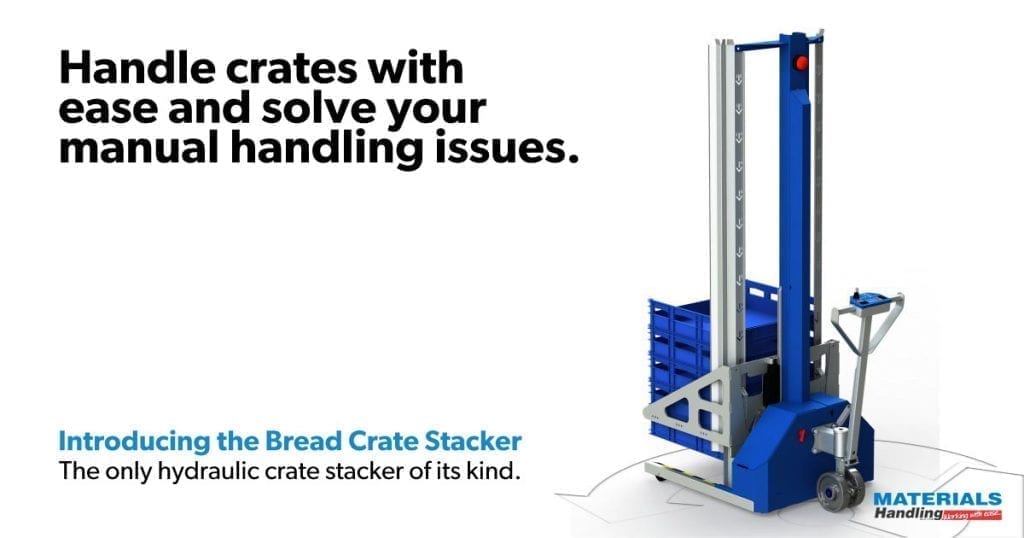 Not sure what you're after? 
Then view our entire range of Lifting Equipment or speak to one of our consultants. We pride ourselves on having a wide range of solutions for many types of applications!
Product Variations
| | | | | |
| --- | --- | --- | --- | --- |
| | Bread crate stacker Genie manual | MCRATEG | | |
| | Bread crate stacker wizard battery operated | MCRATEW | | |