Drum Lid Vacuum System
+ Add to Quote Request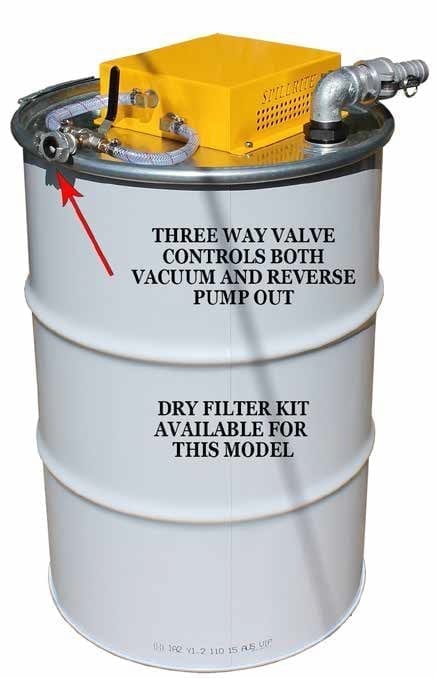 The Drum Lid Vac is an air powered industrial vacuum system that turns your old steel drum into a powerful wet and dry vacuum with reverse pump out capabilities. Ideal for all spills of water, oils, hydraulic fluid, flammable fuels, diesel, slurry, mud, chemicals, pesticides, coolant and any fluid with solids suspended in it. It vacuums all heavy thick and nasty fluid and solids suspended in fluids.
There are five versions. Standard vacuum only (SVO) – Standard vacuum & reverse pump out (RPO) – Explosion proof vac only (EX/VO) – Explosion proof vac & reverse (EX/RPO) – Swarf & chip vac & reverse pump out (SWF/RPO). The kits do not include the open top 205 litre drum. The Drum Lid Vacuums come in 4 different power levels either 48, 100, 180 or 220 CFM. The more power you consume the more power is created and this enables longer hose lengths, greater vertical lift and larger hose diameters. See the last page of the PDF below for the available models.
Our D4T4 Drum Trolley is a great partner for these vacuum kits.