Gas Bottle Trolleys
+ Add to Quote Request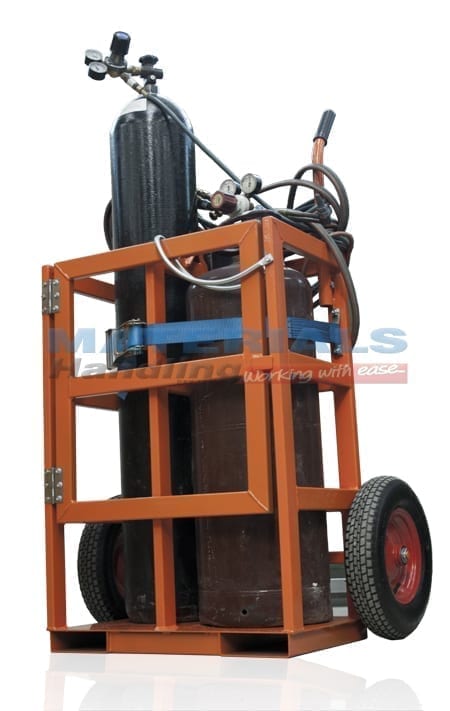 Our Gas Bottle Trolleys are available in either 2 or 4 cylinder models. They allow for easy and safe transportation of heavy gas bottles around a workplace. The benefits of these trolleys are huge! Not only do they improve manual handling processes, but workers are not exposed to risks of physical exertion or strain.
Either models of our Gas Bottle Trolleys – the MGC2 or MGC4 – will improve the workplace safety culture in your organisation. They are both equipped to support one type "G" Oxygen and one type "G" Acetylene gas cylinder. Provision has been made to store all hoses inside the cage. For optimal safety, our trolleys are equipped with internal load-binders to securely fasten cylinders when moving. They can can be transported manually, by forklift or by crane and both are supplied with a 1tonne x 690mm long lifting crane sling. The MGC2 is fitted with handles and 400mm pneumatic rubber wheels.
Take ownership of your risk management processes and ensure gas cylinders are moved with ease and support. Gas bottles are not included.
Additional Information
Our Gas Cylinder Trolleys feature internal load-binders for safety and are finished in a painted enamel. Choose either our MGC2 2-Cylinder Gas Trolley or our MGC4 4-Cylinder Gas Trolley.
Two models available!
MGC2 Gas Bottle Trolley
A craneable trolley that's designed to carry one 'G' Oxygen and one type 'G' Acetylene gas cylinder. The trolley is fitted with handles for user control and it also features two 400 mm diameter air-inflated rubber tyres. Using the push handles the trolley can be moved manually. Alternatively, the device can also be transported via forklift, using its fork pockets, or via crane, with a provided certified lifting sling.
Specifications: 
Working Load Limit (WLL): 250 kg
Unit Weight: 55 kg
Integrated Fork Pockets (165 x 45 mm)
Fork pocket centres: 480 mm
1 Tonne Crane Lifting Chain Sling provided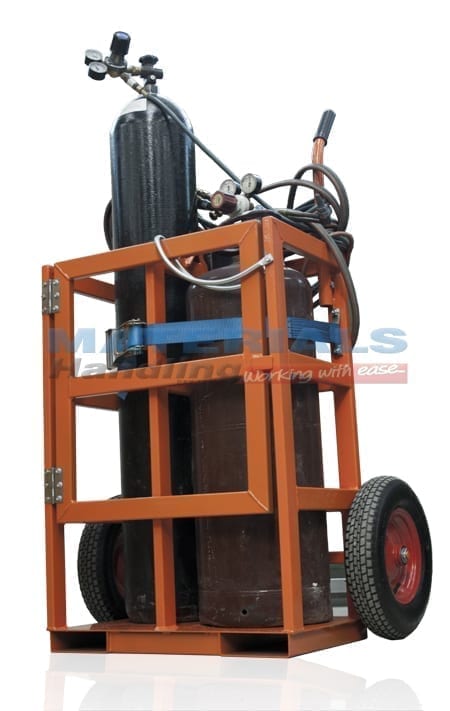 MGC4 Gas Bottle Trolley
A craneable trolley that is designed to carry two 'G' Oxygen and two type 'G' Acetylene gas cylinder. It is fitted with 150 mm diameter swivel castors and two fixed castors. Just like the MGC2 model, this trolley can be transported manually via the push handles, by forklift using the fork pockets or with a crane utilising the lifting eye provided. This larger model also comes with a handy removeable ramp to help fit and remove cylinders and a fire extinguisher for safety.
Specifications: 
Working Load Limit (WLL): 500 kg
Unit Weight: 100 kg
Integrated fork pockets (190 x 85 mm)
Single point crane lift
Complete with fire extinguisher
Complete with handy access ramp
Foot brake fitted
Continue to browse our range!
View our wide range of trolleys and find the right solution for any materials handling problem.
Click the PDF button to learn more.
Product Variations
| | | | | |
| --- | --- | --- | --- | --- |
| | Gas Cylinder Trolley- Forklift or Crane | MGC2 | | |
| | Gas Cylinder Trolley- Forklift or Crane | MGC4 | | |