Bariatric Wheelchair Mover
+ Add to Quote Request
Introducing the Bariatric Wheelchair Mover – a pedestrian operated, battery-electric mover. This device allows staff to move a passenger (in a wheelchair) weighing up to 340 kg smoothly, safely and effortlessly. The durable design allows the unit to navigate any surface with ease – including across carpets, tiles, concrete or up ramps.
With power-assistance and robust engineering, the Bariatric Wheelchair Mover was constructed by safety experts for use in many areas including hospitals, aged care facilities and by airport personnel. The unit is extremely adaptable as it easily attaches to a variety of standard, bariatric, and staxi (airport) wheelchairs, easily transporting patients and passengers in elevators through hallways, and long concourses while reducing potential injury and physical strain to transport personnel. No longer does an employee have to push wheelchairs up steep inclinations. The Bariatric Wheelchair Mover does the heavy moving for you as it's powerful and electric.
Additional Information
The Bariatric Wheelchair Mover fits any standard wheelchair.
Remove the burden of manual wheelchair movement over long distances. With a universal hitching system, it can quickly and simply attach and is built to fit any standard wheelchair device. The Bariatric Wheelchair Mover features quiet and smooth operation, gentle passenger transportation and it flexibly moves through any area. A number of healthcare facilities have adopted this technology, to improve employee productivity, comfort and performance.
Remove patient challenges and improve safety!
The Wheelchair Mover removes potential risks, allowing staff to easily transport passengers. What was once an impossible and hazardous task, is now simple, easy and user-friendly. It increases morale and improves safety within any work environment.
This device has a wide range of features including:
Smoother and safer transportation of patients and passengers.
Reduction in manual handling strains, fatigue and injuries.
Prevents risks associated with heavy lifting and moving.
Increases employee morale and improves productivity.
Quiet operation for comfort.
Compact and robust design.
User-friendly control system with system status indicators.
Maintenance-free operation.
Variable speed control with automatic brake (prevents rollback).
A positive wheelchair locking mechanism.

Floor friendly non-marking solid rubber tyres.

Charger interlock prevents drive away.

Charging cord with convenient storage area.

Universal hitching system that adapts to any model of wheelchair.
Simple to use – able to be controlled by any staff member with little training.
Increases patient well-being, comfort and security.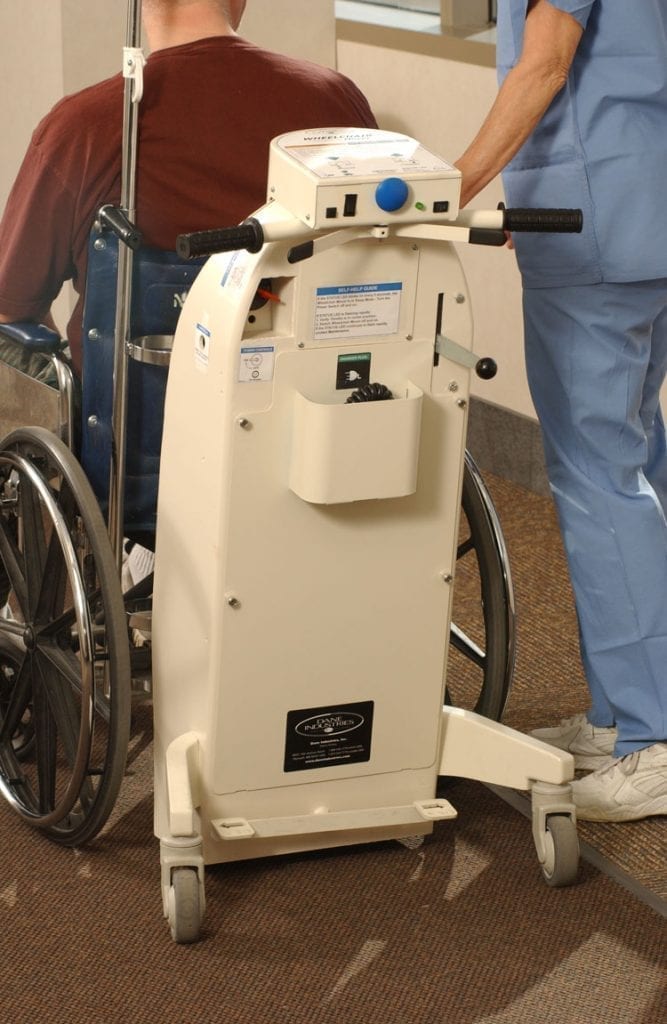 Specifications:
Lifting and Moving Capacity – 340 kg (patient plus wheelchair)
Motor – 0.5 HP 24V Geared Front Wheel Drive
Batteries – 2 x 24 AGM Maintenance-Free
Battery Life – up to 34 hours of continuous operation
Smart Charging System – 6 amp Multi-Stage; Patented, UL Certified
Throttle – Forward/Reverse, Wig-Wag Control
Speed – Max Forward 4 km/hr; Max Reverse 2.6 km/hr
Dimensions – 610 mm x 712 mm x 1080 mm (WxLxH)
Fits wheelchairs 460 – 760 mm (18-30 inches) wide.
View our incredible range!
Our safety solutions don't just stop here. View our wide range of Hospital Movers and Assets!
Product Variations
| | | | | |
| --- | --- | --- | --- | --- |
| | Bariatric battery powered wheelchair mover | MBWC | | |