Tuff Tubs On Trolleys
+ Add to Quote Request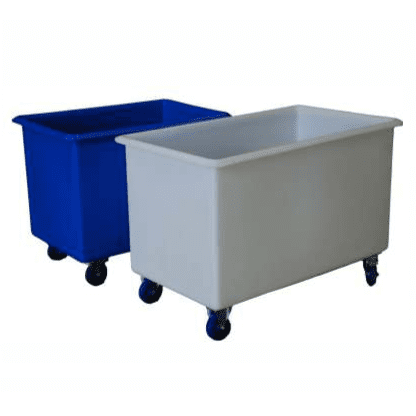 Heavy Duty Tuff Tubs can be fitted to trolleys for secure and efficient transportation of goods. This solution reduces manual handling risks and makes it easy for your employees to move more around your workplace. These Tuff Tub Trolleys suit a range of applications across food, textile, pharmaceutical, medical, laundries and manufacturing industries.
Constructed from durable, food-grade polyethylene, they comply with Australian Standards (like AS 2070-1999 Plastic Materials For Food Contact Use). Their heavy-duty rotational moulded build ensures they are resistant to most chemicals. Optional lids can be added to each design for additional security. Coil spring or hanging spring rising bases are also available.
Choose from tubs with either a straight or tapered side. All tubs come complete with a zinc-plated steel dolly and are fitted with 2 fixed, 2 swivel total brake 125 mm blue rubber plate castors. Stainless steel dollies are optionally available.
Additional Information
Combine our tubs and trolleys for an efficient solution!
When you need to move stuff around, you'll need some form of equipment to make the job easier. Our Tuff Tub Trolleys are ideal for storing and carrying a large number of things at once. They are considered to be one of the most cost-effective and useful pieces of warehousing equipment.
Ideal for a range of applications
As a general-purpose warehouse trolley, this option may be utilised for order selection and transferring items within a workplace. Their strong structure makes them long-lasting, durable, and cost-effective. They're chemically resistant, and an extra lid can be added for increased protection.
Choose from tapered or straight sides
These Tuff Tubs are available with either straight or tapered sides.
Code
Description
Rim Dimensions
(L x W) 
Base Dimensions
(L x W) 
Height*

STRT150

Tapered Rectangular Tub 150L

810 x 570 mm

670 x 430 mm

500 mm

STRT350

Tapered Rectangular Tub 350L

1020 x 720 mm

880 x 580 mm

625 mm

STRT450

Tapered Rectangular Tub 450L

1320 x 720 mm

1180 x 580 mm

625 mm
SRT250


Straight sided Rectangular Tub 250L

1150 x 635 mm

1050 x 535 mm

525 mm

SRT340

Straight sided Rectangular Tub 340L

990 x 690 mm

880 x 580 mm

670 mm

SRT450




Straight sided Rectangular Tub 450L

1240 x 740 mm

1130 x 630 mm

670 mm

SRT650

Straight sided Rectangular Tub 650L

1480 x 880 mm

1380 x 780 mm

670 mm
* Optional dollies are available and add 150 mm height with standard 125 mm castors.
Continue browsing! 
Click to see these Super Truck Trolleys and Tub Trolleys with Lifting Device already fitted or the Backsaver Lifting Device that can be ordered separately.
Product Variations
Image
Description
Product Code
Price (excl. GST)

Tapered rectangular tub 150L
Rim Dimensions: 810 x 570mm
Base Dimensions : 670 x 430mm Height: 500mm

STRT150

Dolly to suit STRT150

DTRT150

Straight rectangular tub 250L
Rim Dimensions: 1150 x 635mm
Base Dimensions : 1050 x 535mm Height: 525mm

SRT250

Dolly to suit SRT250

DSRT250

Tapered rectangular tub 350L
Rim Dimensions: 1020 x 720mm
Base Dimensions : 880 x 580mm Height: 625mm

STRT350

Dolly to suit STRT350

DTRT350

Straight rectangular tub 340L
Rim Dimensions: 990 x 690mm
Base Dimensions : 880 x 580mm Height: 670mm

SRT340

Dolly to suit SRT340

DSRT340

Tapered rectangular tub 450L
Rim Dimensions: 1320 x 720mm
Base Dimensions : 1180 x 580mm Height: 625mm

STRT450

Dolly to suit STRT450

DTRT450

Straight rectangular tub 450L
Rim Dimensions: 1230 x 730mm
Base Dimensions : 1140 x 640mm Height: 670mm

SRT450

Dolly to suit SRT450

DSRT450

Straight rectangular tub 650L
Rim Dimensions: 1480 x 880mm
Base Dimensions : 1380 x 780mm Height: 670mm

SRT650

Dolly to suit SRT650

DSRT650

Lid to suit SRT250

SLSRT250

Lid to suit SRT340

SLSRT340

Lid to suit STRT150

SLTRT150

Lid to suit STRT350

SLTRT350

Lid to suit STRT450

SLTRT450

Bolt on handle

STHN

Bolt on handle

STHW