Bin Trolleys with Lifting Device
+ Add to Quote Request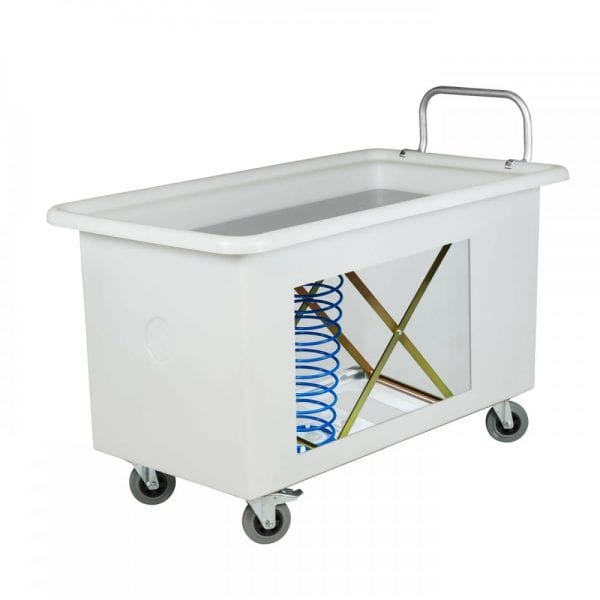 Our Bin Trolleys with Lifting Device are an ergonomic solution that has been developed for various materials handling applications. They are designed to remain at waist height to minimise bending and lifting. As such, personnel does not need to reach into the tub to access products. Tuff Tub Trolleys help to reduce associated injuries from manual handling, stretching or straining.
The Bin Trolleys feature a cutaway section in the bin, as shown in the example pictures. This highlights the scissor lift spring mechanism that is used to raise the inside platform of the bin. Additionally, the zinc-plated base offers a range of spring tension loads. By incorporating this lifting mechanism into the trolley design, workers can access goods more simply and comfortably. The design also lessens user fatigue due to ease of movement.
Additional Information
Handle and transport items comfortably and ergonomically. 
This Tub Trolley solution is a great option for moving heavy loads and easily accessing goods without bending to reach them. They let users position themselves at optimum working angles, which eliminates repetitive strain damage. The platform is capable of lifting and transporting goods. It operates by lifting whatever is on the table with its crisscrossing supports that act beneath the table.
Perfect for a great range of applications
These Bin Trolleys suit various uses including order picking, goods collection, factory waste beans and food storage bins. They've been adopted within many industries, including hospitals, aged care centres, food companies and warehouses facilities.
Available with tapered or straight sides
The Tuff Tubs fitted to the Trolleys are available with a choice of either straight or tapered sides.
Code
Description
Rim Dimensions
(L x W) 
Base Dimensions
(L x W) 
Height*
STRT150
Tapered Rectangular Tub 150L
810 x 570 mm
670 x 430 mm
500 mm
STRT350
Tapered Rectangular Tub 350L
1020 x 720 mm
880 x 580 mm
625 mm
STRT450
Tapered Rectangular Tub 450L
1320 x 720 mm
1180 x 580 mm
625 mm
SRT250
Straight sided Rectangular Tub 250L
1150 x 635 mm
1050 x 535 mm
525 mm
SRT340
Straight sided Rectangular Tub 340L
990 x 690 mm
880 x 580 mm
670 mm
SRT450
Straight sided Rectangular Tub 450L
1240 x 740 mm
1130 x 630 mm
670 mm
SRT650
Straight sided Rectangular Tub 650L
1480 x 880 mm
1380 x 780 mm
670 mm
* Optional dollies are available and add 150 mm height with standard 125 mm castors.
We have many great solutions available!
Click here to see the Backsaver Lifting Device that can be ordered separately. Also view our Super Truck Trolley range, many of which can be fitted with our Backsaver devices.
Product Variations
Image
Description
Product Code
Price (excl. GST)

Tapered rectangular tub 150L
Rim Dimensions: 810 x 570mm
Base Dimensions : 670 x 430mm
Height: 500mm

STRT150

Spring rising base (with poly top) to suit STRT150

RBT150P

Dolly to suit STRT150

DTRT150

Straight rectangular tub 250L
Rim Dimensions: 1150 x 635mm
Base Dimensions : 1050 x 535mm
Height: 525mm

SRT250

Spring rising base (with poly top) to suit SRT250

RBS250P

Dolly to suit SRT250

DSRT250

Straight rectangular tub 340L
Rim Dimensions: 990 x 690mm
Base Dimensions : 880 x 580mm
Height: 670mm

SRT340

Spring rising base (with poly top) to suit SRT340

RBS340P

Dolly to suit SRT340

DSRT340

Tapered rectangular tub 350L
Rim Dimensions: 1020 x 720mm
Base Dimensions : 880 x 580mm
Height: 625mm

STRT350

Spring rising base (with poly top) to suit STRT350

RBT350P

Dolly to suit STRT350

DTRT350

Tapered rectangular tub 450L
Rim Dimensions: 1320 x 720mm
Base Dimensions : 1180 x 580mm
Height: 625mm

STRT450

Spring rising base (with poly top) to suit STRT450

RBT450P

Dolly to suit STRT450

DTRT450

Straight rectangular tub 450L
Rim Dimensions: 1230 x 730mm
Base Dimensions : 1140 x 640mm
Height: 670mm

SRT450

Spring rising base (with poly top) to suit SRT450

RBS450P

Dolly to suit SRT450

DSRT450

Straight rectangular tub 650L
Rim Dimensions: 1480 x 880mm
Base Dimensions : 1380 x 780mm
Height: 670mm

SRT650

Spring rising base (with poly top) to suit SRT650

RBS650P

Dolly to suit SRT650

DSRT650

Lid to suit STRT150

SLTRT150

Lid to suit SRT250

SLSRT250

Lid to suit SRT340

SLSRT340

Lid to suit STRT350

SLTRT350

Lid to suit STRT450

SLTRT450

Bolt on handle for sizes 150 160 + 250 L

STHN

Bolt on handle for bins 340 350 450 + 650 L

STHW