Gas Bottle Lift Trolley
+ Add to Quote Request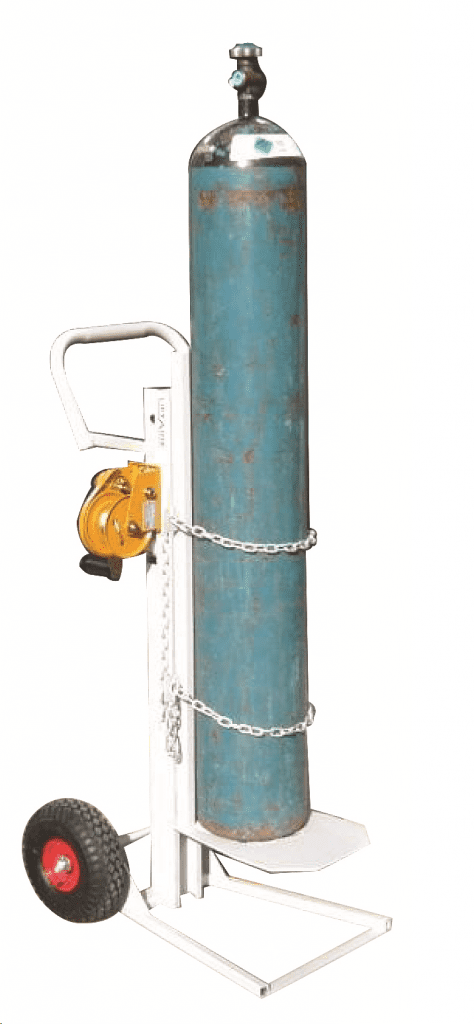 Easily and conveniently transport gas cylinders with our Gas Bottle Lift Trolley. A flexible and simple solution, these devices are suitable for frequent use in industrial, domestic and medical industries. They lift and move heavy gas bottles, eliminating potential manual handling strains or injuries.
The Gas Bottle Lift Trolley is ergonomic and ideal for workers who frequently are relocating or moving gas cylinders. The trolley is easily navigated with supportive handles that ensure the operator maintains complete control. Gas cylinders are secured on the device via chain restraints.
The Gas Bottle Lift Trolley handles heavy loads with ease. Perfect for moving and lifting cylinders into storage, as well as loading and unloading into vehicles.
Additional Information
Remove manual handling risks with our Gas Bottle Lift Trolley!
These devices are designed for use in any workplace. Load cylinders into storage cages, pallets, welders and vehicles. They accommodate most domestic LPG and Medical Gas Cylinders. All trolleys feature a 150 kg load capacity, manual winch, universal gas cylinder cradle handles – G Size and steel powder coated finish. Three models are available to assist with requirements:
MN49GAS – 150 kg capacity; 900 mm lifting height
MN412GAS – 150 kg capacity; 1200 mm lifting height
MS412GAS – 150 kg capacity; 1250 mm lifting height
MK412GAS – 180 kg capacity; 1200 mm lifting height
Both MN49GAS and MN412GAS have two 250 mm pneumatic wheels, where loads are balanced with a tilt-back functionality. The MS412GAS model features four 100 mm swivel castors. The MK412GAS has rear 250mm swivel x front 250mm fixed solid rubber puncture proof wheels for rough/outdoor terrain. A Gas Bottle Lift Trolley is also available with dual chain cylinder restraints, customised lifting heights and as a stainless steel option.
View more of our trolley range. 
Continue looking at more of our Gas Cylinder trolley options.
Click the PDF button to learn more.
Product Variations
Image
Description
Product Code
Price (excl. GST)

900mm lift with 2 x pneumatic wheels

MN49GAS

1200mm lift with 2 x pneumatic wheels

MN412GAS

Lift trolley with gas cylinder cradle
1200mm lift with 4 x 100mm castors

MS412GAS

Lift trolley with gas cylinder cradle
1500mm lift with 4 x 250mm wheels
For rough terrain

MK412GAS