Bottlechock
+ Add to Quote Request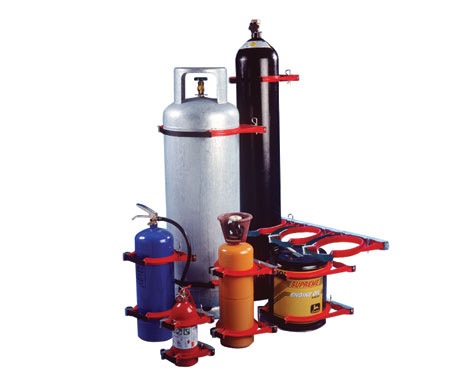 The Bottlechock makes storing Gas Bottles and Cylinders easy and super efficient! These clamps can be mounted vertically or horizontally to secure gas bottles, extinguishers, scuba tanks and most cylinders to walls, trolleys or even vehicles.
Made from polyurethane, the Bottlechock is highly durable. The safe and simple design makes them the ideal solution to those cylinders resting in those awkward places. Galvanised brackets firmly hold the Bottlechock in place, however, it can still adjust to multiple sizes. Stainless steel brackets are available. The Bottlechock comes with quick release cam buckle fasteners with positive engagement and one pull adjustable strap.
The Bottlechock is used in many different industry sectors. It has proved particularly popular in the mining industry and has also been successful in manufacturing, agriculture, construction, health and defence.
Additional Information
Red Code
Yellow Code
Mounting Bracket
No of Cylinders
Diameter Range
MG1S
MG1S-Y
Galvanised
1
100-145mm
MG1SSS
MG1SSS-Y
Stainless
1
100-145mm
MG2S
MG2S-Y
Galvanised
2
100-145mm
MG2SSS
MG2SSS-Y
Stainless
2
100-145mm
MG3S
MG3S-Y
Galvanised
3
100-145mm
MG3SSS
MG3SSS-Y
Stainless
3
100-145mm
MG4S
MG4S-Y
Galvanised
4
100-145mm
MG4SSS
MG4SSS-Y
Stainless
4
100-145mm
MG1M
MG1M-Y
Galvanised
1
160-230mm
MG1MSS
MG1MSS-Y
Stainless
1
160-230mm
MG2M
MG2M-Y
Galvanised
2
160-230mm
MG2MSS
MG2MSS-Y
Stainless
2
160-230mm
MG3M
MG3M-Y
Galvanised
3
160-230mm
MG3MSS
MG3MSS-Y
Stainless
3
160-230mm
MG4M
MG4M-Y
Galvanised
4
160-230mm
MG4MSS
MG4MSS-Y
Stainless
4
160-230mm
MG1ML
MG1ML-Y
Galvanised
1
220-250mm
MG2ML
MG2ML-Y
Galvanised
1
220-250mm
MG3ML
MG3ML-Y
Galvanised
1
220-250mm
MG1L
MG1L-Y
Galvanised
1
245-375mm
MG1LSS
MG1LSS-Y
Stainless
1
245-375mm
MG2L
MG2L-Y
Galvanised
2
245-375mm
MG2LSS
MG2LSS-Y
Stainless
2
245-375mm
MGOXY
Galvanised
2*
MGOXYSS
Stainless
2*
Product Variations
| | | | | |
| --- | --- | --- | --- | --- |
| | Bottlechock Single Large | MG1L | | |
| | Bottlechock Single Medium | MG1M | | |
| | Bottlechock Single Small | MG1S | | |
| | Bottlechock Double Large | MG2L | | |
| | Bottlechock Double Medium | MG2M | | |
| | Bottlechock Double Small | MG2S | | |
| | Bottlechock Triple Medium | MG3M | | |
| | Bottlechock Triple Small | MG3S | | |
| | Bottlechock Quad Medium | MG4M | | |
| | Bottlechock Quad Small | MG4S | | |
| | Oxy Acetal Bottlechock | MGOXY | | |
| | Bottlechock Single Large – Yellow | MG1L-Y | | |
| | Stainless Bottlechock Single Large – Yellow | MG1LSS-Y | | |
| | Stainless Bottlechock Single Large | MG1LSS | | |
| | Bottlechock Single Medium – Yellow | MG1M-Y | | |
| | Bottlechock Single Med/Large – Yellow | MG1ML-Y | | |
| | Bottlechock Single Med/Large | MG1ML | | |
| | Stainless Bottlechock Single Medium – Yellow | MG1MSS-Y | | |
| | Stainless Bottlechock Single Medium | MG1MSS | | |
| | Bottlechock Single Small – Yellow | MG1S-Y | | |
| | Stainless Bottlechock Single Small – Yellow | MG1SSS-Y | | |
| | Stainless Bottlechock Single Small | MG1SSS | | |
| | Bottlechock Double Large – Yellow | MG2L-Y | | |
| | Stainless Bottlechock Double Large – Yellow | MG2LSS-Y | | |
| | Stainless Bottlechock Double Large | MG2LSS | | |
| | Bottlechock Double Medium – Yellow | MG2M-Y | | |
| | Bottlechock Double Med/Large – Yellow | MG2ML-Y | | |
| | Bottlechock Double Med/Large | MG2ML | | |
| | Stainless Bottlechock Double Medium – Yellow | MG2MSS-Y | | |
| | Stainless Bottlechock Double Medium | MG2MSS | | |
| | Bottlechock Double Small – Yellow | MG2S-Y | | |
| | Stainless Bottlechock Double Small | MG2SSS-Y | | |
| | Stainless Bottlechock Double Small | MG2SSS | | |
| | Bottlechock Triple Medium – Yellow | MG3M-Y | | |
| | Bottlechock Triple Med/Large – Yellow | MG3ML-Y | | |
| | Bottlechock Triple Med/Large | MG3ML | | |
| | Stainless Bottlechock Triple Medium – Yellow | MG3MSS-Y | | |
| | Stainless Bottlechock Triple Medium | MG3MSS | | |
| | Bottlechock Triple Small – Yellow | MG3S-Y | | |
| | Stainless Bottlechock Triple Small | MG3SSS-Y | | |
| | Stainless Bottlechock Triple Small | MG3SSS | | |
| | Bottlechock Quad Medium – Yellow | MG4M-Y | | |
| | Stainless Bottlechock Quad Medium – Yellow | MG4MSS-Y | | |
| | Stainless Bottlechock Quad Medium | MG4MSS | | |
| | Bottlechock Quad Small – Yellow | MG4S-Y | | |
| | Stainless Bottlechock Quad Small – Yellow | MG4SSS-Y | | |
| | Stainless Bottlechock Quad Small | MG4SSS | | |
| | Oxy Acetal Bottlechock Small | MGOXYS | | |
| | Stainless Oxy Acetal Bottlechock | MGOXYSS | | |