Dangerous Goods Storage Cabinets Outdoor IBC
+ Add to Quote Request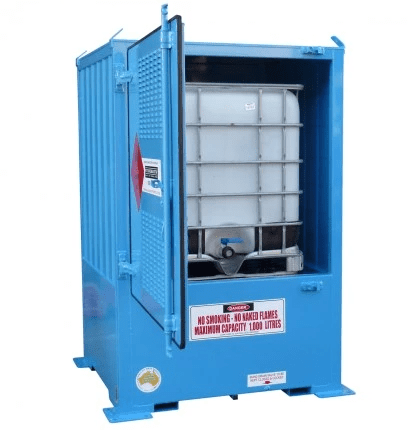 Our IBC compatible Outdoor Dangerous Goods Stores protect large hazardous materials and store IBCs and pallets in external environments. Easily relocatable, the containers feature single or double depth, with dual access. As a result, they store great capacities onsite and are equipped to store from 1000 to 16,000 litres.
Manufactured in Australia and in accordance with strict Australian Standards, these units support dangerous goods classified as Class 3: Flammable Liquids, Class 5.1: Oxidising Agents, Class 5.2: Organic Peroxides, Class 6.1: Toxic Substances and Class 8: Corrosive Substances. Each IBC spill container is constructed in heavy-duty steel and finished in a polyurethane coating.
Additional Information
Our Outdoor Dangerous Goods Stores are perfect for IBCs! 
These containers make storing bulk containers outside incredibly. Each goods unit has forklift access that allows the container to be transported anywhere in a workplace or job site. They also have been a robust construction and ventilation system to accommodate a wide range of chemicals. Each container is fitted with ISO locking bars for additional security.
Features: 
Hinged door 270o – folds back for easy forklift access when loading or unloading IBCs.
Complies with relevant Australian Standards and manufactured in Australia.
Polyurethane coating that's finished in a high-build 2 pak primer. It also has a high gloss topcoat with a total build thickness of 120 microns.
Lifting lugs, forklift channels and locating plates.
Ventilation bars.
ISO locking system for high security.
Cyclone-proof construction.
Engineered footing details available.
Earth staking and mounting.
Cambered roof for rainwater run-off.
Liquid-tight spill containment sump with compliant capacity.
Appropriate warning and safety signs.
Easy access via forklift or user.
Suitable for storage of IBCs and pallets.
Specifications: 
Code
External Dimensions (mm)
Weight (kg)
Storage Levels
Max. Capacity
H
W
D
DPR01BB
2205
1540
1440
406
1
1000 L
DPR02BB
1950
2790
1440
569
1
2000 L
DPR04BB
3445
2670
1440
835
2
4000 L
DPR06BB
3350
4115
1440
1141
2
6000 L
DPR08BB
3310
5365
1440
1422
2
8000 L
DPR08DBB
3320
2790
2520
1276
2
8000 L
DPR10BB
3280
6740
1440
1767
2
10000 L
DPR12BB
3280
7990
1440
2027
2
12000 L
DPR12DBB
3305
4115
2520
2350
2
12000 L
DPRB16BB
3280
10615
1440
2715
2
16000 L
DPR16DBB
3295
5365
2520
4250
2
16000 L
Please Note: IBCs are not included.
Require another option? 
View our wide range of storage solutions for hazardous chemicals.
Product Variations
Image
Description
Product Code
Price (excl. GST)

Outdoor Dangerous Goods Store

DPR01BB

Outdoor Dangerous Goods Store

DPR02BB

Outdoor Dangerous Goods Store

DPR04BB

Outdoor Dangerous Goods Store

DPR06BB

Outdoor Dangerous Goods Store

DPR08BB

Outdoor Dangerous Goods Store
Double Depth

DPR08DBB

Outdoor Dangerous Goods Store

DPR10BB

Outdoor Dangerous Goods Store

DPR12BB

Outdoor Dangerous Goods Store
Double Depth

DPR12DBB

Outdoor Dangerous Goods Store

DPR16BB

Outdoor Dangerous Goods Store
Double Depth

DPR16DBB

Outdoor Dangerous Goods Store

DPR20BB