Self Dumping Bins
+ Add to Quote Request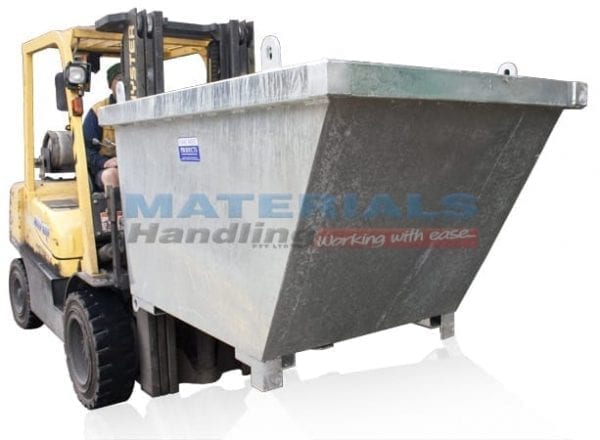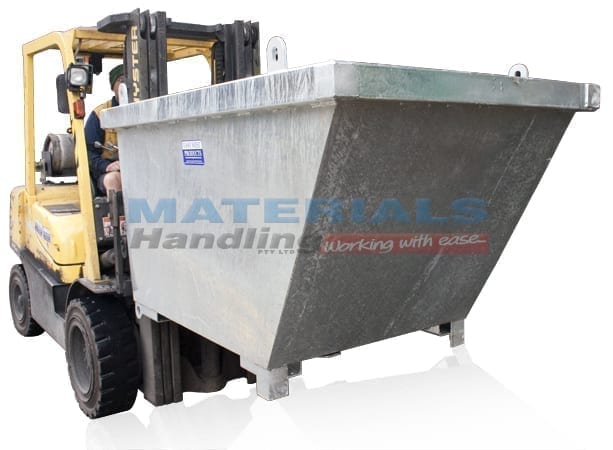 The MWFH range of Self Dumping Bins provides an economical answer to collecting and disposing industrial waste. They are suited to forklifts and overhead cranes, and safely store materials. Manufactured from 3 mm galvanised plate, the bins are strong, durable, and offer a range of workplace benefits.
When using Self Dumping Bins, forklift tines allow operators to transport them with ease. They are positioned fully under the bin. To empty, the forklift driver catches the bin on the edge of a bulk container and reverses the forklift. When the tines clear the pivot point of the bin, raise the forks to completely discharge contents.
Self Dumping Bins feature reinforced edging, crane lugs and have a low profile for use in confined spaces. They have a Safe Working Load (SWL) of 1500 kg.
Additional Information
Self Dumping Bins provide a great waste and storage solution!
Our bins are supplied standard with 4 crane lugs and upending lugs. Their 'self dumping' mechanism is completely operated by a forklift driver, who safely activates the tipping cycle from their seat. Each bin is fitted with a removable drain plug, features a low profile design, fork pockets and has a safety chain for quick forklift connection. Optional wheel kits are also available (2 fixed, 2 swivel) to attach to the bin to make it easily movable around a workplace.
Overall Self Dumping Bins Specifications: 
Working Load Limit (WLL) – 1500 kg
Fork Pocket size: 185 x 70 mm
Fitted with removable drain plug as standard
Galvanised finish
3 mm plate and reinforced edging for demanding applications
Wheels optional
Model
Working Load Limit (WLL)
Capacity (m³)
Bin Dimensions
L x W x H (mm)
Fork Pocket Size (mm)
Fork Pocket Centres (mm)
Unit Weight (kg)
MWFH5X74
1500
0.35
1510 x 740 x 630
185 x 70
310
130
MWFH9X74
1500
0.68
1715 x 740 x 980
185 x 70
310
165
MWFH5X11
1500
0.59
1510 x 1150 x 630
185 x 70
695
155
MWFH9X11
1500
1.1
1715 x 1150 x 980
185 x 70
695
200
MWFH9X20
1500
2.1
1715 x 1986 x 980
185 x 70
695
260
Need a different Storage Bin?
Continue browsing our entire range of Forklift Mounted Drum Lifting to find the right solution for your workplace.
Click the PDF button to learn more.
Product Variations
| | | | | |
| --- | --- | --- | --- | --- |
| | Optional castor kit | SC60011-005 | | |
| | Forklift Tipping Bin- Self Dumping | MWFH5X74 | | |
| | Forklift Tipping Bin- Self Dumping | MWFH9X74 | | |
| | Forklift Tipping Bin- Self Dumping | MWFH5X11 | | |
| | Forklift Tipping Bin- Self Dumping | MWFH9X11 | | |
| | Forklift Tipping Bin- Self Dumping | MWFH9X20 | | |