Protective Bumper Guards Knuffi
+ Add to Quote Request
Knuffi Bumper Guards protect valuable assets, equipment and people from costly damage, injury or hard impacts. Increasing safety from all angles, this durable foam fixture features a patented and cutting-edge design. Able to be adapted to fit almost every component, these bumper guards are perfect for corner and wall protection.
Knuffi acts as a personal crumple zone for people and machines. The barrier easily provides protection for surfaces, corners, piping and edges. It's also highly visible, which means it alerts and warns traffic and pedestrians to recognise the obstacle. This then further prevents accidents in any workplace.
Available in a range of configurations, Knuffi Bumper Guards are a market leader for protective profiles. Made from a durable, recyclable, polyurethane foam, they are simple to install and are long-lasting. Additionally, Knuffi products are resistant to temperatures (from -40°C to +100 °C) and damp areas, making them extremely versatile for use both indoors and outdoors.
Additional Information
Knuffi Bumper Guards increase safety from all angles!
With a great range of various colours and designs, this system is highly effective at warning and protecting workplaces. Its design highlights sources of danger at edges, gaps and obstacles making them easy to recognise. They're commonly used on transport routes within a company's premises, machinery, walls and thoroughfares, racking, doorway edges, shelves, gates and many more work areas.
Features: 
Highly visible warning and protective bumper guards.
Able to be used both indoors and outdoors.
Resistant to moisture and high temperatures (from -40°C to +100 °C).
Protect people from serious injury and machinery/building assets from costly damage.
Reduces time taken for repair or for staff recovery.
Available in a range of length, colours and configurations.
Easy to install with self-adhesive backing it aging-resistant acrylic glue; can be cut and stuck to the chosen area.
Made from high-impact, recyclable polyurethane foam.
Standard lengths are 1 m to 5 pm (up to 50 m).
Robust and long-lasting.
Colours include signal yellow and black hatching, red and white hatching, black, white, daylight fluorescent hatching, long afterglow hatching and bright colours for indoor use only.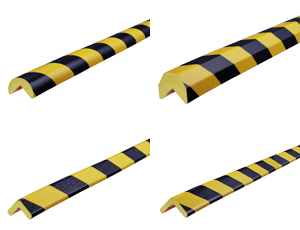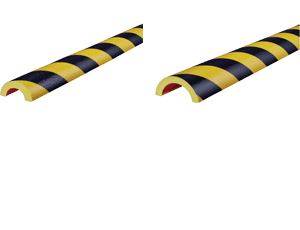 Wall Protection Kits are now available for corner and wall protection with tough stainless steel backing for mechanical attachment. Ask our sales team for further information.
Knuffi Surface Protection Technical Specifications: 
Knuffi Corner Protection Technical Specifications: 
Knuffi Piping Protection Technical Specifications: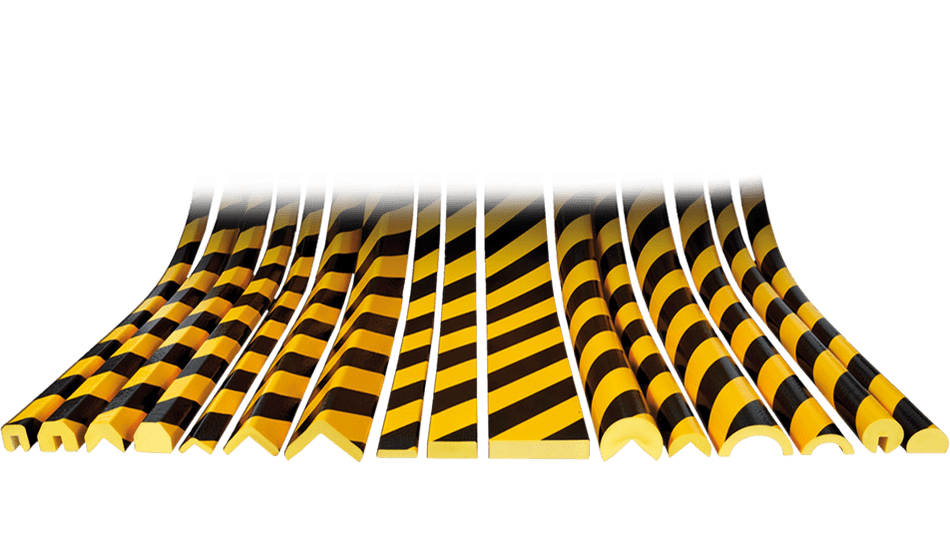 Ensure you're choosing the right product!
Other replica brands make lesser quality products, which don't have the same impact-absorbing features as Knuffi. These products are lightweight, lose shape and are not dimensionally stable. Knuffi Bumper Guards have a functional guarantee for safety for up to 5-years of use. Don't get caught out by choosing an imitating, lower quality brand.
Need a different safety solution?
Browse our wide range of Hazard Warning Equipment.
Click the PDF button to learn more.