DumpMaster Wheelie Bin Tipper (250kg)
+ Add to Quote Request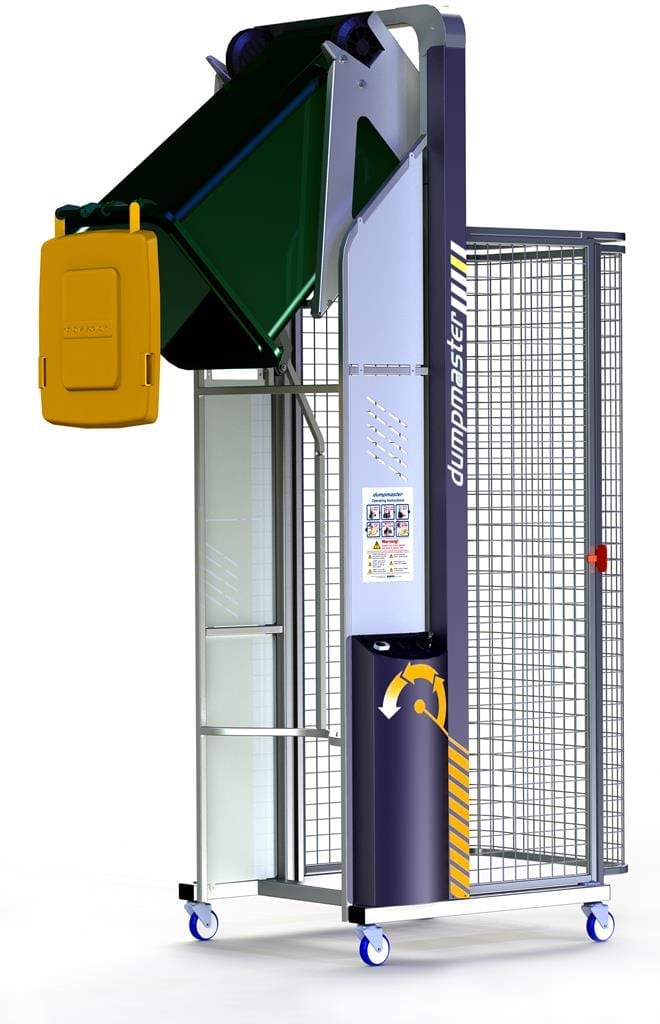 The DumpMaster Wheelie Bin Tipper features an innovative electro-hydraulic mechanism that allows the unit to lift and tip capacities up to 250 kg. It is a safe, fast and reliable waste management system that has served industries for more than 30 years.
A versatile bin tipper that is easy to move, the DumpMaster has been used in a number of applications. From emptying rubbish into skips/bins to pouring ingredients into mixers. It is most suited to activities where wheelie bins are frequently emptied throughout the day. Its tipping action is completely unique – it lifts the bin straight up and then softly turns it upside down over the lid of a receptacle. It requires little space to perform and can service a variety of bins at any height.
Designed with safety at the forefront, the DumpMaster features a full guarding cage and an interlocked gate system (fitted as standard). The machine is built in accordance with relevant safety standards (AS4024 Safety of Machinery).
Additional Information
A compact solution to waste management activities!
The DumpMaster is reliable and strong. It is operated via its electric-hydraulic system and the unit can be supplied with battery, 240V or 415V power. There is also an optional air operated version for use in areas with explosive atmospheres. The DumpMaster can be customised with a selection of different cradles to tip just about anything you need emptied!
DumpMaster Wheelie Bin Tippers are easy-to-use!
This device is safe and efficient and is a great solution for fast emptying of wheelie bins. The tipping cycle takes as a little as 15 seconds, as the devices hydraulics do the heavy lifting for you. There is no risk of manual injury or strain.
Use either outdoors or indoors, this device can service a range of applications. A number of models are available with varying tipping heights between 1200 mm and 1800 mm.  The bin tipper, however, can be built to suit your requirements – contact a sales representative for more information regarding this option.
Features: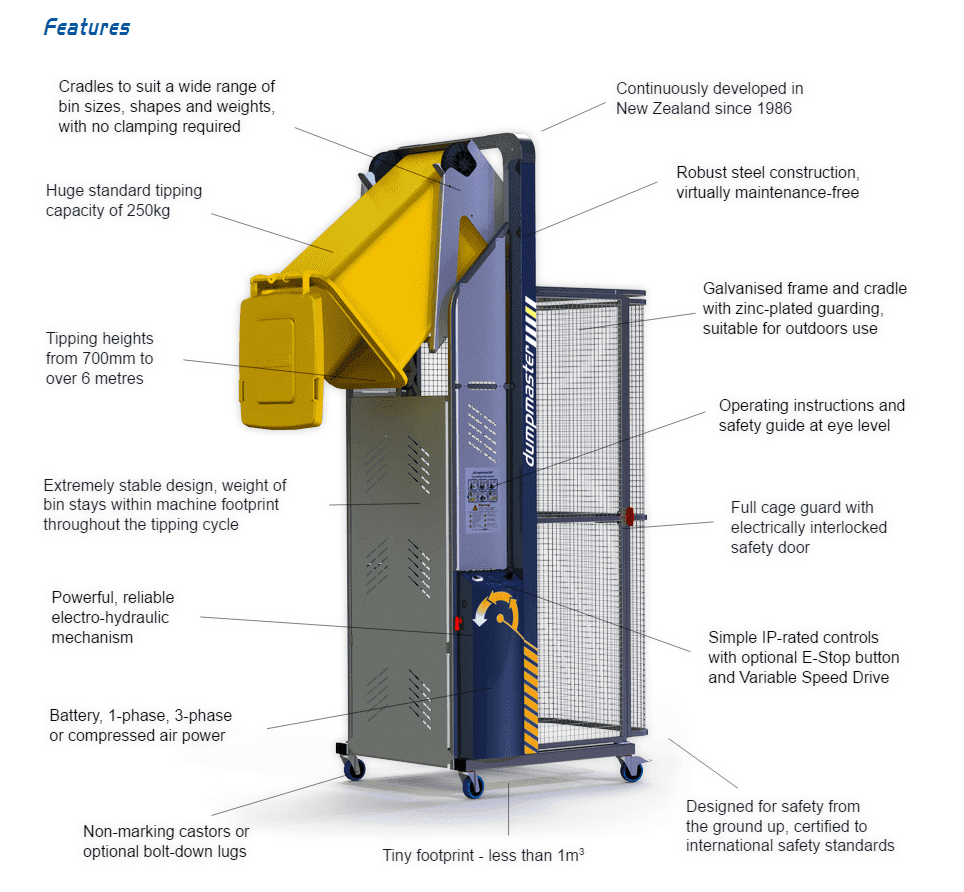 Specifications:
Available with a number of optional accessories and selections!
Customised cradles to suit any type of lifting drum
Varied powered supply:  Battery, 240V, 415V or Compressed Air
Frame mounted tipping chute
Solar Panel
Stainless Steel Construction
Bin hook kit to secure machine into position
Left-hing, right-hinge, swing-up or roller door
Dockmaster variant – optimised for emptying bins from elevated loading docks and platforms
Safety Monitoring systems
Emergency stop buttons
Corrosion-resistant nickel-plated lifting chains
Dual side covers and controls
Door end or pendant controls
Transparent, unbreakable polycarbonate guarding
Polycarbonate operator guard (splash shield)
Sheet metal guarding
Foot-guard panels
Safety certified door latches
Auto-cycle controller
Digital scales to weigh bins
Require a larger bin tipper?  Click here to access all of our wheelie bin tippers
Product Variations
| | | | | |
| --- | --- | --- | --- | --- |
| | Dumpmaster bin tipper 1200mm Tipping Height | M1200 | | |
| | Dumpmaster bin tipper 1500mm Tipping Height | M1500 | | |
| | Dumpmaster bin tipper 1800mm Tipping Height | M1800 | | |
| | Dumpmaster bin tipper 2100mm Tipping Height | M2100 | | |