Flex Impact Safety Gates
+ Add to Quote Request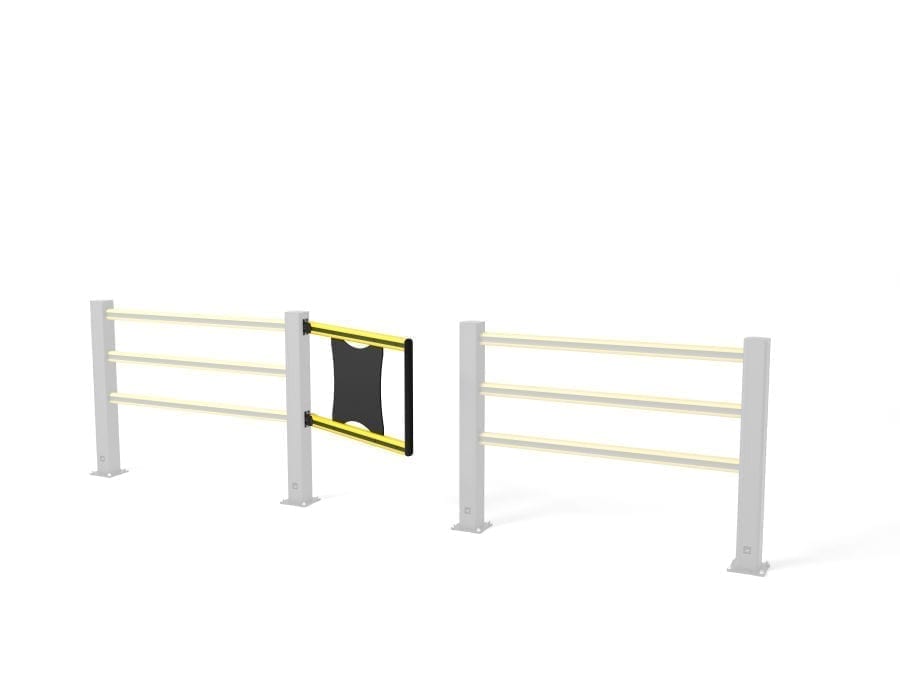 Flex Impact Safety Gates are a safe and reliable system that controls access between sectioned zones.
Mainly used with the innovative Flex Impact, polymer, forklift and pedestrian safety barriers with handrails, these gates are available in a variety of options for different access requirements. Gates that are carelessly left open can pose a huge risk and affect safety in an organisation. Our range eliminates any of these potential hazards thanks to their self-closing mechanisms. 
Clearly define your working environments by determining access points with your safety barriers. By introducing our Flex Impact Safety Gates it will improve processes to achieve smooth an safer transitions around various areas in your company.
Additional Information
Innovative access safety gates for your workplace!
Flex Impact Polymer Pedestrian Safety Gates are robust in design and are ideal for controlling pedestrians entering and exiting any area. They are durable, modular and can be easily installed into any working zone. Not to mention, thanks to their innovative design, nearly zero maintenance.
In locations where safety is crucial, these gates act as a barrier to unauthorised access. Supplied with mounting brackets, hinges, and self-closing mechanisms, they ensure environments are secure. These options are an ideal way to section off hallways and machine rooms.
Flex Impact Safety Gates come in three distinct models:
Safety Gate – Swing Gate
The Swing Gate can open on both sides of a barrier and safety closes automatically. This ensures that your access points remain secure and permanently close to personnel. This model is ideal for any area that has sufficient free movement. It can easily be added to modular safety barrier designs to ensure safe traffic between zones. When the gate is opened 90° or more, they stay open. When fitted with closing block it prevents the SG swing gate from remaining open.
Standard 1000 mm clear opening
Colour is black and yellow
Accessories include safety signs, stainless steel versions, stainless steel fasteners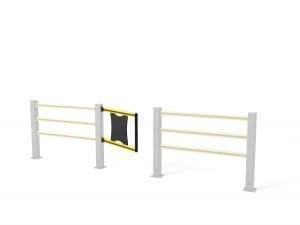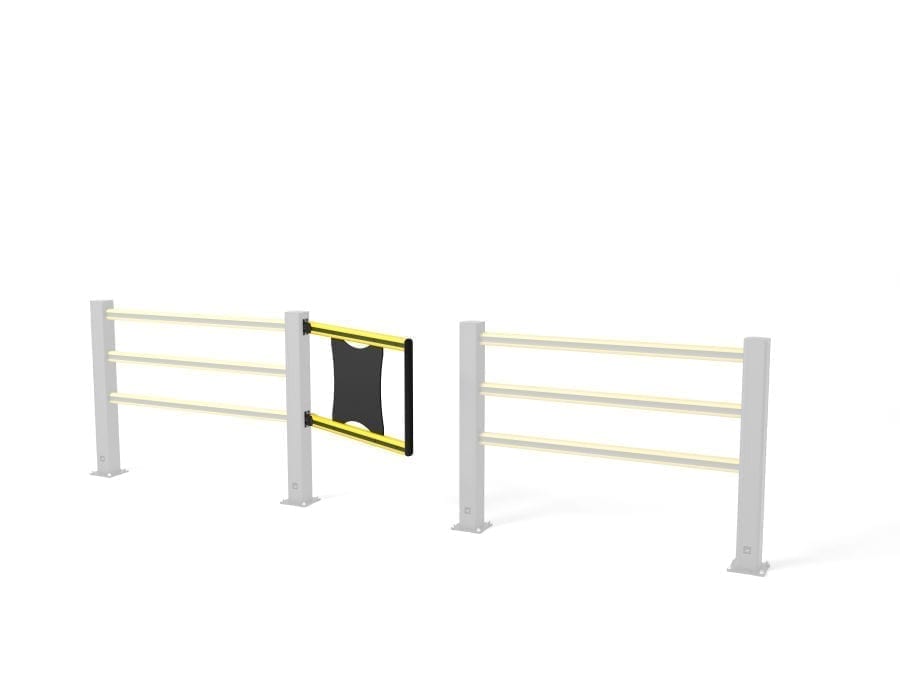 Safety Gate – Drop Gate
The Drop Gate opens with an upward movement and is specially designed for areas that have insufficient space to install a Swing Gate. This is another convenient solution for closing off access to hallways, machine rooms or other specified areas. Drop Gate can be integrated into any modular structure to ensure smooth transitions into various zones.
Standard 1500 mm
Colour is black and yellow
Accessories include stainless steel versions and fasteners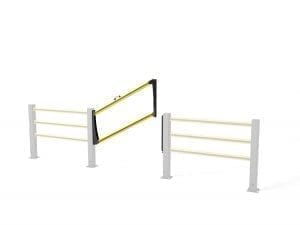 Safety Gate – Sliding Gate
The Sliding Gate opens to the left or the right and works like a sliding door. It is very easy to install and its sliding direction can be adapted to suit your organisation's requirements. When the Sliding Gate is open, it rolls along the ground via a sturdy wheel, with balustrades sliding through the tubes of the Handrail installed beside the gate. Another great solution for closing off restricted areas. This option is ideal for areas with limited space for movement and it can adapt to any modular structure.
Standard 1500 mm
Colour is black and yellow
Accessories include safety signs, stainless steel versions and stainless steel fasteners.
View our entire Flex Impact range and see how these Safety Gates are incorporated with a complete, modular, safety barrier system.
Product Variations
| | | | | |
| --- | --- | --- | --- | --- |
| | Flex Impact swing gate 1000mm | 1010/1100 | | |
| | Flex Impact swing gate stop | 1010/0101 | | |
| | Flex Impact swing gate closing blocks | 1010/0104 | | |
| | Flex Impact drop gate 1500mm | 1010/0016 | | |
| | Flex Impact sliding gate 1500mm | 1010/2150 | | |
| | Flex Impact sliding gate 2000mm | 1010/2200 | | |
| | Flex Impact sliding gate U profile | 1010/0009 | | |