Retractable Safety Barrier Reel
+ Add to Quote Request
Easily restrict access and secure zones with our Retractable Safety Barrier Reel. This device is well-suited to industrial and commercial applications, where a barrier needs to be quickly erected in order to restrict pedestrians from unsafe areas.
The reels are easily mounted on a wall or bollard, with the barrier tape then pulled across and hooked onto a bracket on the opposite wall or pillar. When the barrier needs to be removed, unhook the tape to allow the device to quickly retracts the webbing, like a measuring tape. Trucks, forklifts or pedestrians can then resume access to any previously secured environment.
Our Retractable Safety Barrier Reels are some of the longest barriers currently on the market.
Additional Information
Retractable Safety Barrier Reels are a quick and effective solution. 
These devices are commonly used in warehouses and workplaces that have roller doors, which need to remain open for deliveries and airflow. The barrier denies access to people, in areas where forklift traffic may be frequent. This increases safety, by cordoning off pedestrians and alerting them to potential hazards.
The woven tape within the Retractable Safety Barrier Reels is under constant tension and features a positive rewind action. They are made in Australia and feature incredibly long lengths (up to 25 m), which helps secure any workplace.
Features: 
Polypropylene Mounting Bracket supplied
Swivel action follows the user through 180

°

Under constant tension
Neat and tidy design
50 mm wide woven tape
Standard size is 15 m (available up to 25 m)
The RC 3000 series of these high visibility barriers provide a strong and flexible warning. Colours available include yellow, yellow and black, white and red, and white and blue.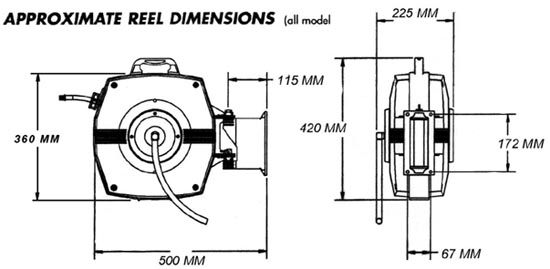 Require a different solution?
View some of our other Safety Barrier options to help protect your workplace.
Product Variations
| | | | | |
| --- | --- | --- | --- | --- |
| | Barrier Reel 15M (Fluoro Yellow) | MRC3000 | | |
| | Barrier Reel 25M (Fluoro Yellow) | MRC3000/25 | | |
| | Barrier Reel 15M (Fluoro Yellow/Black) | MRC3005 | | |
| | Barrier Reel 25M (Fluoro Yellow/Black) | MRC3005/25 | | |
| | Barrier Reel 15M (Fluoro Yellow/Black) "Caution" | MRC3007 | | |
| | Barrier Reel 25M (Fluoro Yellow/Black) "Caution" | MRC3007/25 | | |
| | Barrier Reel 15M (White/Red) | MRC3010 | | |
| | Barrier Reel 25M (White/Red) | MRC3010/25 | | |
| | Barrier Reel 15M (White/Red) "DANGER Do not enter" | MRC3012 | | |
| | Barrier Reel 25M (White/Red) "DANGER Do not enter" | MRC3012/25 | | |
| | Barrier Reel 15M (White/Blue) | MRC3015 | | |
| | Barrier Reel 25M (White/Blue) | MRC3015/25 | | |
| | Barrier Reel 15M (Fluoro Orange) | MRC3050 | | |
| | Barrier Reel 25M (Fluoro Orange) | MRC3050/25 | | |
| | Barrier Reel 15M (Fluoro Orange/Black) | MRC3055 | | |
| | Barrier Reel 25M (Fluoro Orange/Black) | MRC3055/25 | | |
| | Barrier Reel 15M (Gold Yellow) | MRC3200 | | |
| | Barrier Reel 25M (Gold Yellow) | MRC3200/25 | | |
| | Barrier Reel 15M (Gold Yellow/Black) | MRC3205 | | |
| | Barrier Reel 25M (Gold Yellow/Black) | MRC3205/25 | | |
| | Mini Barrier Reel 5M (Fluoro Yellow) | QBC300 | | |
| | Mini Barrier Reel 10M (Fluoro Yellow) | QBC300/10 | | |
| | Mini Barrier Reel 15M (Fluoro Yellow) | QBC300/15 | | |
| | Mini Barrier Reel 10M (Fluoro Yellow/Black) | QBC305-10 | | |
| | Mini Barrier Reel 5M (Fluoro Yellow/Black) | QBC305 | | |
| | Mini Barrier Reel 15M (Fluoro Yellow/Black) | QBC305/15 | | |
| | Mini Barrier Reel 5M (Fluoro Yellow/Black) "CAUTION" | QBC307 | | |
| | Mini Barrier Reel 10M (Fluoro Yellow/Black) "CAUTION" | QBC307/10 | | |
| | Mini Barrier Reel 15M (Fluoro Yellow/Black) "CAUTION" | QBC307/15 | | |
| | Mini Barrier Reel 5M (White/Red) | QBC310 | | |
| | Mini Barrier Reel 10M (White/Red) | QBC310/10 | | |
| | Mini Barrier Reel 10M (White/Red) | QBC310/15 | | |
| | Mini Barrier 5M (White/Red) "DANGER Do not enter" | QBC312 | | |
| | Mini Barrier 10M (White/Red) "DANGER Do not enter" | QBC312/10 | | |
| | Mini Barrier 15M (White/Red) "DANGER Do not enter" | QBC312/15 | | |
| | Mini Barrier Reel 5M (White/Blue) | QBC315 | | |
| | Mini Barrier Reel 10M (White/Blue) | QBC315/10 | | |
| | Mini Barrier Reel 10M (White/Blue) | QBC315/15 | | |
| | Barrier Reel 5M (Gold Yellow) | QBC320 | | |
| | Barrier Reel 10M (Gold Yellow) | QBC320/10 | | |
| | Barrier Reel 15M (Gold Yellow) | QBC320/15 | | |
| | Mini Barrier Reel 5M (Gold Yellow/Black) | QBC325 | | |
| | Mini Barrier Reel 10M (Gold Yellow/Black) | QBC325/10 | | |
| | Mini Barrier Reel 15M (Gold Yellow/Black) | QBC325/15 | | |
| | Mini Barrier Reel 5M (Gold Yellow/Black) "CAUTION" | QBC327 | | |
| | Mini Barrier Reel 10M (Gold Yellow/Black) "CAUTION" | QBC327/10 | | |
| | Mini Barrier Reel 15M (Gold Yellow/Black) "CAUTION" | QBC327/15 | | |