Hospital Bed Stacker Storage BedLift
+ Add to Quote Request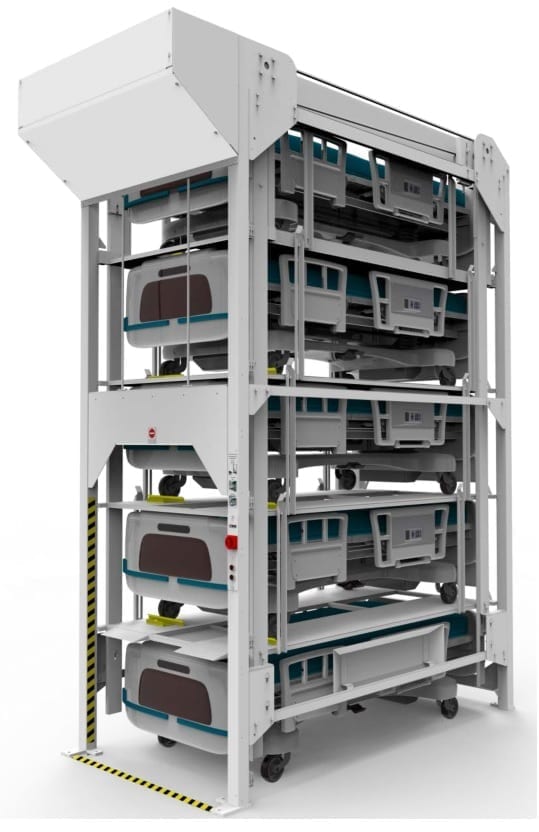 The BedLift is a vertical, hospital bed storage system. Also known as a Bed Stacker, this device frees space when storing hospital beds. Improving the organisation within a workplace, this device features an innovative design that ensures fast bed retrieval, easy access and impressive space-saving benefits.
As a safe and cost-effective system, this device takes hospital beds off the floor and stacks them securely in a vertical arrangement. Such a method improves valuable workspace and removes beds from hospital corridors, thus reducing potential hazards. Additionally, the hospital bed stacker improves the overall capacity within healthcare departments, ensures convenience, and improves product flow by increasing bed availability.
This Bed Stacker is user-friendly, easy to operate and can maximise organisation in seconds. They save space, have a small footprint, assure safe handling and offer a great Return On Investment (ROI).
Additional Information
Save up to 70% of floor space with the innovative BedLift! 
This device recoups floor space and securely stores hospital beds in an extremely organised manner. It ensures areas are free from clutter and corridors can be used without obstacles in the way. This is perfect for busy medical environments where time is a priority, especially in an emergency. The BedLift has a capacity of up to 5 hospital beds, per device. As a semi-automatic system, it is easy to use and raises/lowers beds at the push of a button. When required, beds are easily accessible and can be quickly retrieved.
Why choose the BedLift?
This vertical bed storage system improves a hospital's bed capacity, organisation and productivity. In medical industries where time is of the essence, retrieving a hospital bed quickly for a patient is incredibly important. Instead of trying to source a bed from around the workplace, employees will know where all beds are, as the BedLift creates a central storage system. Furthermore, Workplace Health and Safety practices can improve by removing and organising unused beds.
Before BedLift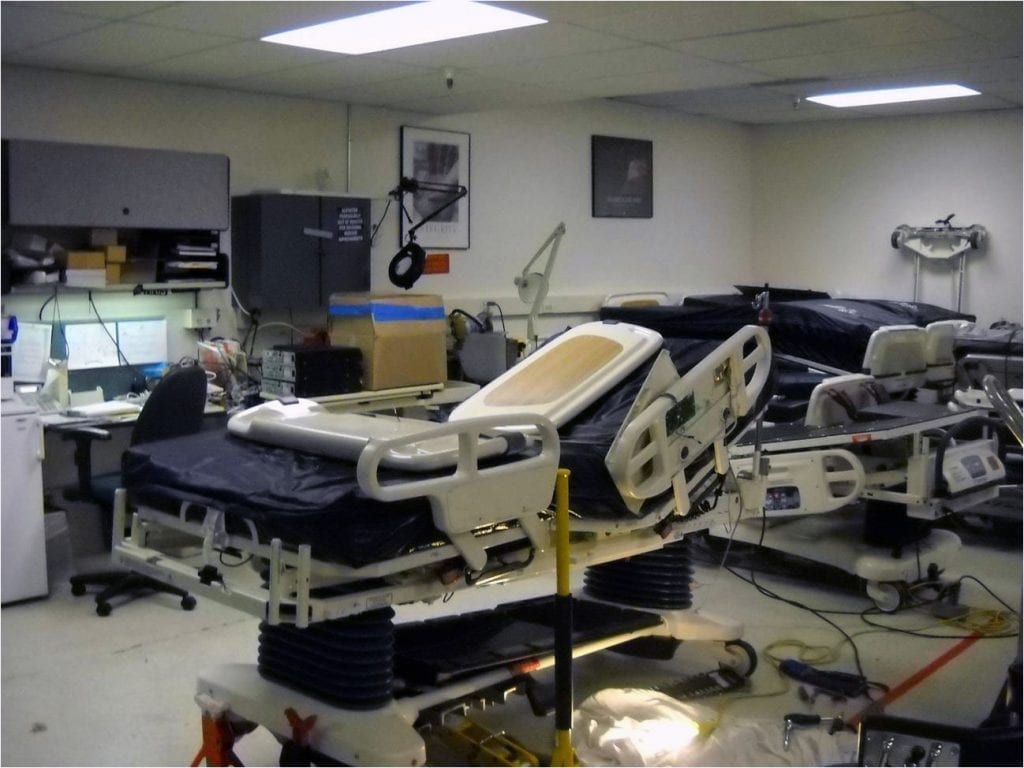 After installing BedLift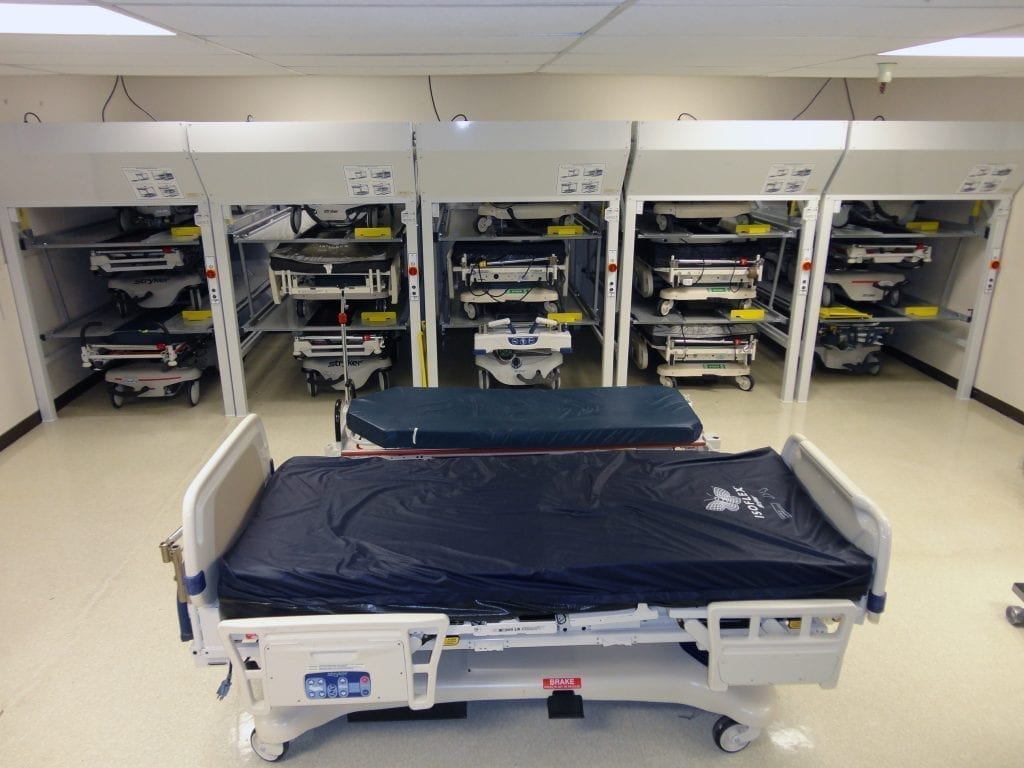 Vertical Bed Racks have a small footprint. The beds are stacked on top of each other, all the way up to the ceiling to conserve floor space. It also centralises the hospital bed storage area so that it is always known where they are. Stackers are available to store beds either 2, 3, 4 or 5 high. By utilising the BedLift, hospital beds can be retrieved promptly for incoming patients.
Incredibly easy to operate
This innovative system has been designed on a last-in/first-out (LIFO) storage and retrieval concept. As shown in the video above, when the first bed is wheeled into the system and on the lift, it is raised, opening up space below for the next unit. This process repeats until there are no more available spaces, and the limit has been reached. The entire operation is easily accomplished by the push of a button. It's very user-friendly and that simple to operate.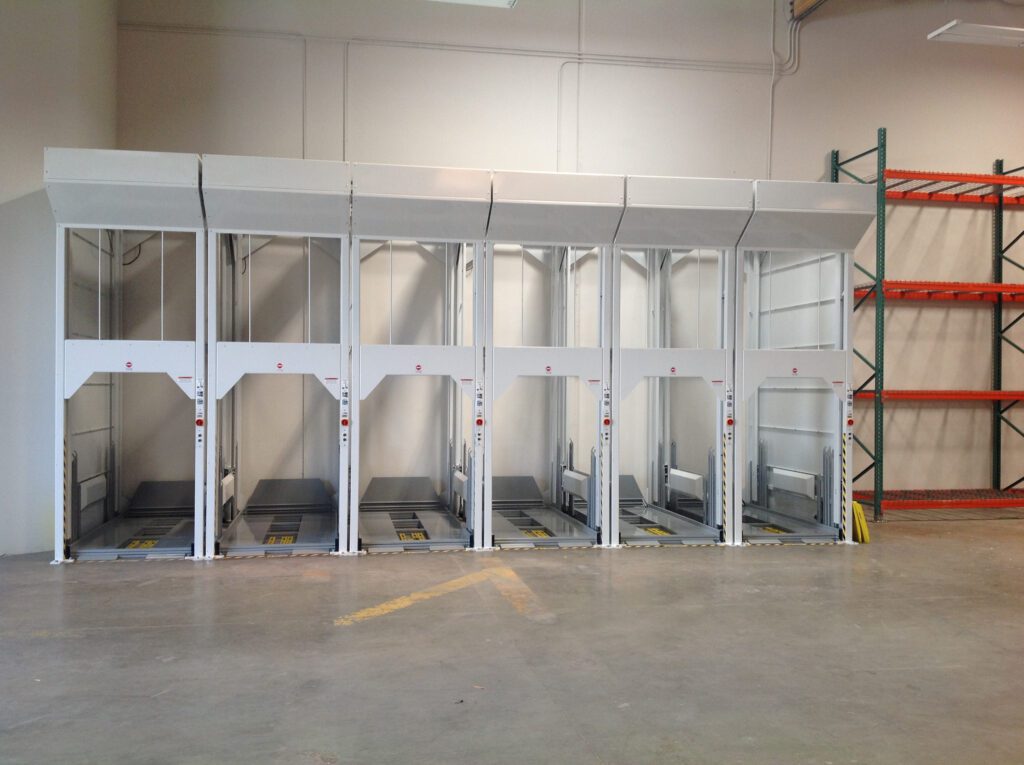 Choose the right product for your application
The BedLift is available in a variety of configurations with either front or side loading features. It accommodates a range of tasks, from large beds to narrow stretchers.
Specifications:
Controls – Forward/Reverse push buttons with electronic stop
Overall Capacity –

BedLift R: 272 kg; front load.
BedLift X: 408 kg; front load.
BedLift S: 272 kg; side load.
BedLift N: 272 kg; front load for stretchers
BedLift C: 272 kg; front load for hospital cribs

Lifting Speed – Max. 11.7 seconds per position
Loading Ramps
CE and cCSAus Mark
OSHPD (Seismic) available on request
Please contact us for further model specifications or download our brochure. 
The BedLift is also available with optional accessories, which include:
Platform Inserts – for stretchers and other narrow applications.
Vertical Security Gates – roll-down security to prohibit unauthorised access.
Anti-Microbial Paint – for increased protection against pathogens and other properties like mould, mildew and fungus.
Preventative Maintenance Package – that features an annual inspection program to extend the life of the BedLift.

Require another solution?
For more information, please see the downloadable Vertical Hospital Bed Storage (BedLift) brochure, or view our Healthcare industry options.
Click the PDF button to learn more.