Hospital Bed Stacker – BedLift
+ Add to Quote Request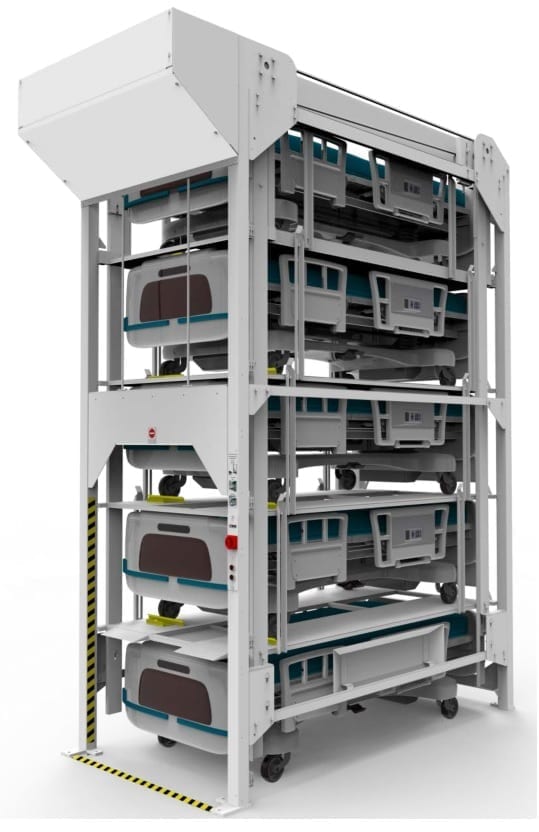 The BedLift is a vertical storage system or bed stacker, that frees space by securing and storing hospital beds for easy access. A safe and cost-effective system, these unique vertical stackers improve maximum storage and capacity efforts. Designed with cutting-edge technology, it has been constructed for fast retrieval, handling and storage. Take hospital beds off the floor and secure them in this space saving arrangement. This method opens valuable workplace space and removes potential fire hazards from hospital corridors. The system is incredibly easy to use and can maximise organisation in seconds. These bed stackers are an incredible space saver and offer a great Return On Investment (ROI).
Safe handling
Easy access
Maximum Storage
Fast Retrieval
Small Footprint
Additional Information
A number of great benefits on offer!

This device recoups floor space and securely stores hospital beds in an extremely organised manner. It ensures areas are free from clutter and corridors can be used without obstacles in the way. This is perfect for busy medical environments, where time is priority in emergency.
By utilising the BedLift, hospital beds can be retrieved in a timely manner for incoming patients and put away when not in use, freeing valuable space. It also centralises hospital bed storage, so employees always know where they are located.
Incredibly easy to operate!
This innovative system has been designed on a last in/first out (LIFO) storage and retrieval concept. As shown in the video above, when the first bed is wheeled into the system and on the lift, it is raised, opening up a space below for the next unit. This process repeats, until there is no more available spaces, and the limit has been reached. The entire operation is easily accomplished by the push of a button. It's very user-friendly and that simple to operate.
This product comes in two configurations – end or side (lateral) loading – and is available in 11 models to suit a variety of tasks (from large beds to stretchers).
Why choose the BedLift?
These vertical bed storage systems improve a hospital's maintenance departments capacity, organisation and product flow – whilst reducing down time. It increases the number of beds available for patient use at any given time, which is critically important in medical industries where time is of the essence. Employees will know where all beds are as it creates a central storage system. At any given time there could be 10% of all beds in maintenance and ready to be occupied by staff. Also, by removing unused 'beds from hallways and corridors, hospitals can improve their Workplace Health and Safety requirements, activities and standards.
| | | |
| --- | --- | --- |
| BEFORE | VS | AFTER |
Technical Specifications

Controls: Forward/Reverse push buttons with electronic stop
Overall Capacity:

BedLift R: 272 kg end load
BedLift X: 408 kg end load
BedLift S: 272 kg for stretchers
BedLift N: 272 kg side load

Lifting Speed: Max. 11.7 seconds per position
Loading Ramps
CE and cCSAus Mark
OSHPD (Seismic) available on request
Additional Extras!
Please contact us for model specifications. The BedLift is also available with optional accessories, including platform inserts, vertical security gate, anti-microbial paint and an preventative maintenance package. Our sales representatives will help you determine the right solution for your requirements.
Need more?
For more information, please see the downloadable Vertical Hospital Bed Storage (Bedlift) brochure above. Alternatively, view our Healthcare industry options.