Laundry Trolleys Folding Bag
+ Add to Quote Request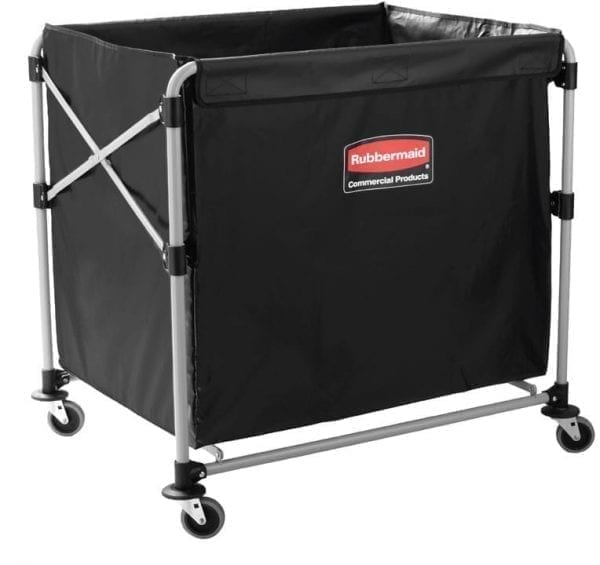 The Collapsible X-Cart is a durable trolley used for many healthcare and hospitality applications. Easy to move, it efficiently transports large and bulky loads. When not in use, it conveniently collapses to minimise storage footprint. With three models to choose from, this is a great storage solution for the efficient transport of materials.
Constructed in sturdy steel and with a powder-coated finish to prevent corrosion, the X-Cart is built to last. To prevent cross-contamination, colour-coded ribbons are used to categorise transport items. The X-Cart also has a removable bag and is easy to clean (with only a rag, soap and water). Additionally, quality, silent casters rotate for improved manoeuvrability, and bumper guards provide added protection during transit. In the folded state, the unit remains completely upright.
The Collapsible X-Cart is a flexible device that provides efficient performance while maintaining a professional appearance.
Additional Information
An efficient trolley with an innovative design. 
The Collapsible X-Cart is a durable and foldaway system that helps move loads of laundry and items easily and efficiently. This device helps to improve productivity within any workforce, with multiple models are available to suit requirements. Try our multi-stream option, which even divides and sorts items accordingly.
Compact and flexible build
With an incredibly lightweight and innovative frame, the X-Cart easily folds down for quick storage and organisation. It reduces up to 75% of its size to fit compact and securely away until next use. This makes it a great solution for quick materials handling, with a small footprint.
Sleek and private design
With an easy-to-clean detachable bag, the X-Cart blends into any work environment with its sophisticated design. Items put into the basket are also concealed from view for extra privacy.
Easy functionality
With premium casters, the cart can swivel and easily move about any workplace. The wheels also ensure it quietly rolls along, and the overall design makes for superior handling. Additional bumper guards add extra protection during transport and in case of accidental collisions, thus protecting both the building asset and the cart.
Empowers a team
The X-Cart allows its users to handle, transport and move more, which improves organisation efficiency. Quickly attend to customers and gather supplies easily with this great solution.
Move any type of product
With this Collapsible Cart, you can transport any type of item. The cart features colour-coded ribbons, which help to classify the materials to other users. This helps to prevent cross-contamination between materials.

Overall Features: 
Three sizes with a robust frame that prevents rusting.
A compact, collapsible frame enables efficient storage. The cart width is reduced by 75% when collapsed.
The unit stays upright in the collapsed position.
A multi-Stream option provides the ability to easily divide and sort materials.
Colour-coded ribbons classify transport materials to prevent cross-contamination.
Easy-to-clean detachable bag.
Premium, quiet casters swivel for superior handling, while bumper guards add extra protection during transport.
Specifications: 
| | | | | | |
| --- | --- | --- | --- | --- | --- |
| Code | Description | Length | Width | Height | Weight |
| B1881749 | Single 150 litre | 61.21 cm | 51.56 cm | 86.36 cm | 9.34 kg |
| B1881750 | Single 300 litre | 90.68 cm | 61.21 cm | 86.36 cm | 12.25 kg |
| B1881781 | Dual 300 litre | 90.68 cm | 61.21 cm | 86.36 cm | 12.97 kg |
Need to move heavy loads? 
Continue browsing our wide range of Hospitality and Housekeeping Trolleys!
Product Variations
Image
Description
Product Code
Price (excl. GST)

Collapsible X Cart
Single 150 litre
Dimensions 612x462x914 mm

B1881749

Collapsible X Cart
Single 300 litre
Dimensions 906x612x914 mm

B1881750

Collapsible X Cart
Dual 300 litre
Dimensions 906x612x914 mm

B1881781