MatHand Multilift
+ Add to Quote Request
The MatHand Multilift is a revolutionary multi-purpose lifter that is ideal for a number of applications. This powerful machine can practically move, lift and turn just about anything. A range of tool attachments and variations are available, which transform the lifter into a customised lifting device. It's a one-stop-shop for a number of industries.
Constructed from 304-grade stainless steel, it features a high-quality design that is built to last. The device is versatile, safe, operator intuitive and incredibly lightweight. European made, the Multilift features standard components and a huge catalogue of previously delivered solutions. Unlike any product of the market, the Multilift is an excellent choice that makes gripping, lifting and moving goods incredibly easy.
Additional Information
Introducing the MatHand Multilift…
The Multilift is a perfect handling solution: 
This device is capable of performing various lifting operations simply by exchanging attachments or customising the device to your requirements. Capacities from 80 kg up to 500 kg can be managed, depending on the model selected. Each unit is supplied with battery electric operation and durable stainless steel construction. However, optional hand winch and mild steel powder coated design is available. All devices include safety features to ensure operators are completing manual handling activities ergonomically and free from strain or injury.
Overall Features:
Choice of either Stainless Steel or Mild Steel Powder Coated construction
Choice of either battery electric or hand winch lifting operation
Covers can be removed for easy access and maintenance
All attachments and grippers can be quickly changed without tools
High-quality components provide long life and security
Push button control with battery indicator on spiral cable
Lifetime warranty on ball screw lift system
Braked motor and rear castors with foot brakes
Optionally sealed electrical enclosure for wash down applications
Choice of stainless or plastic rear cover
Supplied with automatic battery charger
Selection of interchangable front wheels and castors
State-of-the-art Multilift operation:
The Multilift features a unique ball screw lifting mechanism. Other similar lifting devices use a chain or wire rope to control the carriage. The strength of the ball screw ensures the device is 100% safe, high in quality and precise to control. The ball screw cannot fail and drop the load thanks to this innovative design. The lift mechanism is completely enclosed for safety – no operator pinch points (protective enclosure removed in image below).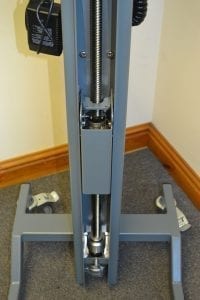 Choose the right Multilift for your application!
Load Capacity
Stainless Steel
Battery Electric
Powder Coated
Battery Electric
Stainless Steel
Hand Winch
Powder Coated
Hand Winch
80 kg
ML80-000SS
ML80-000MS
ML80-000SS-W
ML80-000MS-W
150 kg
FA1001-150
FA1002-150
FM150-SS
FM150-MS
300 kg
FA1001-300
FA1002-300
FM300-SS
FM300-MS
500 kg
ML500-SS
ML500-MS
–
–
Multilift 80 kg Specifications: 
Lifts a maximum of 80 kg at 400 mm load centre from mast
Lift Mechanism – Ball screw with a direct drive motor (self-locking)
Lift Speed – 100 mm / sec
Electrics – 24 V Motor Controller with soft start and Battery Status Indicator
Batteries – Sealed Lead Acid Batteries with Automatic Charger (240 V)
Multilift 150 kg Specifications: 
Lifts a maximum of 150 kg at 600 mm load centre from mast
Lift Mechanism – Ball screw with a direct drive motor
Lift Speed – 65 mm / sec
Electrics – 24 V Programmable with diagnostics and Battery Status Indicator
Batteries – Sealed Lead Acid Batteries with on-board Automatic Charger (240 V)
Multilift 300 kg Specifications: 
Lifts a maximum of 300 kg at 500 mm load centre from mast
Lift Mechanism – Ball screw with a direct drive motor
Lift Speed – 65 mm / sec
Electrics – 24 V Motor Controller with soft start and Battery Status Indicator
Batteries – Sealed Lead Acid Batteries with on-board Automatic Charger (240 V)
Multilift 500 kg Specifications: 
Lifts a maximum of 500 kg at 600 mm load centre from mast
Lift Mechanism – Ball screw with a direct drive motor
Lift Speed – 60 mm / sec
Electrics – 24 V Motor Controller with soft start  and Battery Status Indicator
Batteries – Sealed Lead Acid Batteries with on-board Automatic Charger (240 V)
Product Variations
Image
Description
Product Code
Price (excl. GST)

Single Round Arm
Stainless Steel

ML80-100

Twin Round Arms for Rolls
Stainless Steel

ML80-200

Adjustable Width Forks for Crates
Stainless Steel

ML80-300

Forks with Cradle Ends for holding a roll with shaft in core
Stainless Steel

ML80-400

Roll Turning Tool
Stainless steel
Max diam 500 x 500 wide x 76mm core ID

ML80-500

Platform Tool- Plastic Top 500 x 500mm

ML80-600

Rotary V Bed
Stainless Steel

ML80-700

Adjustable Collar with Hook for use with Single Arm ML80-100

ML80-800

Manual Clamp- Toggle Action x side rotation
250-550mm dia x 50kg max
Stainless Steel

ML80-900

Fixed Direct Front Wheels
60 dai Roller x 80mm Leg height

ML80-1020

Swivel Direction Front Casters
70 dia Front Twin wheel x 88mm leg height

ML80-1021

Swivel Direction Front Casters
60 dia Front Twin wheel x 86mm leg height

ML80-1022

Linear Side Shift +/- 75mm travel
Suits all ML80 tool options

ML80-1000

Option- Second Stainless Mast to create Telescopic Unit max 100kg

FA1003

80 dia Pallet Wheel x 90mm leg height

FA1020

60 dia Front Swivel Caster 90mm leg height

FA1021

100 dia Front Swivel Caster 140mm leg height

FA1022

5th Wheel – Only when lifter has 4 swivel wheels

FA1023

Double Front Wheels for Pallet Entry

FA1024

Standard Controls for Single Drive (Up/Down and E-Stop on Spiral Cable)

FA1031

Single Arm 150kg

FA1100

Twin Arm Lifting attachment 300kg

FA1110

Single Arm 300kg

FA1111

Single Arm with Rollers

FA1112

Cradle

FA1120

Roll turner- 350mm Arm Stainless Steel
Min/Max Roll Width 150/650mm x 76mm Core ID

FA1130

V Bed with bearing for 360 degree rotation 150kg

FA1150

Lifting Platform with Plastic top
580 long x 560 wide x max 300kg

FA1160

Crate Forks – made to suit crate 150kg

FA1180

Tool Handling- Hanger with 4 Chains and Hooks

FA1190

Crane Attachment

FA1192

Stainless Clamp Electric Grip and Rotation max 250kg

FA1202

Forwards Turn Clamp – Manual

FA1230

Light Linear Side Shift on Rails +/- 100mm

FA1300