MatHand Mobile Lift Trolleys
+ Add to Quote Request
Our MatHand Mobile Lift Trolleys are extremely versatile and have the ability to lift and shift heavy loads. This eliminates any need for manual handling. They are incredibly easy to use and the perfect safety solution in any business in any industry.
Fabricated from high strength steel, these trolleys are strong and durable, yet extremely lightweight and easy to position. A robust and convenient trolley that can be configured to suit your application. MatHand Mobile Lift Trolley is supplied with a heavy-duty powder coat finish. For food-grade applications, it is possible yo produce in stainless steel finish. It is no problem to have you working with ease!
Download our brochures below for more details.
Additional Information
What models are available?
Quality Australian made product with unlimited configurations, our trolleys are separated into two base unit arrangements:

N Series – Two large diameter rear wheels. Operator can tilt the trolley backwards and move over uneven ground.
S Series – Mobile base with four swivel castors for ultimate manoeuvrability on flat surfaces.
They are fitted with a high-quality safety-brake hand winch and feature a standard 150kg lifting capacity! Please note: other lifting capacities are available on request. Optionally all trolleys are available with battery electric lift.
Technical Specifications and Data
N Series Dimensions –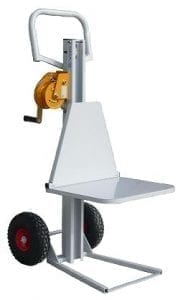 S Series Dimensions –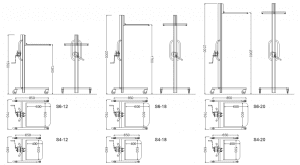 Additional options are also available:
Forks in place of flat platform, adjustable or fixed

Crane jib with various suspension points

Mechanical grabs and gripping devices

Rotator for reels, barrels, drums, rolls, crates, buckets, crates, bins etc

Roll spike for handling rolls from centre core

Forks with removable platform

Counterweight design for hard to reach applications

Straddle legs in a variety of sizes

Push-button activated grippers and mechanical grabs

Lower mast height, extra lift heights, two and three stage masts

Stainless steel construction
Require something else?
Peruse our wide range of Materials Lifters, to find the solution you require OR get in contact with us to discuss your application.
Click the PDF button to learn more.
Product Variations
Image
Description
Product Code
Price (excl. GST)

MatHand Mobile Lift Trolley
Wheels: Rear 200mm solid rubber + front castors
Lift Height: 1250mm
Table Size: 500 x 400mm

MG412

MatHand Mobile Lift Trolley
Wheels: Rear 250mm pneumatics
Lift Height: 900mm
Table Size: 500 x 400mm

MN49

MatHand Mobile Lift Trolley
Wheels: Rear 250mm pneumatics
Lift Height: 1200mm
Table Size: 500 x 400mm

MN412

MatHand Mobile Lift Trolley
Wheels: Rear 250mm pneumatics
Lift Height: 1200mm
Cradle for gas cylinders

MN612

MatHand Mobile Lift Trolley
Wheels: Rear 250mm pneumatics
Lift Height: 1500mm
Table Size: 600 x 600mm

MN615

MatHand Mobile Lift Trolley
Wheels: Four swivel castors
Lift Height: 1200mm
Table Size: 500 x 400mm

MS412

MatHand Mobile Lift Trolley
Battery electric
Wheels: Four swivel castors
Lift Height: 1200mm
Table Size: 500 x 400mm

MS412E

MatHand Mobile Lift Trolley
Wheels: Four swivel castors
Lift Height: 1500mm
Table Size: 500 x 400mm

MS415

MatHand Mobile Lift Trolley
Wheels: Four swivel castors
Lift Height: 1800mm
Table Size: 500 x 400mm

MS418

MatHand Mobile Lift Trolley
Battery electric
Wheels: Four swivel castors
Lift Height: 1800mm
Table Size: 500 x 400mm

MS418E

MatHand Mobile Lift Trolley
Wheels: Four swivel castors
Lift Height: 2000mm
Table Size: 500 x 400mm

MS420

MatHand Mobile Lift Trolley
Battery electric
Wheels: Four swivel castors
Lift Height: 2000mm
Table Size: 500 x 400mm

MS420E

MatHand Mobile Lift Trolley
Wheels: Four swivel castors
Lift Height: 1200mm
Table Size: 600 x 600mm

MS612

MatHand Mobile Lift Trolley
Battery electric
Wheels: Four swivel castors
Lift Height: 1200mm
Table Size: 600 x 600mm

MS612E

MatHand Mobile Lift Trolley
Wheels: Four swivel castors
Lift Height: 1500mm
Table Size: 600 x 600mm

MS615

MatHand Mobile Lift Trolley
Wheels: Four swivel castors
Lift Height: 1800mm
Table Size: 600 x 600mm

MS618

MatHand Mobile Lift Trolley
Battery electric
Wheels: Four swivel castors
Lift Height: 1500mm
Table Size: 600 x 600mm

MS615E

MatHand Mobile Lift Trolley
Battery electric
Wheels: Four swivel castors
Lift Height: 1800mm
Table Size: 600 x 600mm

MS618E

MatHand Mobile Lift Trolley
Wheels: Four swivel castors
Lift Height: 2000mm
Table Size: 600 x 600mm

MS620

MatHand Mobile Lift Trolley
Battery electric
Wheels: Four swivel castors
Lift Height: 2000mm
Table Size: 600 x 600mm

MS620E

MatHand Mobile Lift Trolley
Wheels: Four swivel castors
Lift Height: 3200mm
[2 stage mast]
Table Size: 600 x 600mm

MS6232

MatHand Mobile Lift Trolley
Battery electric
Wheels: Four swivel castors
Lift Height: 3200mm
[2 stage mast]
Table Size: 600 x 600mm

MS6232E