Mobile Stair Lift
+ Add to Quote Request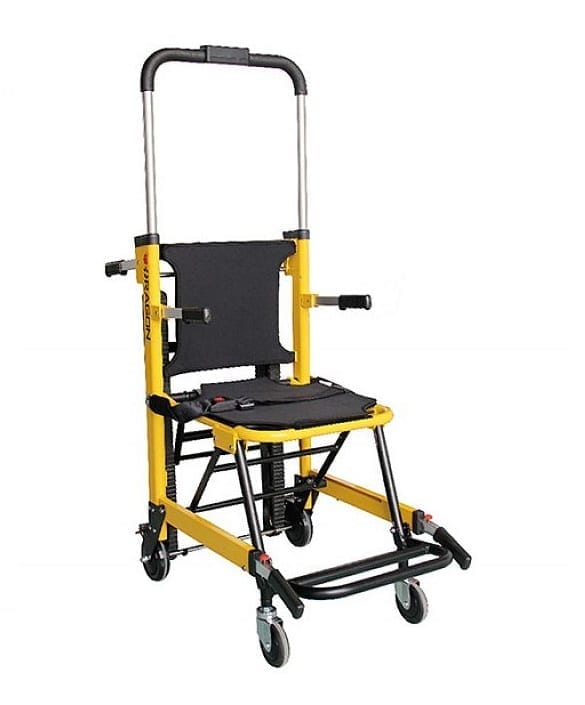 Our unique Mobile Stair Lift easily transports people and goods up and down stairs safely, efficiently and ergonomically. The device is commonly used in hospitals, emergency centres, ambulances, healthcare industries, homes, offices and other related workplaces.
Two versions are available, including either a manual or a battery-powered unit. The Mobile Stair Lift is exceptionally comfortable and easy to use. They feature a lightweight and portable design that is equipped with footrests, backrests, safety restraints and push-button controls (on the powered unit). This makes the device convenient and easily accessible for patients and workers.
Additional Information
The Mobile Stair Lift is available in two versions! 
The battery-powered stair climbing chair weighs only 30 kg and has a Safe Working Load (SWL) of 160 kg. It can glide people up and down wooden, metal and concrete stairs without the need to carry or manually lift. It is also a cost-effective solution since it requires no costly track installation or changes to an existing architecture. That means, it can be easily used at home. The Battery-Powered Mobile Stair Lift improves can improve lifestyle as the consumer is not required to move to a single-story house. The device ensures you can navigate up and downstairs with ease.
The manual stair climbing chair is ideal for fire rescue and evacuation transportation. It weighs only 18 kg and can assist an individual up and down the stairs at a fast rate. The Manual version features a Safe Working Load (SWL) of up to 160 kg. While the manual version of the Mobile Stair Lift is best used to move the patient downstairs, it can also be used to move upstairs. In this scenario, it does require two assistants to operate. Both the battery-powered and manual Mobile Stair Lift are ideal for injured, elderly and handicapped patients.
Technical Features: 
The chair glides smoothly up and downstairs.
Mainly used to transport people and patients.
Fitted with two 100 mm swivel castors and two 125 mm rear wheels with foot brakes.
The back of the stretcher is fitted with two fold-out lifting/steering handles.
At the front of the chair, there are two retractable lifting handles.
Two adjustable quick-release safety restraints to improve patient safety during transport.
They are manufactured with high-strength aluminium alloy materials.
Each unit is lightweight, compact, easy to carry, safe and low maintenance (easy to clean).
ST003A Mobile Stair Lift Parts: 
Control Panel
Safety Belt
Rear Handle
Track Structure
Controller
Motor
Castor with Brake
Wheels
Footrest
Front Handle
Battery Powered [Li-ion]
Safety Belt for Body
Armrest
Lift Bar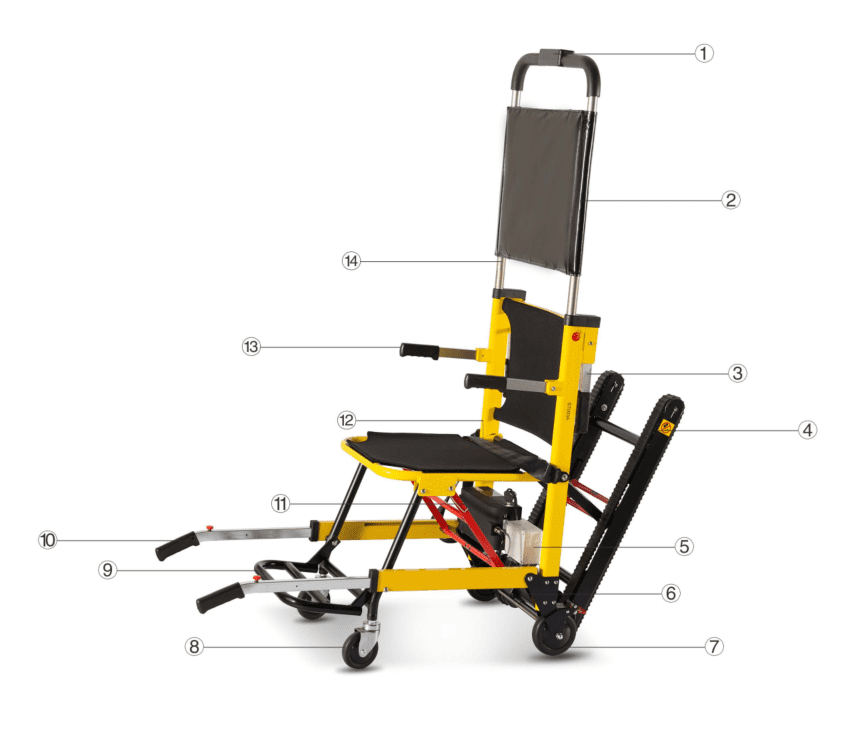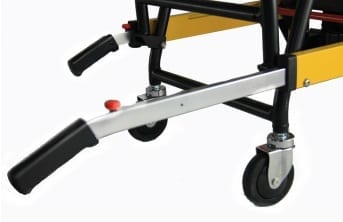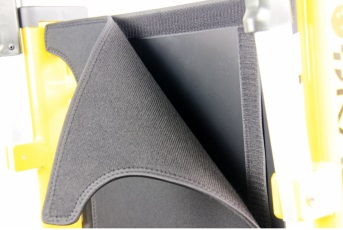 Continue browsing our other similar devices. 
View our wide range of Stairclimbing Trolleys to assist when transporting heavy loads up and downstairs.
Product Variations
| | | | | |
| --- | --- | --- | --- | --- |
| | Battery Powered Mobile Stair Lift for Cargo | ST001A | | |
| | Manual Mobile Stair Lift | ST003 | | |
| | Battery Powered Mobile Stair Lift | ST003A | | |