Domino Stair Climbing Robot
+ Add to Quote Request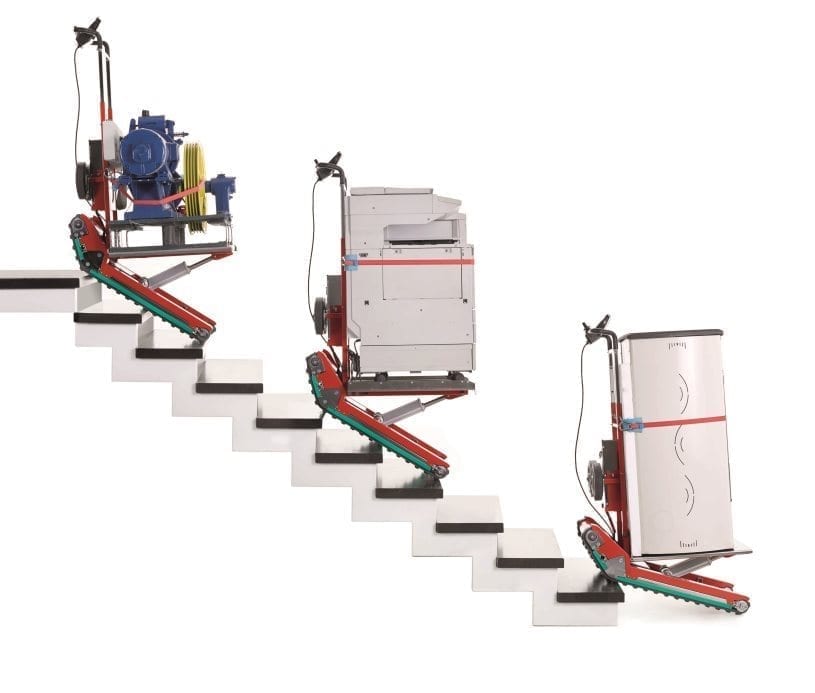 Our incredible Domino Stair Climbing Robot allows you to safely move heavy loads up and down staircases.
This is the top-shelf professional solution for stair climbing. There is nothing in the world more user-friendly than the Domino Stair Climbing Robot! It is the most intuitive and safe solution for moving up and down stairs. Save stress, time and workplace injuries. No pushing, pulling or strenuous lifting required with this stair climber.
Able to travel over any surface, the Domino Stair Climbing Robot can be used outdoors, indoors and on uneven surfaces. Grass, dirt, gravel, no problem! The advanced design of non-marking crawler tracks allows the operator to keep cargo balanced evenly at all times when moving heavy loads.
Additional Information
Automatic and Manual Modes available
The Domino Stair Climbing Robot features an amazing automatic levelling mode.
This allows an operator to drive the unit via joystick with minimal effort. When engaged, the Domino Stair Climbing Robot automatically adjusts the tilted load angle, making transport of goods easier, quicker but most importantly SAFE. The operator can choose to switch to manual mode at any time if required.
Crawler Tracks and 360° Rotation
Domino Stair Climbing Robot has independent crawler tracks for comfortable manoeuvring around narrow spaces. With a joystick, the unit can be controlled by the operator and with the dual electric motors this means the machine has enough get-up-and-go to climb any staircase!
With weight evenly distributed across the staircase and surface, the operator is no longer required to keep the trolley balanced – the smart function does that for you. The load always remains safe, with no risk of slipping.
So many advantages!
Navigate narrows spaces
A single person is capable of completing the task.
The battery-electric actuator keeps the load balanced at all times.
Crawler tracks ensure no slips or marking when operating.
All surfaces can be conquered – even irregular steps.
Minimal effort required for operation with one-finger control joystick.
Loads can be moved on flat surfaces as well.
Range of optional accessories to suit your tasks.
Domino Automatic relieves stress by completing the work for you.
Accessories
A variety of accessories are available to assist with this unique and robust lifting machine. Some options include an adjustable width base (for photocopiers, bulky loads, etc), wheeled base, lifting columns, aluminium ramp, central arms for vans, base for narrow landings, tilted base for photocopiers and frame for slabs and tops. Check out our video below to see the accessories in action.
Easy to use with our handy Instructional Training Video!
The Domino Stair Climbing Robot is innovative and simple to operate. Use our instructional training video below to understand how our Domino Automatic works.
Require another solution? 
Continue browsing our unique range of Stair Climbing Trolleys.
Click the PDF button to learn more.
Product Variations
Image
Description
Product Code
Price (excl. GST)

Domino 160 stair climbing robot
160kg capacity with automatic level function

DOMINO160A

Domino 300 stair climbing robot
300kg capacity with automatic level function

DOMINO300A

Domino 400 stair climbing robot
400kg capacity with automatic level function

DOMINO400A

Wheeled base for flat outdoor surfaces

DOM-WHE-BASE

Adjustable base for bulky loads

DOM-ADJ-BASE

Central arm for van

DOM-ARM

Adjustable base for photocopiers

DOM-COPY-BASE

Base for narrow landings

DOM-NAR-BASE

Tilted base for photocopiers

DOM-TILT-BASE

Aluminium ramp for loading and unloading from the vehicle

DOM-RAMP

Counterframe for slabs and tops

DOM-FRAME

Extra battery pack for Domino

DOM-BATTERY

Vehicular battery charger for Domino

DOM-CAR-CHARGER