CargoMaster BA350 Stair Climber
+ Add to Quote Request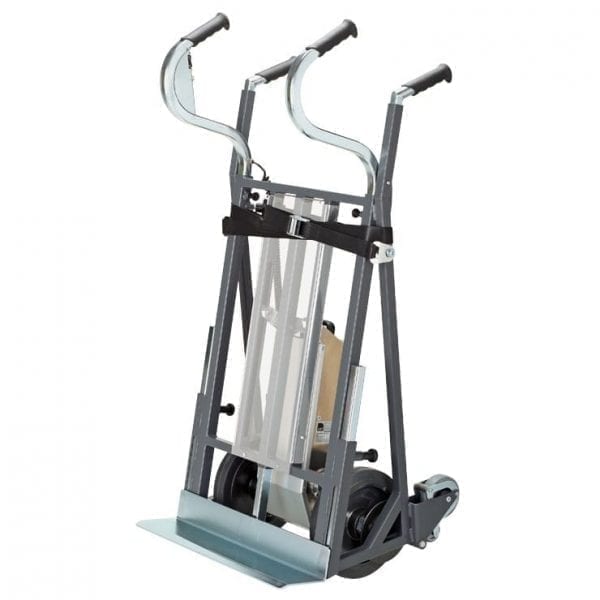 Transport heavy loads up and down stairs with the CargoMaster BA350 Stair Climber. This unique trolley system handles goods with ease and moves them with the push of a button.
The BA350 Heavy Duty Stair Climber is an intelligent lifting system. It removes manual handling risks and injuries by bearing the total weight of a heavy product (during transportation). With CargoMaster, large loads can be handled effectively and virtually any product can be moved.
The CargoMaster BA350 reduces physical effort, replacing it with reliability and complete functionality.  It's best suited to wide and tall goods and has a load capacity of up to 350 kg.
Additional Information
Get moving with our CargoMaster BA350 Stair Climber!
The CargoMaster BA350 can move anywhere, across any surface. It features an adjustable toe plate and hand grip to help locate the ideal centre of gravity and has an enormous range of 330 steps with one battery charge! This device is perfect for transporting products like copy machines, vending machines, slot machines, stoves and many other heavy products.
The BA350 model features soft touch-down and low-vibration safety functionalities. It's comfortable to use, suitable for high quality loads and can be turned on at all times. For tricky situations, the BA350 model features a unique single step mode. This allows the device to adjust to varied situations and maintain a continuous speed. With solid rubber tyres, the CargoMaster is a durable and reliable choice. Its plate and centre of gravity can also be adjusted.
Overall Specifications of CargoMaster BA350: 
Lifting Capacity – 350 kg
Climbing Speed – 4-10 steps per minute
Range (with on battery charge) – 15-30 floors; at full capacity of 350 kg, approximately 330 steps
Height – 1195-1785 mm
Width – 590 mm
Depth – 520 mm
Batteries – 2 x 12 V / 7,2 Ah
Motor – 24 V
Battery Pack Weight – 6 kg
Total Weight – 46 kg
Need an alternative solution?
For other Stair Climbing options, continue browsing our extensive range!
Product Variations
| | | | | |
| --- | --- | --- | --- | --- |
| | CargoMaster A350 stair climber | BA350 | | |
| | Battery charger for the vehicle | M100022 | | |