CargoMaster BC400 Stair Climber
+ Add to Quote Request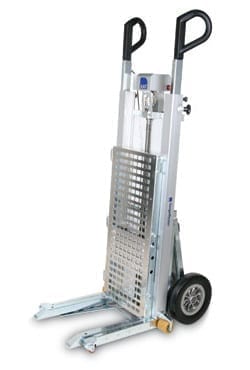 Transport up to 400 kg single-handedly with our CargoMaster BC400. This powerful unit makes heavier loads even more possible when moving up and down stairs. Its state-of-the-art lifting mechanism accommodates almost every manual handling application.
The CargoMaster BC400 unit is robust and unique. It features an electrically adjustable loading fork that safely moves heavy products to your desired destination. Furthermore, its integrated lift function makes it extremely easy to load/unload shelves and vehicles.
This device can travel anywhere between 10-15 floors with one battery charge. If required further, the battery can easily be swapped for another spare and can even be charged from a vehicle.
Additional Information
Lift more with the CargoMaster BC400!
An ideal and reliable machine for transporting extremely heavy loads. The stair climber features an integrated lift for easy loading capabilities. Its adjustable climbing speed aids simple or complex jobs, making it incredibly versatile in use. It is suited to all situations of transportation and its in-built safety brakes ensures it stops at each step edge.
When operating, the device doesn't damage or impact its surroundings. It has been fitted with puncture proof tyres for durability during any task. The integrated lifting mechanism is unique and will accommodate almost every manual handling situation. The CargoMaster BC400 adjusts the balance point of the load when on the stairs, so the operator is not under strain or concern for safety.
BC400 Specifications:
Lifting Capacity – 400 kg
Climbing Speed – 3-8 steps per minute
Range (with one battery charge) – 8-15 floors
Height – 1512 mm
Width – 564 mm
Depth – 782 mm
Batteries – 2 x 12 V / 5 Ah
Motor – 24 V
Battery Pack Weight – 4.1 kg
Total Weight – 84.3 kg
After a lighter solution?
Continue browsing our range of Stair Climbing Trolleys to find the unit best suited to your particular application.
Click the PDF button to learn more.
Product Variations
| | | | | |
| --- | --- | --- | --- | --- |
| | CargoMaster C400 stair climber | BC400 | | |
| | Battery charger for the vehicle | M100022 | | |