Powered Electrodrive Tugs
+ Add to Quote Request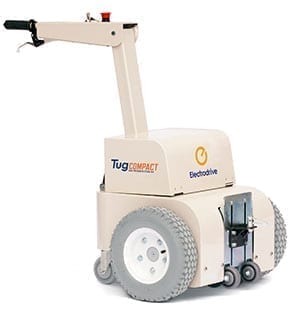 Is it too heavy to move? Our Powered Electrodrive Tugs will do the job for you!
Made in Australia, these powered units are incredibly important when moving heavy loads around your workplace. As a vital piece of equipment when improving Workplace Health and Safety procedures, they are strong enough to tow a range of goods, including carts, trolleys and equipment. Some common applications include delivering stock inside shopping centres, moving trolleys and equipment around narrow hospital corridors and moving goods around factories.
Using a Powered Tug can help your staff maximise their productivity, simplify their processes and comfortably complete tasks efficiently. All units are battery-powered, which means they operate quietly and with zero emissions. Available in a range of models, these tugs can be customised as per your requirements.
Additional Information
Also known as electric tugs, electro tugs and electric load pullers, our Powered Electrodrive Tugs allow you to move up to 20,000 kilograms of equipment. They are specifically designed to allow for single operation, whereby a user can move heavy loads safely by towing said load with the powered device.  With Powered Electrodrive Tugs, it's all about the ergonomics as the unit reduces any potential pushing or pulling strains that may have occurred without the device.
Our Powered Tugs come in a range of designs and capacities to assist your materials handling activities and applications.
Tug Compact
A nimble and response unit, the tug compact easily navigates tight spaces and corridors. It's an essential mover when transporting document trolleys around universities, moving medical carts around hospitals or moving bins/linen trolleys. It's most ideal for medical and commercial towing.
Up to 500 kg towing capacity
Compact and easy to manoeuvre around narrow corridors
Non-marking tyres
Supplied with a pin hitch
Three-speed motor with emergency stop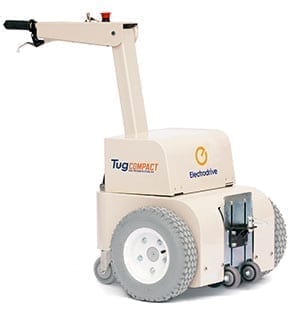 Tug Evo – 1 Tonne and 2 Tonne
The Tug Evo is an incredibly powerful and robust machine. Available in either a one or two-tonne model, it can manually move extremely heavy loads. Some ideal operations include transporting heavy trolleys around airports and factories, moving medical carts around hospitals, towing specialist equipment and moving goods around large facilities. It's most suitable for retail and light industrial towing.
Available in either a 1-tonne or 2-tonne model
Supplied with an auto-latching hitch
Three-speed motor with emergency stop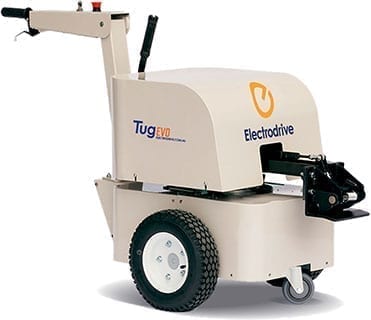 Tug Classic
The Tug Classic is another powerful machine in our range. It's able to transport up to 3.5 tonnes of weight and can safely tow these large loads around workplaces. This device has been used for moving heavy trolleys around airports and factories, transporting specialist equipment and moving goods around large facilities. It suits large retail and heavy industrial towing.
Has a towing capacity of up to 3.5 tonnes
Supplied with a lock-tow hitch
Three-speed motor with emergency stop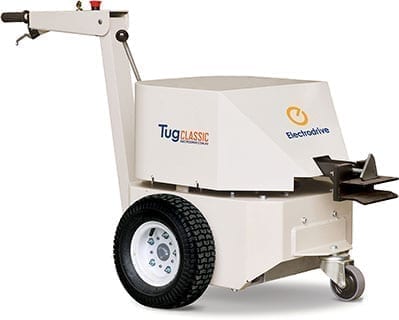 Tug Smart
One of the latest models on the market, the Tug Smart can tow up to 5 tonnes on flat grounds, up to 1 tonne on 8-degrees inclination and up to 500 kg on 14-degrees inclination. It's used to move heavy industrial equipment, machinery and heavy trolleys (in high rise buildings/apartment basements, caravan parks and other outdoor areas).
Heavy-duty device
Has a towing capacity of up to 5 tonnes
Folding Tiller Handle features intuitive steering and throttle
Able to tow up slopes (1 tonne – 8-degrees incline; 500 kg – 14-degrees incline)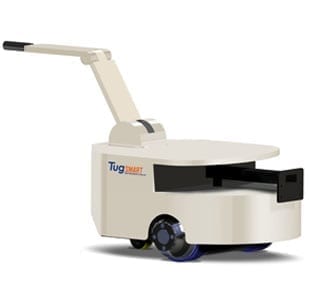 Tug Tough – 10 Tonne and 20 Tonne
The strongest tug on the market, Tug Tough can transport loads up to 20 tonnes. Utilising a powerful 48V drive system, each model can be fitted with an optional hydraulic lifting hitch. The unit easily manages dangerous and difficult operations with ease and features all the features of our smaller devices. It is commonly used in heavy vehicle maintenance, pulling buses or trucks through production lines and transporting aeroplanes in and out of hangars.
Heavy-duty applications
Two models available with towing capacities of 10 and 20 tonnes
Perfect for pulling heavy equipment, construction machinery, vehicles and aircraft

A number of features across the entire range!
Battery-powered tugs save money and improve safety.  We can custom design a tug up to 50 tonnes to suit your application. Don't break your back trying to push heavy loads and mobile equipment.  Let our Powered Electrodrive Tug range do a safe and effortless job for you. Each tug unit is perfect for a range of tasks and is incredibly low in maintenance.  Whilst some units can tow larger goods, each device comes complete with the following standard features:
Powerful battery-operated motor (with smart battery charger)
Tiller control handle (for 'front of load' operation)
Three-speed control
Forward and reverse operation
Emergency stop
'Back-off' safety buttons
Made in Australia
Optional extras available to customise tug (including a wide variety of hitches, etc.)
More options available!
View our entire Tugs and Powered Movers range to help find the solution right for your workplace.
Click the PDF button to learn more.
Product Variations
Image
Description
Product Code
Price (excl. GST)

Compact Tug
500kg Towing Capacity

MET05

Tug EVO
1000kg capacity

MET1

Tug EVO
2000kg capacity

MET2

Tug Classic
3500kg capacity
Lock Tow Hitch

MET3

Smart tug – heavy duty
4000kg capacity

MET4S

Smart tug – heavy duty
5000kg capacity

MET5

Smart tug – heavy duty
6000kg capacity

MET6

Tug Tough
10 tonne capacity

MET10

Tug Tough
20 tonne capacity

MET20