Domino People – Wheelchair Stair Climber
+ Add to Quote Request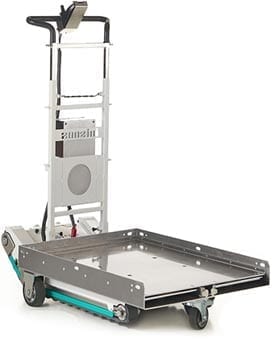 The Domino People Wheelchair Stair Climber allows you to move anywhere with ease. Designed to transport hand-operated and electronic wheelchairs up and down staircases, this device combines safety with innovative technology to increase a user's capabilities. Easily maintain comfort and control while operating this intuitive trolley.
As its name suggests, Domino People is a stair-climbing device for people. Armed with the same characteristics of the traditional Domino Stair Climbing Robot, the unit is equipped with crawler tracks to assist in smooth transportation. The unit is also fitted with independent motors for 360-degrees rotation and automatic tilt features to maintain a steady position.
Our Wheelchair Stair Climber is available in two models – Domino People and Domino People Slim.  Both ensure people can easily move and down staircases, however, they vary in scope of use, dimensions and maximum capacity.
Additional Information
An intuitive Wheelchair Stair Climber that's designed to transport people!
Each Wheelchair Stair Climber features characteristics that solve problems which affect disabled people every day. The Domino People range restores an ability to move around an area and between levels. Providing a range of advantages for any user, these devices are efficient and respond immediately to user commands. Choosing Domino means you have access to many benefits, including:
An ability to move in narrow spaces with 

360° rotation.

Comfort when travelling thanks to wide and secure crawler tracks.
Non-slipping and non-marking movements – ideal for both indoor and outdoor surfaces.
No restrictions regarding irregular steps. The device can move up varied steps, regardless of height.
Effortless one-finger control that operates via a proportional joystick.
Ability to move across flat surfaces on three puncture-resistant wheels. The front wheel is equipped with a brake, and it can be removed completely.
Automatic load tilt to adjust the load evenly when navigating staircases. This takes a lot of stress off the operator during transportation.
Choose the right Wheelchair Stair Climber for your task!
These devices are available in two designs – the Domino People (code: DOMINO400P), which is ideal for moving wheelchairs weighing up to 400 kg, and the Domino People Slim (code: DOMINO160P), which is ideal for moving wheelchairs weighing up to 160 kg.
Product Variations
Image
Description
Product Code
Price (excl. GST)

Domino People
Suitable for manual and electronic wheelchairs up to 400 kg

DOMINO400P

Domino People Slim
Suitable for manual wheelchairs up to 160 kg

DOMINO160P