Electric Stackers
+ Add to Quote Request
The ES type electric stacker is designed with a mono-mast that creates excellent visibility. The compact device aids in hoisting goods to an ergonomic working height or assures safe storage in racking. With a free-lifting height of up to 1955mm and a capacity of up to 1200 kg, this stacker comes with a sealed lead-acid battery.
This powered walkie stacker is ideal for optimising your daily operations in warehouses, industrial or retail locations and especially height-limited areas. This lifting device provides exceptional visibility with the mono-mast design and side-operating position.
The ES "walkie" stacker is a pedestrian-operated device that does not require a high risk licence (such as forklift licence) to operate.
Additional Information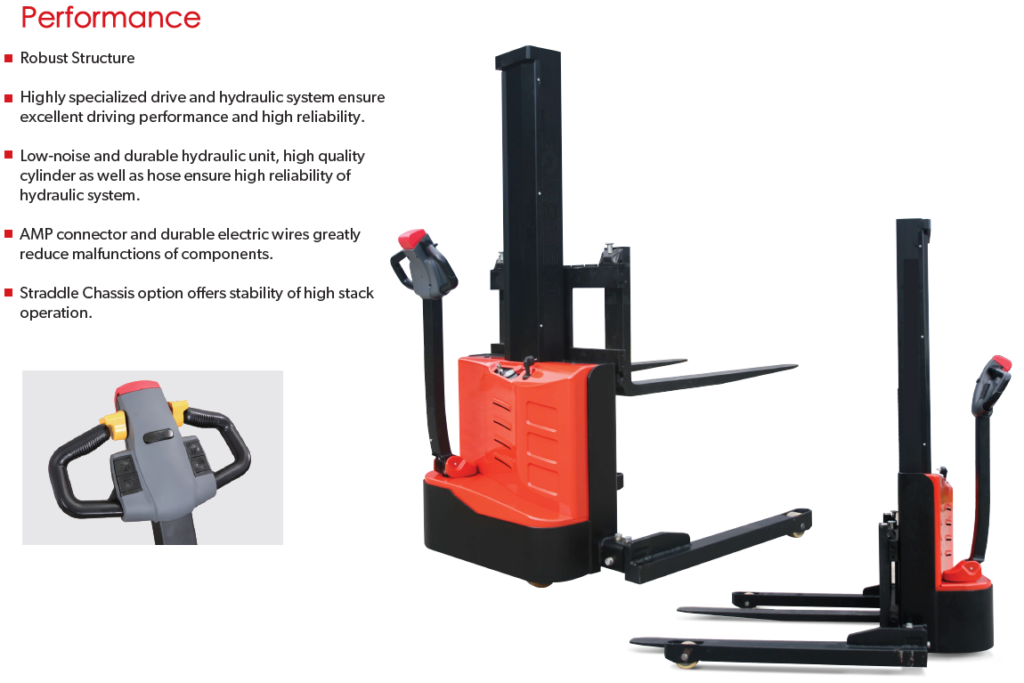 Click the PDF button to learn more.
Product Variations
Image
Description
Product Code
Price (excl. GST)

Electric Stacker mono mast
1000kg capacity
1600mm lift
Wrap-over fork tynes

ES10-10MM

Electric Stacker mono mast
1000kg capacity
1600mm lift
Straddle chassis legs

ES10-22MM

Electric Stacker mono mast
1000kg capacity
1900mm lift
Wrap-over fork tynes

ES10-10MM+

Electric Stacker mono mast
1000kg capacity
1900mm lift
Straddle chassis legs

ES10-22MM+

Electric Stacker mono mast
1200kg capacity
1600mm lift
Wrap-over fork tynes

ES12-12MM

Electric Stacker mono mast
1200kg capacity
1600mm lift
Straddle chassis legs

ES12-25MM

Electric Stacker mono mast
1200kg capacity
1900mm lift
Wrap-over fork tynes

ES12-12MM+

Electric Stacker mono mast
1200kg capacity
1900mm lift
Straddle chassis legs

ES12-25MM+