Look Out Ceiling Suspended Sensors
+ Add to Quote Request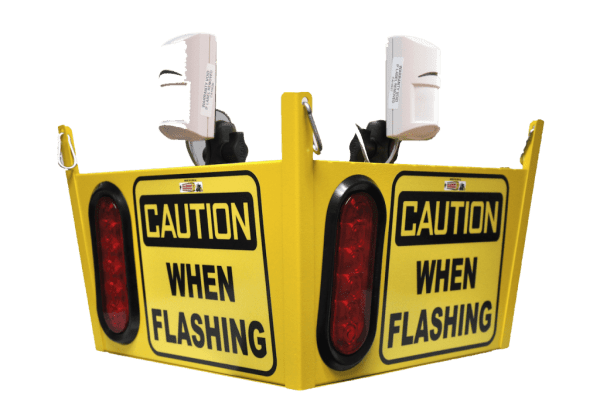 Look Out Ceiling Suspended Sensors offer versatile ceiling suspended safety sensors that alert pedestrians, forklift drivers and other mobile machinery operators that a potential hazard is right around the corner.  With a safety yellow design, these units are easy to see, understand and respond to.
The Look Out Ceiling Suspended Sensors offers a range of solutions for many types of intersections, including 2, 3 or 4-way monitors, to alert in multiple directions. Each unit is mounted to the ceiling to help regulate traffic in a voluntary fashion, whilst warning of approaching movement from incoming traffic or pedestrians.
Ceiling mounted models are available in the following options:
Look Out 2  – with 2 LED sensors.
Look Out 3 – with 3 LED sensors.
Look Out 4 – with 4 LED sensors.
Additional Information
Alert your workplace with Collision Awareness!
These systems are vital for organisations seeking to improve their workplace safety processes. Available in a range of models, to suit your requirements, Look Out Ceiling Suspended Sensors help increase protection in your facility.
A wide range of options are available:
Look Out 2
Ideal for 2-way intersections.
Features 2 lights and 2 sensors.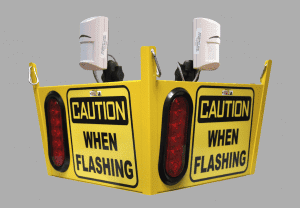 Look Out 3
Ideal for 3-way intersections.
System can feature either 3-4 lights, with 3 sensors.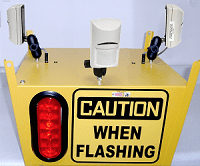 Look Out 4
Ideal for 4-way intersections.
Features 4 lights, with 4 sensors.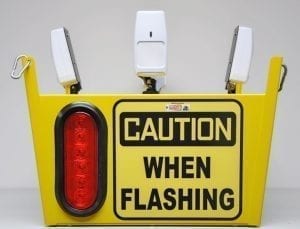 Look Out Ceiling Suspended Sensors are supplied with a low AC/DC voltage transformer that plugs into any 240 V outlet. Optional amber lights are available (on request). Each unit is able to be ceiling hung, however the Look Out systems can also be mounted to racks or corners – see Look Out Rack and Corner Mounted Sensors for more information regarding this. Mounting these units is incredibly easy, as hardware and various lengths of power cable make them incredibly flexible. All units are available with optional audible alarms.
Require further information?
Learn more about our entire range of Look Out Collision Awareness products!
Click the PDF button to learn more.
Product Variations
Image
Description
Product Code
Price (excl. GST)

Collision Awarenes Floor Burst option
Option for ceiling suspended Look Out models only

CA-FB

Look Out 2
Lights – 2
Sensors – 2
Boxes – 1 ceiling suspended

LO2LB

Look Out 3
Lights – 3
Sensors – 3
Boxes – 1 ceiling suspended

LO3

Look Out
Lights – 4
Sensors – 4
Boxes – 1 ceiling suspended

LO4