Modular Air Bearing Kits
+ Add to Quote Request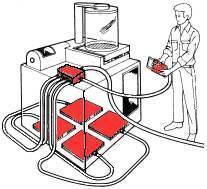 Solving Air Skate Load Movers (also known as Air Bearings Modules or Air Skids) are an excellent choice for moving complex and extremely heavy loads.
Designed to withstand and handle a variety of bulky loads and items of machinery, these air skates can move up to 360 tonnes. They float equipment, assemblies and massive loads along a friction-less cushion of air. Pressure regulators, located within the control units of the air skates, increase this air pressure to raise the load off the floor. The thin film of air that forms under each module is what allows the loads to be positioned and moved with ease.
Move extremely heavy loads fast
Can handle up to 360 tonnes
Increases productivity
Eliminates manual handling risks
Additional Information
Easily control heavy loads with these innovative air skates!

Our air skates float massive loads along even surfaces with a cushion of air, accurately and safely. It is recommended that at least three to four air skate modules are utilised, per heavy load, and as far a part as possible. This ensures maximum stability as the extreme weight of the load is evenly distributed between each module. Each bearing is connected to the control unit and compressed air supply. Once engaged, they allow for easy movement and precise positioning. Learn more by watching our how to video!
Quality of flooring matters!
To achieve optimum air skate performance, level, non-cracked and smooth flooring is required (avoid steps and cracks). The quality of the floor affects air consumption and the force required to move each heavy load. For occasional moves, a substandard floor can be improved using thin sheet steel or PVC.
Technical Data
Air Skate Load Mover systems include:

4 or 6 air bearing modules
4 or 6 supply hoses with quick release couplings
Control unit equipped with pressure regulator and gauge for each module and supply pressure gauge
30m supply hose including shut-off valve
Operating instructions

Optional accessories include:

Remote control unit
Control unit for six-module system
Alternative hose lengths
Outlets for air jacks
As outline above, each load module system includes four or six load modules with quick disconnect fittings, one control unit, 30 m air supply hose with on/off ball valve, 2 x 4 m (3 x 4 m) and 2 x 6 m (3 x 6 m) long interconnecting hoses with quick couplings. Non-standard hose lengths are available on request. The module plates marked with X are made of aluminium extrusion with a rubber cloth glued on the top surface. The module plates for MLS 408, 412 and 612 marked with C are made of cast aluminium. The module plates for MLS 415 and 615 marked with XL are made of a low profile aluminium extrusion.
EXPLANATION OF H & S TYPE DIFFERENCE
The 'H' sets have high capacity bearings, which uses a higher pressure (roughly 2 times the pressure used in the 'S' sets), they might also have a bigger control box and larger hoses in order to cope with the increased air requirements, otherwise they are the same.
Need something a bit bigger?
For details on air skate systems that move loads up to 1000 tonne, please view our Air Film Movers.
To view more videos on Air Film Movers & AGV's click here
To view photo gallery & industries that use Air Film Movers click here
If you want to carry and drive loads up to 200tonnes have a look at our Self Propelled Load Movers.
Click the PDF button to learn more.
Product Variations
Image
Description
Product Code
Price (excl. GST)

Modular air bearing system
3000kg- set of 4
Cast aluminium frame

MLS408C

Modular air bearing system
3000kg- set of 4
Extruded aluminium frame

MLS408X

Modular air bearing system
7000kg- set of 4
Cast aluminium frame

MLS412C

Modular air bearing system
7000kg- set of 4
Extruded aluminium frame

MLS412X

Modular air bearing system
10000kg- set of 4
Extruded aluminium frame

MLS415X

Modular air bearing system
10000kg capacity- set of 4
Low-profile aluminium frame

MLS415XL

Modular air bearing system
20000kg- set of 4
Extruded aluminium frame

MLS418HX

Modular air bearing system
11200kg- set of 4
Extruded aluminium frame

MLS418SX

Modular air bearing system
28000kg- set of 4
Extruded aluminium frame

MLS421HX

Modular air bearing system
14000kg- set of 4
Extruded aluminium frame

MLS421SX

Modular air bearing system
48000kg- set of 4
Extruded aluminium frame

MLS427HX

Modular air bearing system
24000kg- set of 4
Extruded aluminium frame

MLS427SX

Modular air bearing system
80000kg- set of 4
Extruded aluminium frame

MLS436HX

Modular air bearing system
44000kg- set of 4
Extruded aluminium frame

MLS436SX

Modular air bearing system
120000kg- set of 4
Extruded aluminium frame

MLS442HX

Modular air bearing system
160000kg- set of 4
Extruded aluminium frame

MLS448HX

Modular air bearing system
240000kg- set of 4
Extruded aluminium frame

MLS460HX

Modular air bearing system
10500kg- set of 6
Cast aluminium frame

MLS612C

Modular air bearing system
10500kg- set of 6
Extruded aluminium frame

MLS612X

Modular air bearing system
15000kg- set of 6
Extruded aluminium frame

MLS615X

Modular air bearing system
15000kg- set of 6
Low-profile aluminium frame

MLS615XL

Modular air bearing system
30000kg- set of 6
Extruded aluminium frame

MLS618HX

Modular air bearing system
17000kg- set of 6
Extruded aluminium frame

MLS618SX

Modular air bearing system
42000kg- set of 6
Extruded aluminium frame

MLS621HX

Modular air bearing system
21000kg- set of 6
Extruded aluminium frame

MLS621SX

Modular air bearing system
72000kg- set of 6
Extruded aluminium frame

MLS627HX

Modular air bearing system
36000kg- set of 6
Extruded aluminium frame

MLS627SX

Modular air bearing system
120000kg- set of 6
Extruded aluminium frame

MLS636HX

Modular air bearing system
66000kg- set of 6
Extruded aluminium frame

MLS636SX

Modular air bearing system
180000kg- set of 6
Extruded aluminium frame

MLS642HX

Modular air bearing system
240000kg- set of 6
Extruded aluminium frame

MLS648HX

Modular air bearing system
360000kg- set of 6
Extruded aluminium frame

MLS660HX