Lifting and Handling Platform
+ Add to Quote Request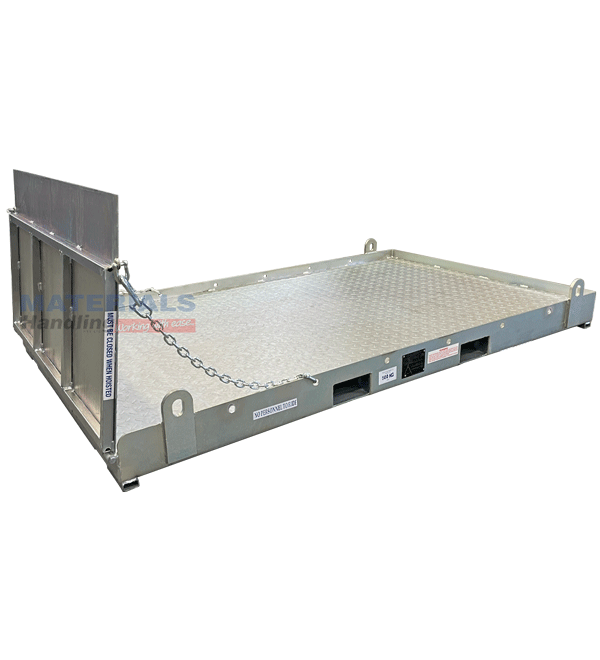 With our Lifting and Handling Platform, you can load and unload heavy machinery safely. Transporting heavy equipment around the worksite can now be completed with confidence as the Handling Platform can be carried by forklift or overhead crane. The Lifting Platform is particularly helpful when devices need to be rolled onto the platform and then moved to another location. For example, a pallet truck can be rolled onto the Handling Platform at ground level. The forklift can then lift the platform to the tray of a vehicle for the pallet truck to then be safely rolled off the platform and onto the vehicle tray. 
The platform has a recessed base, allowing it to fit into standard pallet racking. The reinforced sides assure the steel chassis design has excellent strength and durability. As such, it's a robust materials handling and storage solution.
The lifting and Handling Platform is ideal for use in industries such as rental, manufacturing, and warehousing. In any application where awkward, heavy equipment and machinery is transported on a regular basis. It features a ramp making it simple to position rolling equipment on the platform. Of course, tie-down points are included to secure loads to the Handling Platform.
Additional Information
A platform for loading and transporting heavy machinery!
You can effortlessly transport heavy loads and equipment with our Platforms. Thanks to their crane lugs and fork pockets, the platforms can be easily transported and positioned by crane or forklift. Various load sizes may be safely secured with many tie-down points. The ramp's treadplate flooring also provides traction and stability.
Features: 
Allows heavy equipment and machinery to be transported and loaded more easily.
Ramp for ease of loading.
Multiple tie-down points for safely securing the load.
For convenient transport and placing of skids, there are four-point lift lugs and three-way fork pockets.
Prevents machinery from sliding off the edge because of raised side plates.
Traction is provided via a tread plate floor and a ramp.
Steel fatigue is prevented by a reinforced underside.
Recessed base to suit storage in standard pallet racking.
Ideal for use in rental, manufacturing and warehousing industries.
Require another solution? 
View our wide range of Materials Handling products or contact our sales team for further assistance.
Click the PDF button to learn more.
Product Variations
| | | | | |
| --- | --- | --- | --- | --- |
| | Lifting and Handling Platform 1000kg | LHP1000 | $1,950.00 | |
| | Lifting and Handling Platform 1500kg | LHP1500 | $4,940.00 | |