Ball Fence Roller Gate
+ Add to Quote Request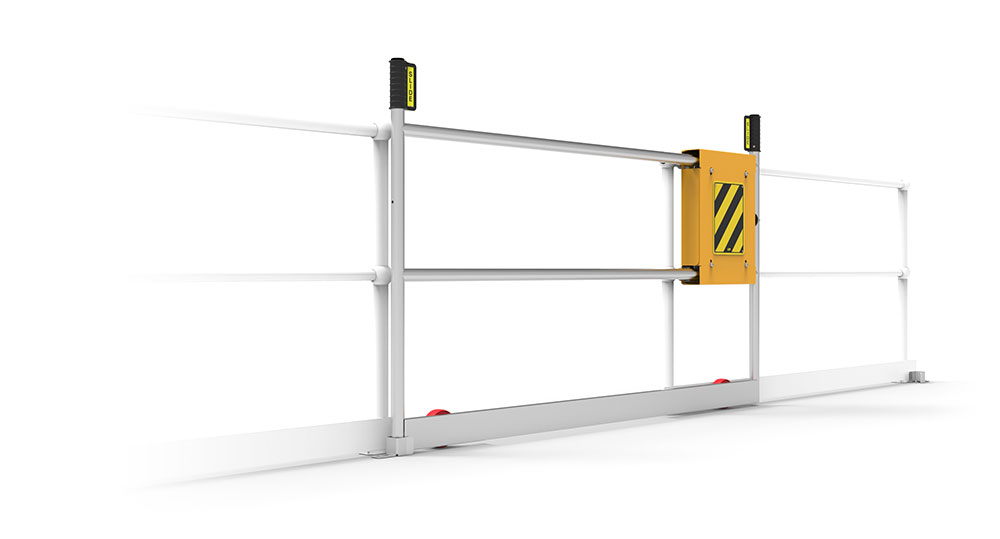 The Ball Fence Roller Gate is the perfect access option in areas with limited space. They easily slide along the fence-line, allowing vehicles and pedestrians to securely and quickly access the site. If anything is blocking your entrance point or if space is minimal, these gates are an ideal solution. Because they travel along a track rather than swinging freely, roller gates are also especially excellent in circumstances when the entrance point is particularly wide.
Manufactured in accordance with relevant Australian Standards, this Roller Gate pairs perfectly with the complete Ball Fence system. Ball Fence is a modular and cost-effective barrier system. It easily helps to segregate zones in any workplace and can be built to suit your workplace requirements. Combining this solution with this Roller Gate provides an access point within your barrier setup.
Additional Information
A great access gate when space needs to be saved!
Because the roller operation saves space and glides along, this gate is ideal for situations where a swing or boom gate can't be used. When the roller gate has to be closed, a magnetic latch helps. Smooth roller operation and non-marking nylon floor rollers are integrated into this high-quality design. This gate has a knee rail and a toe board, and it can be retrofitted to most ball-type handrails. It's available in two lengths and two finishes: powder-coated and galvanised.
Features: 
Suits workplaces and barrier systems that cannot accommodate a swing or boom gate.
The roller gate saves space by sliding along the fence line.
Allows vehicles and pedestrians to securely and quickly access a site.
Has a magnetic clasp with smooth roller action.
Nylon floor rollers don't leave a mark.
Includes a knee rail and toe board.
Built to comply with relevant Australian Standards, like AS1657:2013.
Two standard lengths are available.
A manually controlled gate.
Can be retro-fitted to most ball type handrails.
Specifications: 
Operation – Rolls left to right or right to left
Construction – Nylon rollers in HDG steel housing
Gate Travel – Linear requiring no swing arc
Gate Stop – Supplied for open and closed
Gate Latch – Magnetic hold closed
Maximum Opening – 1500 mm or 2500 mm
Mounting Type – Clamp to existing Ball-fence
Gate Frame – 42.4 mm diameter aluminium
Gate Height – 1050 mm
Finish – Mill finish or powder-coated
Partner with the Ball Fence Barrier System!
Ball Fence is a galvanised tubular railing system with a flexible design that may be utilised in a variety of combinations. It creates a protective safety barrier that protects pedestrians from moving vehicles and forklifts while defining paths. It helps individuals to securely navigate corridors while also protecting the building's valuables and expensive equipment. Learn more!
Continue looking at our Ball Fence range!
Browse the modular system of Ball Fence or try our Ball Fence Swing Gates or Ball Fence with W-Beam.
Product Variations
| | | | | |
| --- | --- | --- | --- | --- |
| | Roller Gate 1500mm Opening – Powder Coated Safety Yellow | BFRG1500-PA | | |
| | Roller Gate 1500mm Opening Yellow Gate Body with Mill Finished Aluminium Hoop | BFRG1500-MFA | | |
| | Roller Gate 2500mm Opening – Powder Coated Safety Yellow | BFRG2500-PA | | |
| | Roller Gate 2500mm Opening Yellow Gate Body with Mill Finished Aluminium | BFRG2500-MFA | | |