PPE Storage Cabinets
+ Add to Quote Request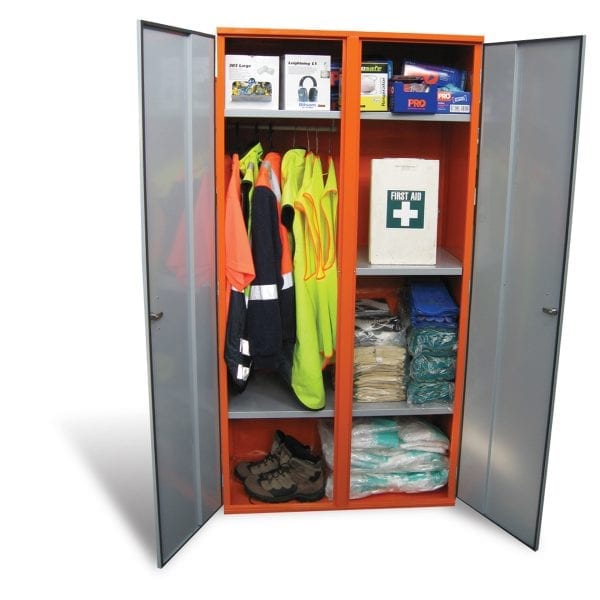 Effectively store your Personal Protective Equipment in our PPE Storage Cabinets! As a convenient storage option for workplaces, these cupboards are highly visible and a mandatory need in today's safety industry. Clearly identify the cabinets in any premises via its brightly coloured, powder-coated finish.
PPE Storage Cabinets are available in a range of sizes, are manufactured in accordance with Australian Standards and are fitted with either powder coated steel or see through Perspex doors. In addition, the smaller cabinets can be wall-mounted in convenient locations for regular access by employees. Similarly, other larger options allow hanging space for safety vests and jackets.
Additional Information
Protect your important equipment with PPE Storage Cabinets!
Enabling compliance to relevant Australian Standards, personal protective equipment must be provided in areas where flammable liquids and corrosive substances are used. These cabinets provide convenient storage options for all working necessities, tools and equipment. They enable staff access to relevant materials, placed in strategic safety locations, during any potential hazard or danger (like First Aid kits, emergency information and protective clothing).
Features: 
Durable design with high visibility powder-coat finish.
Heavy-duty sheet steel construction.
Equipped with relevant safety signage to identify cupboards.
Manufactured in Australia.
Key lockable L handle added for additional security (on some models).
Range of configurations with single and double doors, hanging rails and shelves (including inset doors and foam door seal).
Range of storage levels available.
Specifications: 
Code
External Dimensions (mm)
Weight (kg)
Storage Levels
Doors
H
W
D
SPP1
1795
920
476
57
4
2
SPP2
1192
545
375
21
3
1
SPP3
1192
1162
375
41
3
2
SPP4
1492
545
375
25
3
1
SPP7
702
546
375
15
3
1
Require another storage solution? 
View our wide range of Cabinets to find the right selection for your workplace.
Click the PDF button to learn more.
Product Variations
Image
Description
Product Code
Price (excl. GST)

PPE Storage Cabinet-Double Perspex Door (with hanging rail)

S500400

PPE Storage Cabinet-Single Perspex Door – 3 Shelves

S500401

PPE Storage Cabinet-Double Perspex Door – 3 Shelve

S500402

PPE Storage Cabinet-Single Large Perspex Door – 3 Shelves

S500403

PPE Storage Cabinet-Single Small Perspex Door – 3 Shelves

S500404

Double Door (with hanging rail)
4 storage levels

SPP1

Single Door – 3 Shelves

SPP2

Double Door – 3 Shelves

SPP3

Single Large Door -3 Shelves

SPP4

Single Small Door – 3 Shelves

SPP7

Heavy duty wall mount brackets

SPPWB