Jib Cranes – Portable Modular JibFlex
+ Add to Quote Request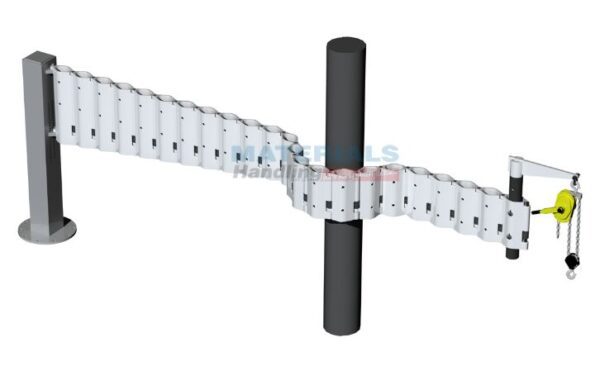 Add efficiency and safety to your manual handling processes with our innovative JibFlex. It ergonomically improves a worksite and processes by easily carrying and moving loads of up to 500 kg. With a flexible jib arm, this portable lifting tool enables free movement. That means, the operator can effectively navigate loads through openings, around corners and obstacles.
JibFlex is a very flexible lifting tool due to its versatility given by its unique design. It truly removes the strain from your personnel. When lifting, conventional rules indicate that workers lift no more than 20 kg, but with the JibFlex, they can move up to 25x that amount. This makes it an essential component in a safe and healthy workplace.
As an easy-to-use system, the JibFlex requires very little training and is quick to install onsite. If the JibFlex is permanently fixed, it may be coiled up around itself or stowed along a wall to save room when not in use.
Additional Information
Prioritise safety with JibFlex!
This lifting solution significantly lowers injuries and manual handling risks while also providing safe and ergonomic handling. It increases the effectiveness of lifting operations while also increasing worker safety in situations where space and the nature of the application provide challenges.
Innovative and easy to use
The JibFlex's flexible arm, made of lightweight aluminium, is what sets it apart. This unique design allows it to function in confined spaces with little employee handling.
A more flexible way of lifting
There's a reason behind the JibFlex name because it's a versatile tool that can be used across a range of applications. From moving loads around corners and through small openings, the device operates freely in all directions. It's even a perfect choice for difficult lifting activities. The JibFlex handles tasks that a standard jib arm can't, thus decreasing the requirement for manual handling.
Reduce the risk of injuries
Allow the JibFlex to relieve your employees from manual handling strains. The jib arm, which can lift up to 500 kg, is an important part of ensuring a safer workplace. It saves manual handling, decreases the risk of injury, and assures proper handling techniques. JibFlex prioritises safety.
A cost-effective lifting solution
The JibFlex offers a more substantial and efficient lifting operation for a small investment. This translates to lower operating expenses through an affordable lifting solution. Additionally, it eliminates the need for numerous workers by simplifying lifting plans, which reduces lifting time and increases productivity.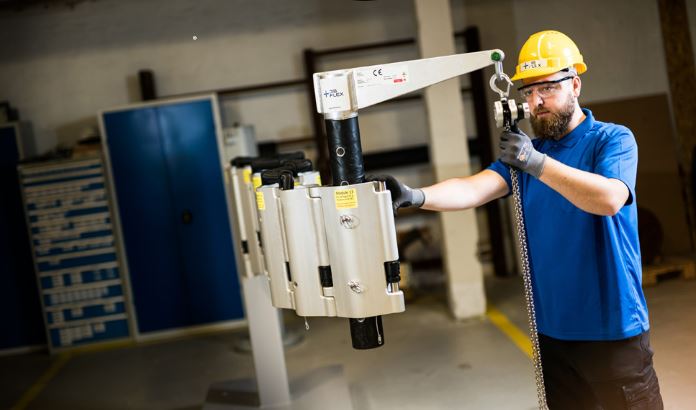 Use a JibFlex for any of your demanding lifting activities. 
When it comes to picking your JibFlex, there are just two parameters to consider: maximum working radius and weight of load limit ( WLL). A number of configurations are available, each with its own lifting radio, operating load restrictions, and winch speed. Enquire with our sales team to work out the perfect model for your lifting requirements.
Keep browsing our lifting solutions!
We have an extensive range of Intelligent Lifting Devices that will help you move more – check them out!
Click the PDF button to learn more.
Product Variations
| | | | | |
| --- | --- | --- | --- | --- |
| | JibFlex solution 50kg 2m | JF-050-2 | | |
| | JibFlex solution 50kg 3m | JF-050-3 | | |
| | JibFlex solution 50kg 4m | JF-050-4 | | |
| | JibFlex solution 50kg 5m | JF-050-5 | | |
| | JibFlex solution 50kg 6m | JF-050-6 | | |
| | JibFlex solution 50kg 7m | JF-050-7 | | |
| | JibFlex solution 100kg 2m | JF-100-2 | | |
| | JibFlex solution 100kg 3m | JF-100-3 | | |
| | JibFlex solution 100kg 4m | JF-100-4 | | |
| | JibFlex solution 100kg 5m | JF-100-5 | | |
| | JibFlex solution 100kg 6m | JF-100-6 | | |
| | JibFlex solution 100kg 7m | JF-100-7 | | |
| | JibFlex solution 150kg 2m | JF-150-2 | | |
| | JibFlex solution 150kg 3m | JF-150-3 | | |
| | JibFlex solution 150kg 4m | JF-150-4 | | |
| | JibFlex solution 150kg 5m | JF-150-5 | | |
| | JibFlex solution 150kg 6m | JF-150-6 | | |
| | JibFlex solution 150kg 7m | JF-150-7 | | |
| | JibFlex solution 200kg 2m | JF-200-2 | | |
| | JibFlex solution 200kg 3m | JF-200-3 | | |
| | JibFlex solution 200kg 4m | JF-200-4 | | |
| | JibFlex solution 200kg 5m | JF-200-5 | | |
| | JibFlex solution 200kg 6m | JF-200-6 | | |
| | JibFlex solution 250kg 2m | JF-250-2 | | |
| | JibFlex solution 250kg 3m | JF-250-3 | | |
| | JibFlex solution 250kg 4m | JF-250-4 | | |
| | JibFlex solution 250kg 5m | JF-250-5 | | |
| | JibFlex solution 300kg 2m | JF-300-2 | | |
| | JibFlex solution 300kg 3m | JF-300-3 | | |
| | JibFlex solution 300kg 4m | JF-300-4 | | |
| | JibFlex solution 300kg 5m | JF-300-5 | | |
| | JibFlex solution 350kg 2m | JF-350-2 | | |
| | JibFlex solution 350kg 3m | JF-350-3 | | |
| | JibFlex solution 350kg 4m | JF-350-4 | | |
| | JibFlex solution 400kg 2m | JF-400-2 | | |
| | JibFlex solution 400kg 3m | JF-400-3 | | |
| | JibFlex solution 400kg 4m | JF-400-4 | | |
| | JibFlex solution 450kg 2m | JF-450-2 | | |
| | JibFlex solution 450kg 3m | JF-450-3 | | |
| | JibFlex solution 500kg 2m | JF-500-2 | | |
| | JibFlex solution 500kg 3m | JF-500-3 | | |