MegaDumper Bin Tippers (for 660 & 1100L Bins)
+ Add to Quote Request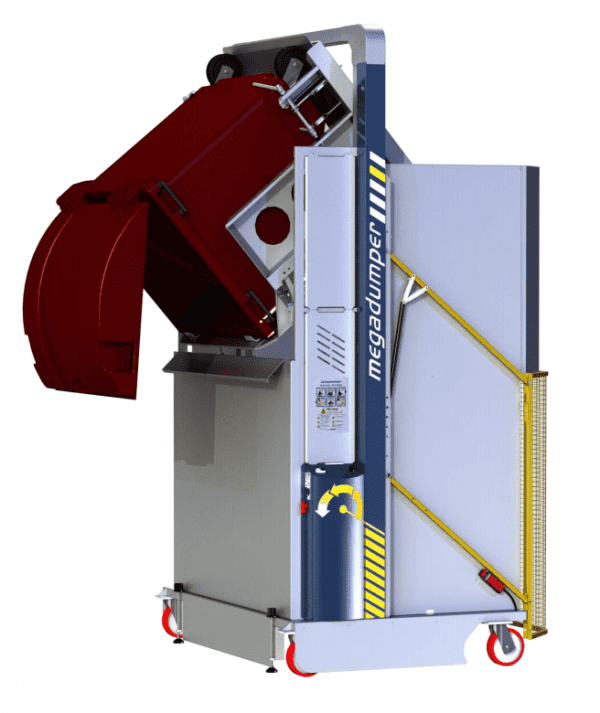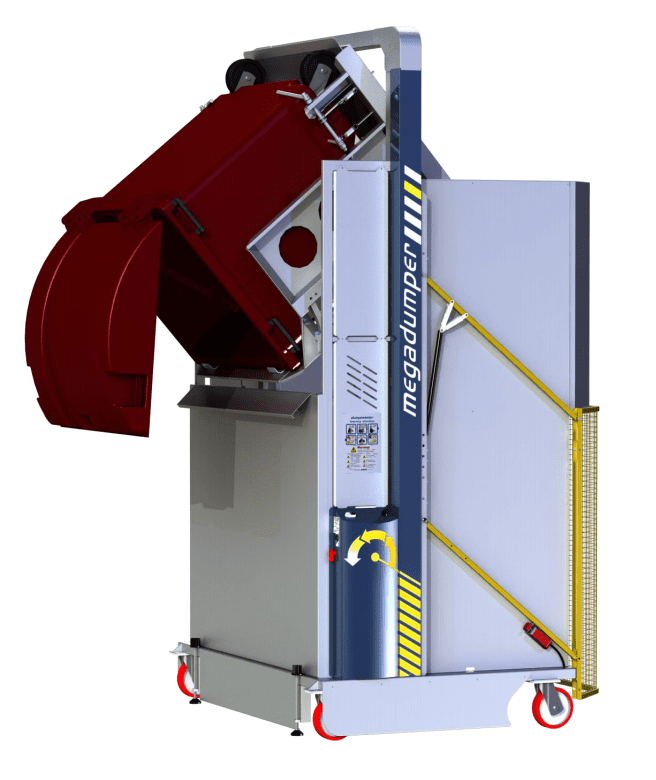 Our MegaDumper Wheelie Bin Tipper is an incredibly reliable and easy-to-use, heavy-duty industrial bin tipper. Ideal for emptying 660 L and 1100 L bins, the MegaDumper has been designed for safe handling and productive waste management.
With a full cage design and mesh guarding, these units work fast and effectively. They lift capacities up to 600 kg and tip waste bins forward, to dispose of its contents. Unlike other similar products on the market, the MegaDumper Wheelie Bin Tipper does not have a dangerous swing arc. Its electro-hydraulic operation does the heavy lifting for you.
Additional Information
A quality, robust and simple waste management solution!
The MegaDumper is an integral part of workplace operations and waste management procedures. Its full height and swing-up door allows for secure loading. The unit also features an interlocking safety system for segregated and strong operation.
Our MegaDumper Wheelie Bin Tippers are transportable, fast and effective at disposing waste from 660 and 1100 litre bins.
Suitable for indoors or outdoors use, the units have a compact design with a tiny floor footprint. MegaDumper Wheelie Bin Tippers come with an inbuilt charger, interlocking door switch and a disabling key switch (to stop unauthorised persons from accessing the machine). Cradles are available to suit wheelie bins up to 1100 litres, Laundry Trolleys, Carts, Drums, Boxes and Cartons and Containers (contact us today to ensure this model suits your application).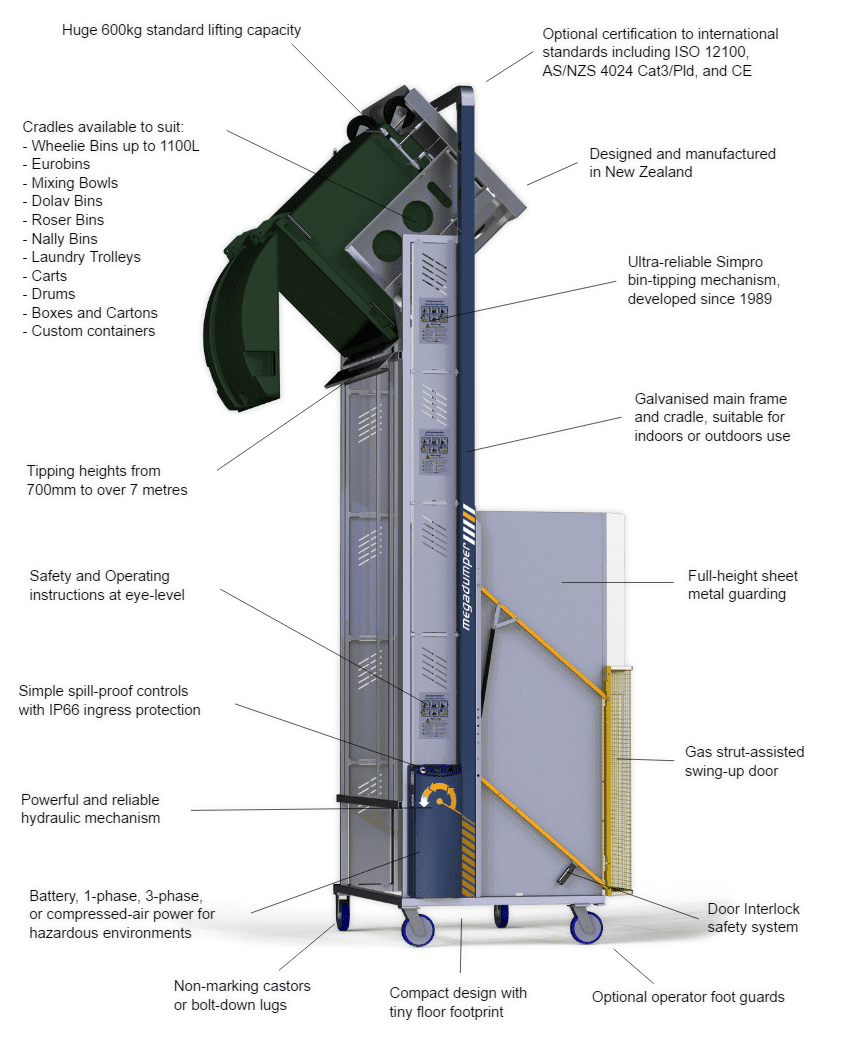 The standard power supply is 415 V, however they are optionally available in 240 V or battery powered. These machines also feature a variety of lifting heights.
Two different models available!
There are two different variations of the MegaDumper – the B-Series, designed for bins up to 660 L, or the E-Series, designed for larger bins up to 1100 L.
MegaDumper for Bins up to 660L
Tipping Heights – 1200, 1500, 1800, 2100 mm and customised
Guarding Height – 2635 mm
Overall Height – 2855, 3155, 3455, 3755 mm and customised
Length (door closed) – 1342 mm
Length (door open) 1592 mm
Width – 1874 mm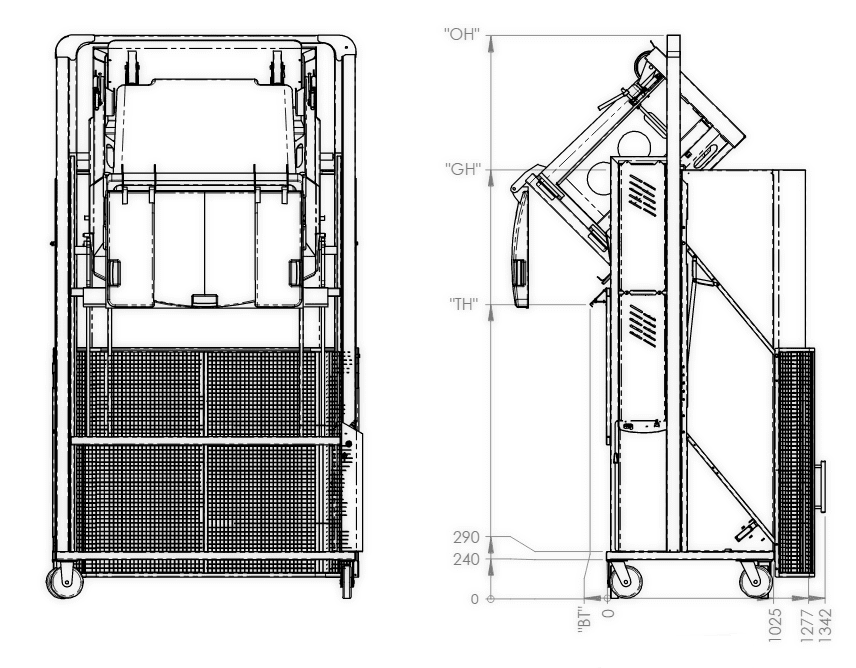 MegaDumper for Bins up to 1100L
Tipping Heights – 1200, 1500, 1800, 2100 mm and customised
Guarding Height – 2635 mm
Overall Height – 2940, 3240, 3540, 3840 mm and customised
Length (door closed) – 1592 mm
Length (door open) 1842 mm
Width – 1874 mm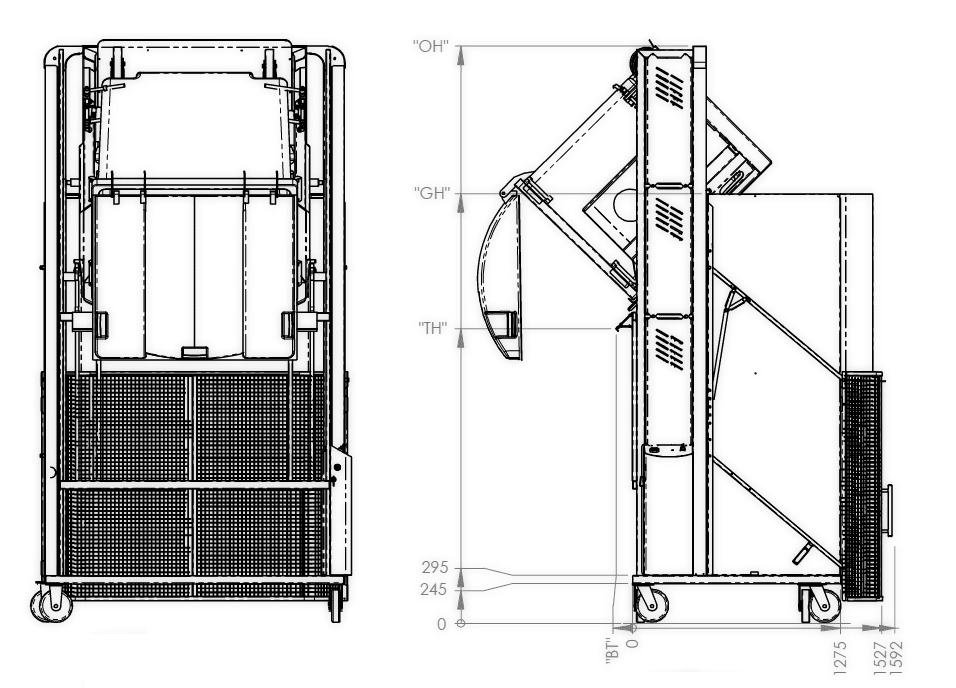 Available with a range of optional accessories!
The MegaDumper supports a range of customised options and accessories to ensure the unit fits your required activity.
Bin Weight – capacities can be engineered on request
Tipping Heights – from 700 mm to 7 m
Power Supply – single phase, three phase, battery or compressed air
Cradles available to suit all common industrial containers
Custom cradles can be designed for unique applications
Full or partial stainless steel construction for hygiene critical, food grade or corrosive environments
Frame mounted chute for applications where the unit cannot be placed against a skip or hopper
Optional standards certification – certified machines include a double interlock door, electronic evaluation unit and additional guarding panels
Auto-cycle and other programmable behaviours
Solar power or battery-powered options
Digital scales
Guarding – steel mesh, transparent or sheet metal
Mounting – castor wheels or bolt-down lugs
Require a smaller model? View our Dumpmaster Bin Tippers perfect for lifting bins of 80-240 litres. Click here to access all of our wheelie bin tippers
Click the PDF button to learn more.
Product Variations
Image
Description
Product Code
Price (excl. GST)

MegaDumper 600kg
Tipping MegaBin Pallet Bins
1500mm Tipping Height

MBD600-1500

MegaDumper 600kg
Tipping MegaBin Pallet Bins
1800mm Tipping Height

MBD600-1800

MegaDumper 600kg
Tipping Mobile Waste Bins
1500mm Tipping Height

MD600-1500

MegaDumper 600kg
Tipping Mobile Waste Bins
1800mm Tipping Height

MD600-1800