Handy Chock Vehicle Restraint
+ Add to Quote Request
Stop breaking your back with the same old Wheel Chocks. Get a handle on dock safety with Handy ChockTM truck restraint. This heavy-duty product is made in America and the quality is immediately obvious. Made with a highly visible yellow handle that's at a safe ergonomic height, the chock is lightweight, easy to place and easy to move. Its quality construction designed to last much longer than rubber wheel chocks.
The chock is made from heat-treated high strength aluminium extrusion. The dimensions of the chock and the clever serrated surface provide a strong gripping surface with the tyre. The handle is a thick tube with a comfortable handgrip that is strong and durable. You will never need to replace a Handy Chock – it is built to last!
Additional Information
Get a handle on Dock Safety with Handy Chock
The days of broken backs and strained muscles are over! Our Handy Chock is here to help you get a handle on dock safety and improve your loading dock processes. Built with the highest standards of safety in mind, this device is easy to place, easy to remove and easy to see. 
Traditional wheel chocks are outdated in design, quality and occupational productivity. With a bright, highly visible design and ergonomic construction, the Handy Chock Vehicle Restraint is the perfect answer to ensuring your trucks, cars and other vehicles stay exactly where you want them to.
The Handy Chock is designed and produced in the USA and built to the highest of industry standards both overseas and locally in Australia. This will be the last chock vehicle restraint you'll ever need. Using high-quality materials and featuring a design that pinpoints specificity, the Handy Chock offers unrivalled ergonomic usage and functional performance.
Aluminium Extrusion
The chock itself is made from heat-treated and high strength aluminium extrusion. Aluminium is renowned for its durability, corrosion resistance, thermal efficiency for easy manual handling, strength and lightweight. Furthermore, the Handy Chock is designed to be practical above all else and has been tested for optimum design and functionality to make usage easier and more efficient. 
Serrated Surface
Cleverly the chock has a serrated surface to ensure an uncompromised strong gripping against the tyre of your truck or vehicle. Tested and perfected the Handy Chock is the best in its class.
Thick Tub Handle
The chock's handle is produced with strength and durability in mind. The thick tube is surrounded by a comfortable and ergonomic handgrip to make using it a breeze.
Durability
This chock vehicle restraint is one piece of equipment built to last! Don't worry about replacing a Handy Chock, this wedge will stand the test of time no matter how frequently and regularly it is used.
Additional Features: 
Visibility: The handle is painted in bright yellow colouring to ensure it's easy to spot and highly visible at all times.
Ergonomic Height: Perfectly proportioned, the ergonomic height provides excellent back and body support.
Lightweight: Weighing in at just 5 kg, this lightweight piece of equipment is mobile and can be easily moved from place to place or removed and stored away.
Affordable: Thanks to our purchasing power and industry networks, we're able to keep the prices down across our catalogue of equipment, and we're passing those savings on to you! Not to mention that this is one savvy materials investment as with life-long durability, you won't need to buy another chock vehicle restraint again.
Specifications:
Base – 200 mm x 175 mm

Height – 200 mm

Length – 300 mm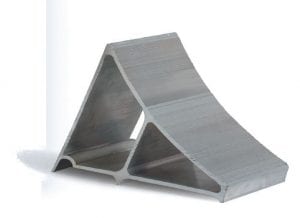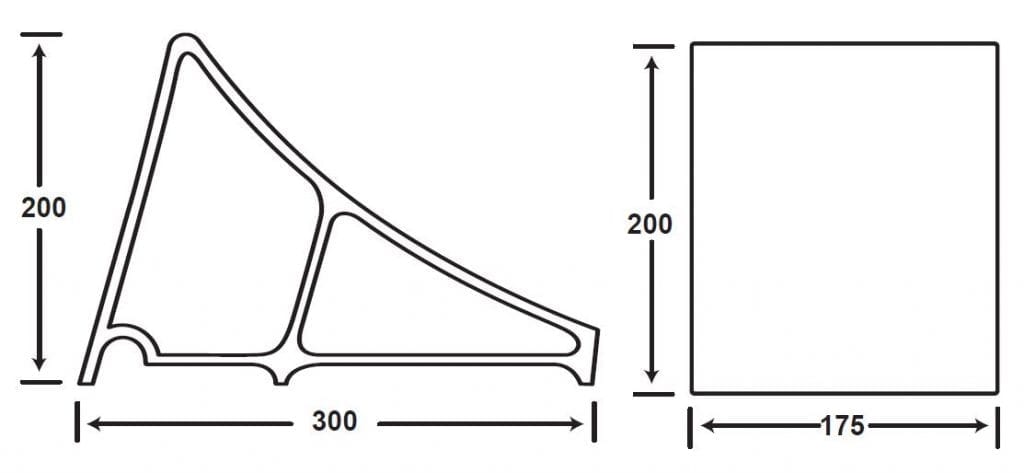 The Materials Handling promise
This quality product is designed to work better, last longer and feel more comfortable than traditional rubber wheel chocks. The team at Materials handling is committed to helping you and your entire team work with ease. Our innovative products and solutions are guaranteed to help improve workplace operations and personnel safety. As a leading distributor of the full range of worksite equipment tools and machinery, our clients can be found throughout the country and across just about every industry.
If the Handy Chock Vehicle Restraint is just the first item at the top of your workplace 'To Buy' list, have a chat with our team today. Our complete, all-in-one and ready-to-go solutions will have your company running at maximum productivity with uncompromised safety in no time. 
Require an alternative solution? 
Check out our other vehicle restraint, the Smart ChockTM.
Product Variations
| | | | | |
| --- | --- | --- | --- | --- |
| | Handy Chock aluminium wheel chock with handle | MHC100 | | |
| | Handy Chock sign "Wheels Must Be Chocked" | MHC4005 | | |
| | Handy Chock 6m chain and hanging bracket | MHC5007 | | |