Smart Chock Vehicle Restraint
+ Add to Quote Request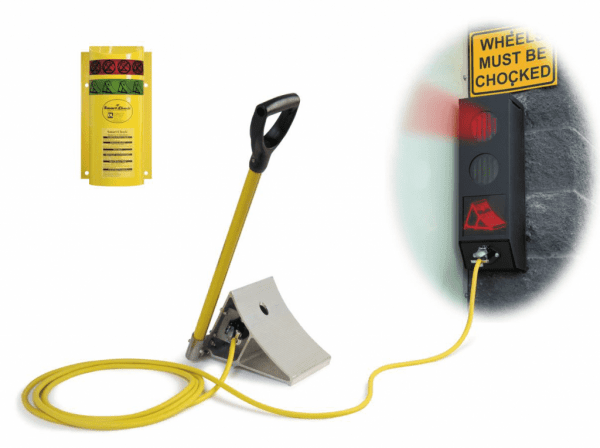 Our Smart Chock Vehicle Restraint is just what the dock door ordered! Designed to prevent loading dock accidents, especially forklifts driving off the edge of a loading dock.
Built with modern technologies, this system is an intelligent, patented vehicle restraint that creates safe working environments, reduces injuries and improves profitability. The Smart Chock is incredibly innovative and the ultimate Workplace Health and Safety solution. It is the only dock safety system that restrains vehicles while also alerting dock workers and drivers of an accident before it occurs.
The Smart Chock Vehicle Restraint is a lightweight aluminium wheel chock, built with a ultra sonic sensor and lighting communication system. With a unique PLC controlled feature, audible alarms and driver-targeted lighting systems, the Smart Chock aims to increase safety awareness and increase employee productivity. 
Additional Information
Save time and money!
The Smart Chock Vehicle Restraint is an innovative safety solution that requires little maintenance. Minimising time spent at a loading dock, its reliable control system and easy-to-use monitor assembly ensures the chock can accommodate a wide range of vehicles. The versatile, lightweight aluminium construction and ultra sonic sensor ensure the unit can be used in all types of weather conditions.
 How does it work?
Where dock safety is a massive concern, the Smart Chock is your ultimate solution! It is designed to prevent any potential workplace accidents before they occur! The fully automated system seamlessly improves loading and unloading procedures at any loading dock as it prevents miscommunication between personnel.
The Smart Chock has built-in safety features to alert dock workers when a chock is prematurely removed or loading door opened before a vehicle is secure. Audible alarms will sound as they come as a standard feature. Dock lights also flash on and off, alerting dock workers that the trailer is no longer secure and that the situation is unsafe.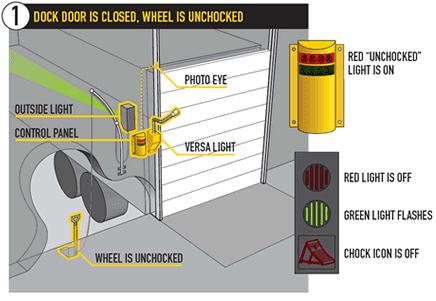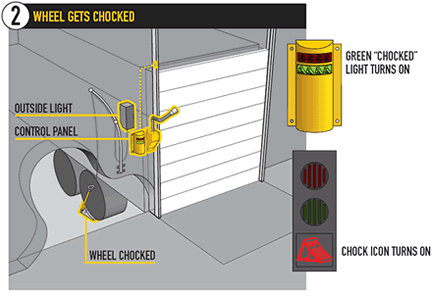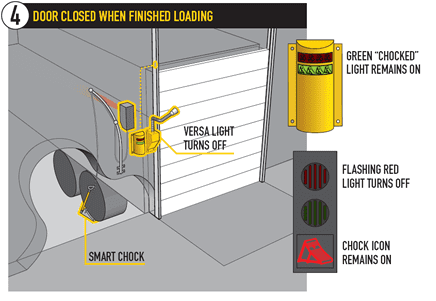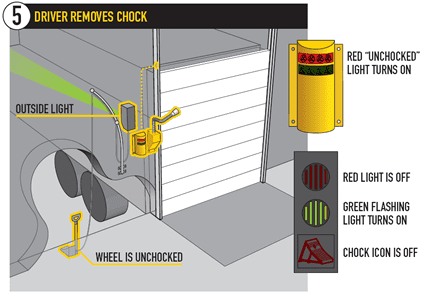 Unlike mechanical vehicle restraints, the Smart Chock provides a versatile solution that can be used on any type of vehicle. Little maintenance is required and the unit is extremely cost-effective.
Smart Chock will grant you a Smart Dock!
This device has a number of great features to have your operations running smoothly, including:
High strength aluminium built chock

Non-skid steel sawtooth back plates

Rugged wheel chock design for versatility

Ultra sonic sensors to identify and detect chock placement (in even the most adverse loading dock conditions)

Automated processes – the control signal is activated by a convergent photo-eye sensor mounted near door track

High Alert Control Panel – located inside of operation, it integrates control circuitry and high-intensity LED lights for 180 degree visibility
Outdoor Driver Target Lights – high intentisty LED light, with patented focused light processes

Comprehensive Safety Notification System – if chock is prematurely removed while door is open, the inside control panel and dock light will flash and inside/outside audible alarm will sound

Fibreglass Cable Pole – keeps cables off ground

Powers and controls dock light, fan and interlocks with dock leveller
The Smart Chock can be work with your workplace configuration to also include controls for lights and dock levellers.
Check out some great additions to the Smart Chock!
These added extras can really enhance your dock procedures and safety. Check out our patented Dock Eye Safety Lights or alternatively, view the patented Aerotec Air Replacement Fan.
Click the PDF button to learn more.
Product Variations
| | | | | |
| --- | --- | --- | --- | --- |
| | Smart Chock fully-automated Dock Communication and Restraint System | M663 | | |