Smart Chock Vehicle Restraint
+ Add to Quote Request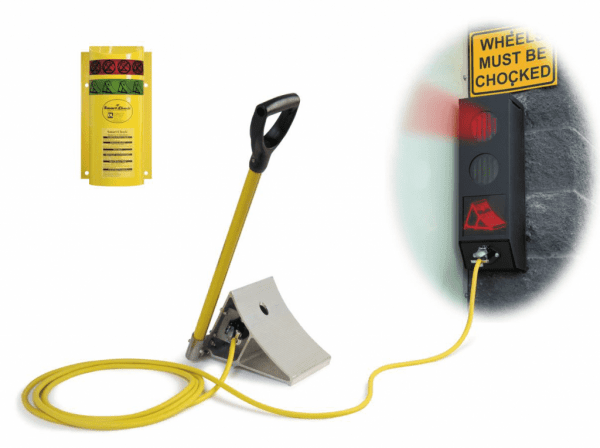 Our Smart Chock Vehicle Restraint is just what the dock door ordered! Designed to prevent loading dock accidents, especially forklifts driving off the edge of a loading dock.
Built with modern technologies, this system is an intelligent, patented vehicle restraint that creates safe working environments, reduces injuries and improves profitability. The Smart Chock is incredibly innovative and the ultimate Workplace Health and Safety solution. It is the only dock safety system that restrains vehicles while also alerting dock workers and drivers of an accident before it occurs.
The Smart Chock Vehicle Restraint is a lightweight aluminium wheel chock, built with a ultra sonic sensor and lighting communication system. With a unique PLC controlled feature, audible alarms and driver-targeted lighting systems, the Smart Chock aims to increase safety awareness and increase employee productivity. 
Additional Information
Save time and money!
The Smart Chock Vehicle Restraint is an innovative safety solution that requires little maintenance. Minimising time spent at a loading dock, its reliable control system and easy-to-use monitor assembly ensures the chock can accommodate a wide range of vehicles. The versatile, lightweight aluminium construction and ultra sonic sensor ensure the unit can be used in all types of weather conditions.
 How does it work?
Where dock safety is a massive concern, the Smart Chock is your ultimate solution! It is designed to prevent any potential workplace accidents before they occur! The fully automated system seamlessly improves loading and unloading procedures at any loading dock as it prevents miscommunication between personnel.
The Smart Chock has built-in safety features to alert dock workers when a chock is prematurely removed or loading door opened before a vehicle is secure. Audible alarms will sound as they come as a standard feature. Dock lights also flash on and off, alerting dock workers that the trailer is no longer secure and that the situation is unsafe.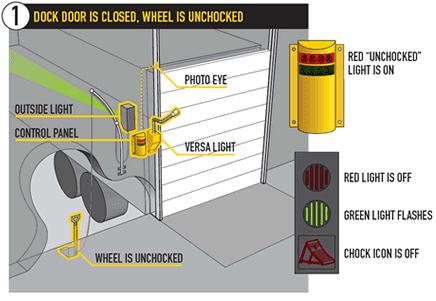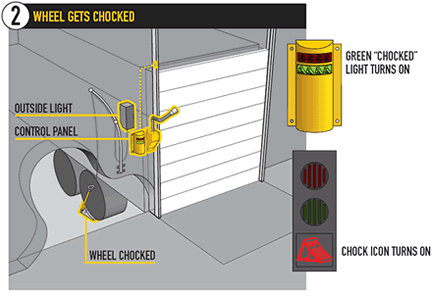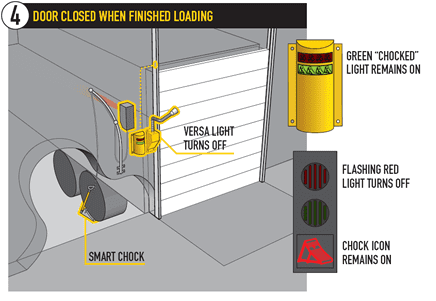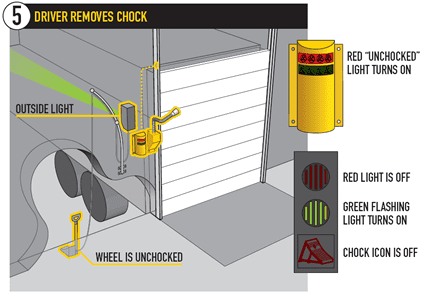 Unlike mechanical vehicle restraints, the Smart Chock provides a versatile solution that can be used on any type of vehicle. Little maintenance is required and the unit is extremely cost-effective.
Smart Chock will grant you a Smart Dock!
This device has a number of great features to have your operations running smoothly, including:
High strength aluminium built chock
Non-skid steel sawtooth back plates
Rugged wheel chock design for versatility
Ultra sonic sensors to identify and detect chock placement (in even the most adverse loading dock conditions)

Automated processes – the control signal is activated by a convergent photo-eye sensor mounted near door track

High Alert Control Panel – located inside of operation, it integrates control circuitry and high-intensity LED lights for 180 degree visibility
Outdoor Driver Target Lights – high intensity LED light, with patented focused light processes
Comprehensive Safety Notification System – if chock is prematurely removed while door is open, the inside control panel and dock light will flash and inside/outside audible alarm will sound
Fibreglass Cable Pole – keeps cables off ground
Powers and controls dock light, fan and interlocks with dock leveller
The Smart Chock can be work with your workplace configuration to also include controls for lights and dock levellers.
Many smart features to increase safety
The Smart Chock boasts a range of features that will help you take your workplace safety to the next level. Completely compliant with industry work health and safety standards, the Smart Chock reduces injuries, downtime, damage and safety risks. This innovative product is revolutionising the way loading docks operate and are managed. Increase productivity and increase safety by employing a smart solution – the Smart Chock.
Rugged design and intuitive operation
The Smart Chock is designed with a rugged surface to increase friction and decrease skidding when in operation and use. This also allows for versatility in between operations. This device leads the way among electronic wheel chocks for providing an easy-to-learn and intuitive operation. The simple sequence of instructions and usability ensures that the entire loading dock team can operate safely and with confidence.
High grade aluminium and ergonomic construction
Made from durable and high quality aluminium, the chock is extremely strong and robust. This makes it perfect for a range of vehicles of all sizes. Designed for easy use and comfortable handling, the wheel chock's handle sits atop a nearly unbreakable fiberglass shaft.
Design ensures increased reliability
With non-skid, steel sawtooth back plates, sturdiness and reliability is taken to a whole new level. Rest assured that your vehicle wheel chocks and the vehicles being held by them aren't going to move anywhere.
Ultrasonic sensors
It's not called a Smart Chock for nothing! Complete with an ultrasonic sensor, this device is able to detect the chock placement in all sorts of workplace and loading dock conditions (even in the most adverse loading dock environments). It's just one of the many ways our chock will outperform other models around the clock!
High Alert Control panel
The highly sophisticated control panel is located internally and integrates control circuitry and high-intensity LED lights with 180-degree visibility.
Outdoor Target Lights
Additional safety features include the innovative Driver-Targeted Outside Light. These LED lights are designed to be of a high intensity. Produced by patented technology to produce a focused light, it ensures easy external visibility.
Safety Alert System
The Smart Chock includes audible alarms that sound if there is premature movement while loading bay doors are open. To complement the safety alarm, a control panel mounted flashing light works to inform operators of premature removal.
Fiberglass Cable Pole
The intricately designed Smart Chock uses a fiberglass pole to contain the cable and keep it off the ground and out of the way.
Quick release plug
The quick release plug is an easy and manual way of controlling your Smart Chock for urgent situations.
Optional control
These vehicle wheel chocks offer optional control of the dock light, fan and leveler interlocker.
Additional Versa Light
The Versa Light safety feature is an optional add-on that is sold separately but works in conjunction with the Smart Chock to provide flashing light warnings inside the trailer when the wheel becomes unchocked.
Learn more about the Smart Chock
To order your Smart Chock, add this product to your quote request today.
Alternatively, to find out more about which product is right for your application from our range of vehicle wheel chocks, contact us today.
Check out some great additions to the Smart Chock!
These added extras can really enhance your dock procedures and safety. Check out our patented Dock Eye Safety Lights or alternatively, view the patented Aerotec Air Replacement Fan.
Click the PDF button to learn more.
Product Variations
| | | | | |
| --- | --- | --- | --- | --- |
| | Smart Chock fully-automated Dock Communication and Restraint System | M663 | | |