Dangerous Goods Storage Cabinets Indoor
+ Add to Quote Request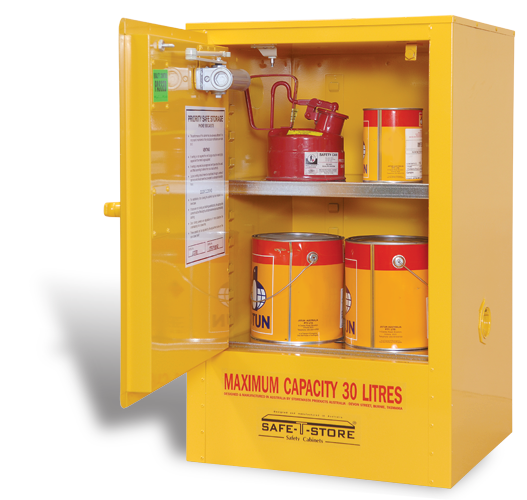 Our range of Indoor Dangerous Goods Storage Cabinets provides everyday safe storage for most classes of chemicals. Manufactured in Australia, these cabinets handle dangerous goods including flammable liquids, oxidising agents, flammable solids, organic peroxide, toxic substances, corrosive substances and pesticides.
Built with a robust design and heavy-duty construction, the cabinets are fully compliant with relevant Standards and legislation requirements. Alternative options are available with varying sizes – from 15 L to 350 L. These cabinets feature quality and innovative safety features lockable and self-closing doors and deep sumps for spill containment. 
Additional Information
Protect your workplace with our Indoor Dangerous Goods Storage Cabinets!
Our range of chemical cabinets easily secures hazardous materials for safe storage and efficient work practices. Available to suit a range of product classes, the cabinets feature double-walled sheet steel construction, with self-closing latch doors, liquid-tight containment sumps, compliant signage, proficient ventilation and perforated adjustable shelving. Select the right cabinet according to the material you wish to store and have your business working with ease. The following classes are addressed with these cabinets. Flammable Class 4 – Oxidising Agents Class 5.1 – Organic Peroxides Class 5.2 – Toxic Substances Class 6 – Corrosive Substances Class 8 and Pesticides.
Features:
Dual walled sheet steel with 40 mm thermic air barrier.
Sequential self-closing door system with doors held shut at two catch points.
Australian made and complies with Australian Standards.
Strong perforated adjustable shelving for free air movement, with 100 mm adjustment increments.
High capacity sump; liquid-tight to contain spills, 150 mm deep.
State of the art powder-coated finish for high durability and performance.
Built-in flash arrestors and vent openings (for mechanical ventilation systems)
Visible safety warnings, signs and directions.
Stainless steel pin with continuous hinging for strength and reliability.
Comfortable and ergonomic handle design.
Specifications Flammable Class 4:
Code
External Dimensions (mm)
Weight (kg)
Storage Levels
Max. Capacity
H
W
D
SC030
800
500
450
33
2
30 L
SC060
1065
500
450
41
2
60 L
SC100
800
920
615
65
2
100 L
SC160
1220
1100
450
78
2
160 L
SC170
1750
700
450
80
3
170 L
SC250
1750
1100
500
123
3
250L
SC300
1880
806
804
143
3
250 L
SC350
1880
1160
804
161
3
350 L
SCV
1880
806
804
149
2
250 L
Find the right storage cabinet for your requirements!
Continue browsing our Dangerous Goods Cabinets range for other alternative options.
Product Variations
Image
Description
Product Code
Price (excl. GST)

Dangerous Goods Storage Cabinet
Class 3 Flammable Liquid Storage
15 litre

SC015
$1,487.00

Dangerous Goods Storage Cabinet
Class 3 Flammable Liquid Storage
30 litre

SC030
$1,397.00

Dangerous Goods Storage Cabinet
Class 3 Flammable Liquid Storage
60 litre

SC060
$1,372.00

Dangerous Goods Storage Cabinet
Class 3 Flammable Liquid Storage
100 litre

SC100
$1,910.00

Dangerous Goods Storage Cabinet
Class 3 Flammable Liquid Storage
160 litre

SC160
$1,926.00

Dangerous Goods Storage Cabinet
Class 3 Flammable Liquid Storage
170 litre

SC170
$1,798.00

Dangerous Goods Storage Cabinet
Class 3 Flammable Liquid Storage
250 litre

SC250
$2,251.00

Dangerous Goods Storage Cabinet
Class 3 Flammable Liquid Storage
300 litre

SC300
$2,414.00

Dangerous Goods Storage Cabinet
Class 3 Flammable Liquid Storage
350 litre

SC350
$2,847.00

Dangerous Goods Storage Cabinet
Class 3 Flammable Liquid Storage
Roller base 250 litre

SCV
$3,243.00

Dangerous Goods Storage Cabinet
Oxidising Agent Storage

SC030A
$1,496.00

Dangerous Goods Storage Cabinet
Oxidising Agent Storage

SC060A
$1,606.00

Dangerous Goods Storage Cabinet
Oxidising Agent Storage

SC100A
$2,022.00

Dangerous Goods Storage Cabinet
Oxidising Agent Storage

SC160A
$2,192.00

Dangerous Goods Storage Cabinet
Oxidising Agent Storage

SC250A
$2,526.00

Dangerous Goods Storage Cabinet
Oxidising Agent Storage

SC300A
$2,414.00

Dangerous Goods Storage Cabinet
Organic Peroxide Storage 15 litre

SC01552
$1,487.00

Dangerous Goods Storage Cabinet
Organic Peroxide Storage

SC03052
$1,496.00

Dangerous Goods Storage Cabinet
Organic Peroxide Storage 60 litre

SC06052
$1,606.00

Dangerous Goods Storage Cabinet
Organic Peroxide Storage

SC10052
$2,022.00

Dangerous Goods Storage Cabinet
Organic Peroxide Storage

SC16052
$2,192.00

Dangerous Goods Storage Cabinet
Toxic Substance Storage 15 litre

SC0156
$1,487.00

Dangerous Goods Storage Cabinet
Toxic Substance Storage 30 litre

SC0306
$1,327.00

Dangerous Goods Storage Cabinet
Toxic Substance Storage 60 litre

SC0606
$1,372.00

Dangerous Goods Storage Cabinet
Toxic Substance Storage 100 litre

SC1006
$1,910.00

Dangerous Goods Storage Cabinet
Toxic Substance Storage 160 litre

SC1606
$1,926.00

Dangerous Goods Storage Cabinet
Toxic Substance Storage 250 litre

SC2506
$2,251.00

Dangerous Goods Storage Cabinet
Toxic Substance Storage 300 litre

SC3006
$2,414.00

Dangerous Goods Storage Cabinet
Toxic Substance Storage 350 litre

SC3506
$2,847.00

Dangerous Goods Storage Cabinet
Class 8 Corrosive Substance Storage
15 litre

SC0158
$1,620.00

Dangerous Goods Storage Cabinet
Class 8 Corrosive Substance Storage

SC0308
$1,631.00

Dangerous Goods Storage Cabinet
Class 8 Corrosive Substance Storage

SC0608
$1,723.00

Dangerous Goods Storage Cabinet
Class 8 Corrosive Substance Storage

SC1008
$2,183.00

Dangerous Goods Storage Cabinet
Class 8 Corrosive Substance Storage

SC1608
$2,240.00

Dangerous Goods Storage Cabinet
Class 8 Corrosive Substance Storage
170 litre

SC1708
$2,157.00

Dangerous Goods Storage Cabinet
Class 8 Corrosive Substance Storage

SC2508
$2,741.00

Dangerous Goods Storage Cabinet
Class 8 Corrosive Substance Storage

SC3008
$2,998.00

Dangerous Goods Storage Cabinet
Class 8 Corrosive Substance Storage

SC3508
$3,453.00

Dangerous Goods Storage Cabinet
Pesticides Storage

SC030PE
$1,496.00

Dangerous Goods Storage Cabinet
Pesticides Storage 60 litre

SC060PE
$1,606.00

Dangerous Goods Storage Cabinet
Pesticides Storage 100 litre

SC100PE
$2,022.00

Dangerous Goods Storage Cabinet
Pesticides Storage 160 litre

SC160PE
$2,192.00

Dangerous Goods Storage Cabinet
Pesticides Storage 250 litre

SC250PE
$2,526.00