Barrier Rails W-Beam Guardrail
+ Add to Quote Request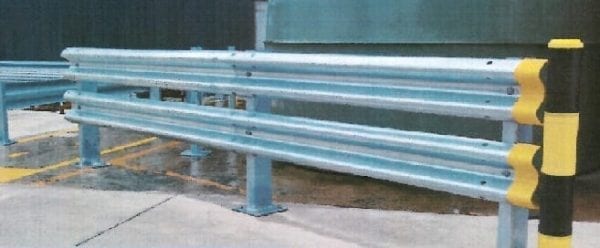 The W-Beam Guardrail protects assets and pedestrians from slow moving vehicles, in and around industrial and commercial complexes and car parks. These heavy-duty barrier systems can be configured to most non-highway applications and ensure pathways are segregated from potential hazards.
While these units boast a robust design, their use on public roads and highways varies state to state. Some legislation requires different mounting posts to be used in their construction. Due to this fact, we are certain the W-Beam Guardrail satisfies many needs, however we recommend the barriers be used for non-highway applications only.
The rails are available in a range of lengths and feature two standard finishes – either hot dip galvanised or hot dip galvanised with powder coated yellow.
Additional Information
Separate vehicles from pedestrians with the W-Beam Guardrail!
These barriers have been designed in accordance with AS1657:2013 for walkways. Their ball fence posts bolt directly to the W-Beam posts and come supplied with fixings. All components feature a hot dip galvanised build and they are compatible with Ball-Fence components, to enhance safety even further between walkways and moving traffic. The barrier system should only be used in areas with speed limits of 30 km/h (like parking areas, factories and warehouses).
The W-Beam Guardrail features a modular design and can be partnered with a range of accessories.
Product Features:
Complies with Vic Roads SD3671-E requirements for 'Type D' guard fence.
Rails come in straight and curved styles.
Material:

Posts – Mild Steel, 178 mm x 76 x 6 mm
Rails – Mild Steel, 2.75 mm thick in eight standard lengths.

Weight:

Posts – 18 kg approximately.
Rails – 13 kg per metre approximately.

W-Beam posts and accessories can be easily configured for most non-highway applications.
Hot dip galvanised for maximum long term protection.
Posts are supplied with necessary fixings.
Installation is either surface mount or in-ground.
Continue browsing similar products!
We have a variety of barrier rail systems available to suit your application and protect your employees and assets!  View our range of safety barrier solutions!
Click the PDF button to learn more.
Product Variations
| | | | | |
| --- | --- | --- | --- | --- |
| | W-Beam Single Height Post 1225mm Below Ground – Galvanised | WBP1225-BG | $175.00 | |
| | W-Beam Double Height Post 1760mm Below Ground – Galvanised | WBP1760-D-BG | $259.00 | |
| | W-Beam Single Height Post 400mm Surface Mounted – Galvanised | WBP400-SM | $144.00 | |
| | W-Beam Single Height Post 725mm Surface Mounted – Galvanised | WBP725-SM | $190.00 | |
| | W-Beam Double Height Post 1140mm Surface Mounted – Galvanised | WBP1140-D-SM | $265.00 | |
| | W-Beam Rail for 1m Centres – Galvanised | WBR1000-2G | $129.00 | |
| | W-Beam Rail for 1m Centres – Galvanised and Powder Coated Yellow | WBR1000-2Y | $184.00 | |
| | W-Beam Rail for 1.5m Centres – Galvanised | WBR1500-2G | $175.00 | |
| | W-Beam Rail for 1.5m Centres – Galvanised and Powder Coated Yellow | WBR1500-2Y | $254.00 | |
| | W-Beam Rail for 2m Centres – Galvanised | WBR2000-2G | $224.00 | |
| | W-Beam Rail for 2m Centres – Galvanised and Powder Coated Yellow | WBR2000-2Y | $330.00 | |
| | W-Beam Rail for 2.5m Centres – Galvanised | WBR2500-2G | $270.00 | |
| | W-Beam Rail for 2.5m Centres – Galvanised and Powder Coated Yellow | WBR2500-2Y | $402.00 | |
| | W-Beam Rail for 3m Centres – Galvanised | WBR3000-3G | $320.00 | |
| | W-Beam Rail for 3m Centres – Galvanised and Powder Coated Yellow | WBR3000-3Y | $484.00 | |
| | W-Beam Rail for 3.5m Centres – Galvanised | WBR3500-3G | $367.00 | |
| | W-Beam Rail for 3.5m Centres – Galvanised and Powder Coated Yellow | WBR3500-3Y | $555.00 | |
| | W-Beam Rail for 4m Centres – Galvanised | WBR4000-3G | $414.00 | |
| | W-Beam Rail for 4m Centres – Galvanised and Powder Coated Yellow | WBR4000-3Y | $629.00 | |
| | W-Beam Rail for .5m Centres – Galvanised | WBR500-2G | $79.00 | |
| | W-Beam Rail for .5m Centres – Galvanised and Powder Coated Yellow | WBR500-2Y | $115.00 | |
| | W-Beam Rail 45 Degree Internal Curve Radius 550cm – Galvanised | WBR45IN550-G | $574.00 | |
| | W-Beam Rail 90 Degree Internal Curve Radius 275cm – Galvanised | WBR90IN275-G | $574.00 | |
| | W-Beam Rail 45 Degree External Curve Radius 550cm – Galvanised | WBR45EX550-G | $574.00 | |
| | W-Beam Rail 90 Degree External Curve Radius 275cm – Galvanised | WBR90EX275-G | $574.00 | |
| | W-Beam Rail 90 Degree External Curve Radius 75cm – Galvanised | WBR90EX75-G | $207.00 | |
| | W-Beam Rail 90 Degree External Curve Radius 75cm – Galvanised and Powder Coated Yellow | WBR90EX75-Y | $267.00 | |
| | W-Beam Rail End Boot – Yellow LLDPE | WBRB | $20.00 | |
| | Cap to suit W Beam Post – LLDPE Yellow | CAPWBP-P | $19.00 | |
| | W-Beam Splice Fixings – 8 x M16 x 32 Galvanised Nut and Bolt – Yellow | KIT10-Y | $25.00 | |
| | W-Beam Splice Fixings – 8 x M16 x 32 Galvanised Nut and Bolt | KIT10 | $15.00 | |
| | W Beam 90 Degree Internal Connector – Galvanised | WB90IC-G | $217.00 | |
| | W Beam 90 Degree Internal Connector – Galvanised and Powder Coated Yellow | WB90IC-Y | $305.00 | |
| | W-Beam Fish Tail End Terminal – Galvanised | WBFT-G | $167.00 | |
| | W-Beam Fish Tail End Terminal – Galvanised and Powder Coated Yellow | WBFT-Y | $255.00 | |
| | W Beam 90 Degree External Connector – Galvanised | WB90EC-G | $217.00 | |
| | W Beam 90 Degree External Connector – Galvanised and Powder Coated Yellow | WB90EC-Y | $305.00 | |
| | W-Beam Stubby Nose End Terminal – Galvanised | WBSN-G | $155.00 | |
| | W Beam Stubby Nose End Terminal – Galvanised and Powder Coated Yellow | WBSN-Y | $299.00 | |